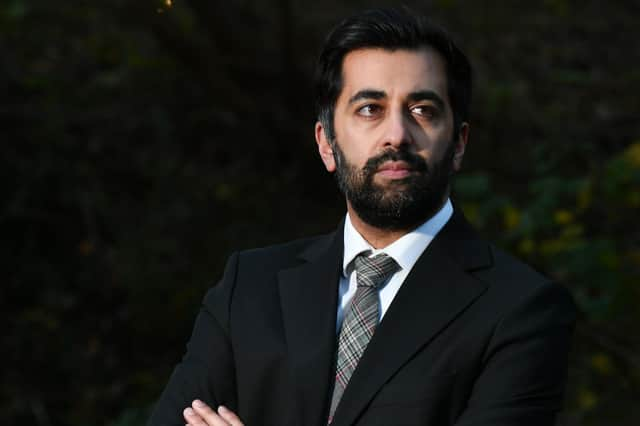 The Bill which consolidates previous hate crime laws and adds new offences of "stirring up" hatred against protected characteristics of religion, age, disability and transgender identity, was passed with 82 votes in support, 32 against and four abstentions.
Those voting against included Scottish Labour MSPs Johann Lamont, Elaine Smith and Jenna Marra, as well as the Conservative group. SNP MSPs Joan McAlpine and Alex Neil abstained as did Labour's Neil Findlay and independent MSP Mark McDonald.
The vote had been delayed by 24 hours after a furious debate in Holyrood as both Scottish Labour and Conservative MSPs attempted to amend it, to include sex as a protected characteristic and to insert a "dwelling defence", so conversations in the home could not be prosecuted.
However, the amendments fell, and the Bill has now passed with just an addition to the free speech defence to include a reference to Article 10 of the European Convention on Human Rights, which "allows for the expression of information or ideas that offend, shock or disturb" as well as for discussion and criticism.
Justice Secretary Humza Yousaf, said the debate had seen "parliament at its best" and as a result the new law "protects the most vulnerable in our society".
He also recalled the first time he was made aware of the colour of his skin, when he was just six-years-old. "In primary two, my best friend said to me one day, completely out the blue, "I can't be your friend anymore". I remember being stunned and asked why and he said "because you're a Paki".
"I didn't understand what had happened. I went home and asked my mum if I was a Paki? She was visibly upset and said very rude people sometimes make fun of us for the colour of our skin, but I had done nothing wrong.
"Not a day goes by," he said, "That I'm not conscious of the colour of my skin. The first thing people see and notice about me is the colour of my skin, and they probably form a judgement about me in relation to it, sometimes consciously sometimes unconsciously."
He added: "You don't have six year old racists, he undoubtedly learned that at home from a parent or older sibling.
"There are some people who believe that racism, intentionally stirred up, using threatening or abusive language which takes place at home with a child present, should not be prosecuted. My contention is the impact is the same whether it's in the home or outwith the home.
"So let's assume that phraseology is used today after the Bill passed. Even the use of that language in that scenario, whether at home or public, which I suspect we all agree is racist, would not be prosecuted under new stirring up of racial hatred offences because the threshold of offences is so incredibly high."
Mr Yousaf said this proved that people who worried they "may accidentally fall foul of the law because they believe sex is immutable or they campaign for the rights of Palestinians or proselytise that same sex relationships are sinful" would not.
He said: "None would fall foul of the stirring up of hatred offence for stating their belief – even in a robust manner. Solely stating a belief, which may be offensive to some, is not breaching the criminal threshold."
Despite the Bill passing Scottish Conservative justice spokesman Liam Kerr said the SNP had allowed a "fundamental right to be trampled on".
"Under pressure, Humza Yousaf did u-turn but he has never accepted how badly the SNP got this wrong," he said. "The Bill is still riddled with glaring flaws.
"We voted against the SNP's Hate Crime Bill because it is a danger to freedom of speech. Criminalising what people say in their own home is too extreme. We agree that hate crime should be rooted out but the SNP should not have allowed a fundamental right to be trampled on in the process."
Earlier at the close of First Minister's Questions, Scottish Labour's Elaine Smith had raised a point of order asking if the Bill could still be withdrawn by the government as it appeared to her to be "unleashing chilling misogyny and hate against women".
She read out a tweet that had been written by David Caulfield, the deputy chair of Welfare Scotland, which said 'It's as if all Ms Smith wanted to do was make an angry comment and get a dig at the Cabinet Secretary. Some of the language used by certain contributors was at best shocking and at worse a hate crime. I guess they like the privilege that parliament provides'."
She added: "That is obviously related to the Stage 3 of the Hate Crime Bill and it's a tweet by a man who's a member of a cross party group in this parliament, one I'm co-convener of, also a deputy chair of a charity".
"Under the standing orders is it allowed is it not too late to withdraw this Bill and undertake a full and robust consultation and include women in this legislation?"
Presiding Officer Ken Mackintosh said it was possible to "withdraw a bill at any stage" but that Ms Smith was making a political point.
She raised it again with Justice Secretary Humza Yousaf, asking if she could expect "the police at my door?"
But Mr Yousaf said: "You won't have the police at your door for anything you've said in the Hate Crime debate and I'm sorry to hear you're the victim of hate. I can promise you on Twitter if you want to see hatred you can look at my timeline any given day of the week."
Mr Caulfield declined to comment. Welfare Scotland, a non-profit company, said his tweet was not a comment or statement from the organisation.
A message from the Editor:Thank you for reading this article. We're more reliant on your support than ever as the shift in consumer habits brought about by Coronavirus impacts our advertisers.
If you haven't already, please consider supporting our trusted, fact-checked journalism by taking out a digital subscription.