Harry Spare release: Rishi Sunak refuses to get involved in royal family furore as he defends institution to be 'proud' of
Rishi Sunak has defended the royal family as an institution to be "proud" of, despite a string of revelations from the Duke of Sussex.
The disclosures, which include claims the Prince of Wales physically attacked his brother Harry, come from the duke's memoir Spare, which is due to be published on Tuesday.
The controversial book has been the subject of headlines for days after excerpts were leaked detailing personal details of Harry's love life, drug-taking and rifts within his family.
Asked whether the public can still have faith in the institution, the Prime Minister told the BBC's Sunday With Laura Kuenssberg programme: "I think the public like me have enormous regard for the royal family, they're deeply proud of them. I certainly am. It's one of the things I'm most proud of when I think about what it is to be British.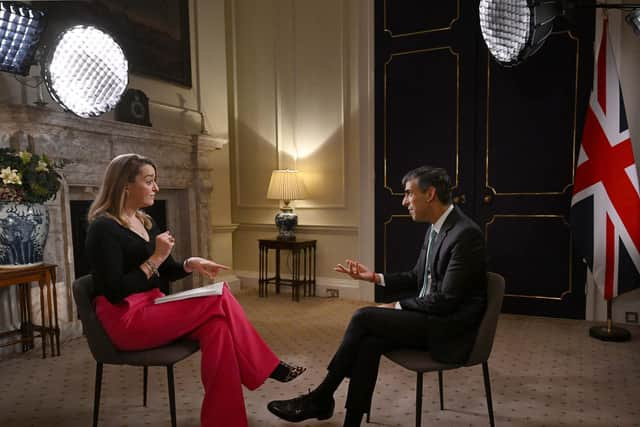 "When I get to go around the world and champion Britain as an amazing country with so many things that we can be proud of, our institutions including the royal family are one of those."
Asked if the royals have been damaged by Harry's allegations, Mr Sunak said: "In general I wouldn't get into talking about the royal family, but it's something that I'm proud of and I think the country is proud of.
"We saw that last year very movingly multiple times and I'm confident we'll see it this year with King Charles's coronation, which will be another fantastic occasion for the country to come together and celebrate something that's special about Britain."
The Duke of Sussex has meanwhile said he only cried once after the death of his mother, and has described feelings of guilt in one of a series of interviews ahead of the publication of his memoir.
In a clip from Harry: The Interview, which will air on ITV at 9pm on Sunday, Harry speaks about being unable to show any emotion when meeting mourners following the death of his mother, Diana, Princess of Wales, in 1997.
He also admits to feeling "some guilt" when walking among the gathered crowds outside Kensington Palace, saying the only time he cried was at his mother's burial.
Harry tells presenter Tom Bradby: "Everyone knows where they were and what they were doing the night my mother died.
"I cried once, at the burial, and you know I go into detail about how strange it was and how actually there was some guilt that I felt, and I think William felt as well, by walking around the outside of Kensington Palace."
Harry describes feeling the mourners' tears on his hands when he shook them. "There were 50,000 bouquets of flowers to our mother and there we were shaking people's hands, smiling," he says.
"I've seen the videos, right, I looked back over it all. And the wet hands that we were shaking, we couldn't understand why their hands were wet, but it was all the tears that they were wiping away.
"Everyone thought and felt like they knew our mum, and the two closest people to her, the two most loved people by her, were unable to show any emotion in that moment."
The interview is the first of four broadcast appearances over the coming days,.
Comments
 0 comments
Want to join the conversation? Please or to comment on this article.