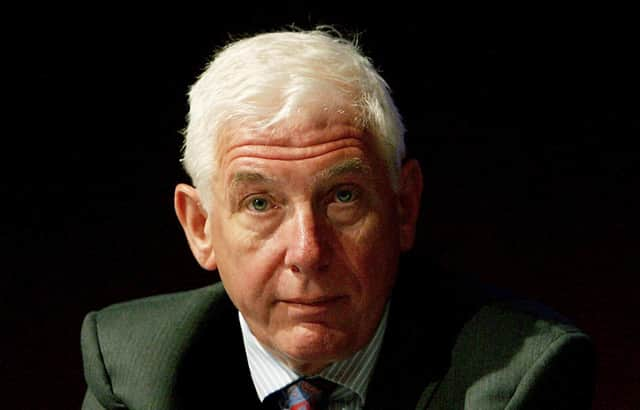 James Hamilton.
James Hamilton wrote to Scottish ministers raising his concerns about the redactions which would be made to his report which was the result of seven months of investigation into whether the First Minister had broken any rules in her statements to Parliament about the Alex Salmond sexual harassment complaints.
His letter, which was published along with his conclusions, said that the removal of sections of his report by the government to prevent jigsaw identification of those who complained about Alex Salmond would lead to an "incomplete and even at times misleading version of what had happened."
He stressed that he had no responsibility for deciding what should be redacted.
The majority of information removed involves a "key" meeting between Alex Salmond's former chief of staff and a senior civil servant, at which Mr Aberdein has claimed he was told the name of one of the complainers. Mr Hamilton said in his report that Mr Aberdein's account of this meeting is "credible".
He said: "I am deeply frustrated that applicable court orders will have the effect of preventing the full publication of a report which fulfils my remit and which I believe it would be in the public interest to publish.
"A key part of the report necessarily refers to certain events prior to 29 March 2018, which are highly significant for understanding who was aware of complaints made against Mr Salmond and what they did with
"These discussions set in train a series of events which ultimately led to the meeting between the First Minister and the Former Chief of Staff on 29 March and the subsequent contacts between the First Minister and Mr Salmond.
"It is also essential to a full and true understanding of what happened to be able to discuss fully why, how and by whom these meetings were arranged."
He added: "I understand that in order to comply with certain court orders it will be necessary to make redactions to the enclosed report before publication.
"In particular, I have been advised by my own independent legal adviser that nothing may be published which could identify certain particular individuals, some of whom had a significant role in certain events.
"A redacted report that effectively erases the role of any such individual in the matters investigated in the report cannot be properly understood by those reading it, and presents an incomplete and even at times misleading
version of what happened."
He said that he had attempted, unsuccessfully, to anonymise some individuals in drafts of his report, but that redactions would mean it was "impossible to give an accurate description of some of the relevant events dealt with in the report while at the same time complying with the court orders."
Mr Hamilton said that there was "no alternative approach" which would allow an unredacted report to be published, and he had "reluctantly accepted" a redacted report should be published "in order to bring this process to a close, and because there is a strong public interest in publishing its conclusions."
He said: "I have had no responsibility for deciding what to redact."
A message from the Editor:Thank you for reading this article. We're more reliant on your support than ever as the shift in consumer habits brought about by Coronavirus impacts our advertisers.
If you haven't already, please consider supporting our trusted, fact-checked journalism by taking out a digital subscription.