Nicola Sturgeon announced her Government would put £8 million towards paying for around 300 temporary care home beds in a bid to alleviate the pressures on the NHS over the winter, which caused plummeting accident-and-emergency performance and sparked emergency responses from health boards.
New management information published by the Government on Thursday states at least 162 people have taken up what is called "interim care placements" since the funding was announced early last month.
However, this is likely an underestimate due to the lack of information from five health and social care partnerships (HSCPs) for the past week.
The figures state around 50 to 60 people have been discharged from hospital into these temporary beds in care homes each week, with 55 in the past week, 58 the week before, and 49 in the previous week.
In total, 473 people are in interim care placements in Scotland, below the 600 estimate produced by the Government at the start of the year.
The £8m funding allows HSCPs to purchase beds at 25 per cent over the standard care home rate, with the Government promising to "utilise every bed possible".
Health secretary Humza Yousaf previously said: "These interim beds may not be a family's first, or indeed second, choice for their relative. But I hope families agree in the current circumstances this is about making the best choice for those in our care.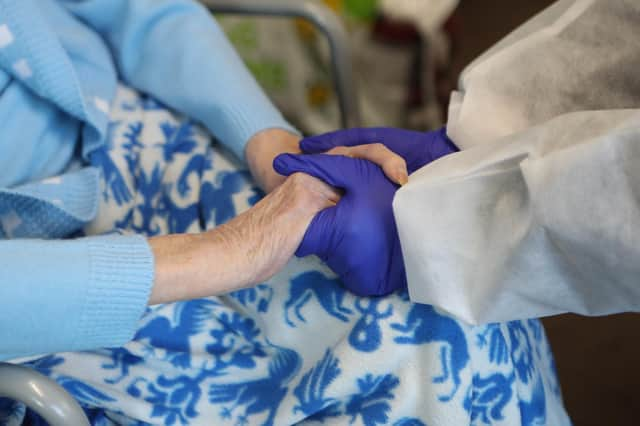 "This measure will only be in place for a limited period of time to directly support our hospitals to deal with pressures at the front door.
"However, it will enable some people to move from an acute setting to a more appropriate community one, recognising the risk of prolonged stays in hospital."
However, unions have cast doubt on the plans, with the Royal College of Nursing saying the move was an attempt at a "short-term fix" and did not represent progress on underlying, structural issues facing the Scottish NHS.
Scottish Conservative shadow health secretary Dr Sandesh Gulhane said: "Moves to reduce the pressure on our hospitals and my overwhelmed colleagues on the frontline are welcome, but the burden cannot now be put on our overstretched health boards.
"It is a result of the SNP's failures to eradicate delayed discharge – as they promised to do eight years ago – that health boards are now facing even more pressure. Humza Yousaf's latest plans fail to address the long-term challenges facing health and social care services and far too many fit and healthy patients are still languishing in hospital.
"While he remains in post as health secretary, he must urgently outline how health boards will be supported to ensure they can meet the needs of patients."
Also announced early last month were plans to recruit around 200 additional staff for the NHS24 service.
Mr Yousaf has faced repeated calls for his resignation due to the ongoing struggles facing the health service and record poor performance in emergency departments across Scotland.
However, he and the First Minister have so far resisted these calls.
Want to hear more from The Scotsman's politics team? Check out the latest episode of our political podcast, The Steamie.