Gordon Brown's think-tank is among several involved in the independence debate in Scotland to be criticised in a new 'transparency audit'.
The study, compiled by news website openDemocracy, highlights what it calls the "opaque" funding arrangements of the groups. They include Unionist think-tanks Our Scottish Future, which was established by Mr Brown, as well as These Islands, Scottish Business UK and the Centre for the Union.
The Yes-supporting Scottish Independence Convention, once chaired by actress Elaine C Smith, is also given the worst grading for transparency.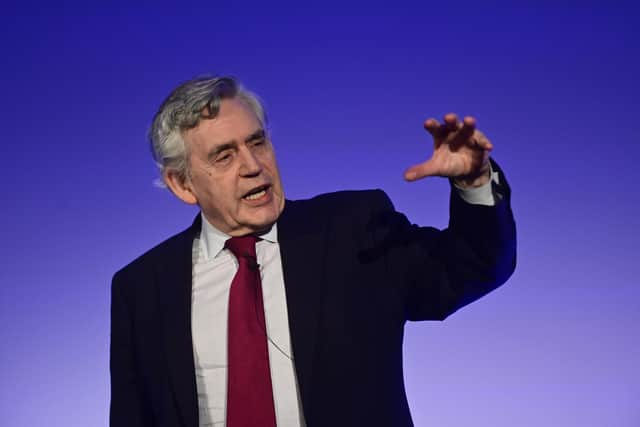 Reform Scotland, a non-partisan group that is chaired by former Labour first minister Lord McConnell and also features ex-SNP communications chief Kevin Pringle as a trustee, is another of the think-tanks being urged to be more open about their finances.
Some of the organisations being audited told openDemocracy they did not disclose the identity of funders because of fears for their personal safety.
The "Who Funds You?" report, which is the first of its kind to focus on the devolved nations, said the amount of money involved was far lower than it found with the UK-wide bodies it has been scrutinising in recent years.
However, it said it could identify income of £3.1 million split across the 11 think-tanks that published the information, with £800,000 raised by organisations which were given the lowest transparency grades.
"[This] figure is likely to be a significant underestimate given that a further five think-tanks did not publish any annual income information at all," the report said.
There is no legal requirement for think-tanks to disclose their funders, but campaigners argue those which seek to influence policy and public opinion should be prepared to be transparent.
The openDemocracy report said: "On high-profile issues – such as Scottish independence or the Northern Irish Protocol – think-tanks often wield considerable influence over different sides of the public debate.
"Yet these organisations do not receive as much scrutiny as they could and, as this report shows, too many of these organisations operate as if transparency and accountability do not matter."
The report looked at 17 think-tanks, of which 11 were focused on Scotland.
Six of the 17 were given the worst rating of "E", which means they do not publish income and funder details on their websites or in their annual accounts.
They are Our Scottish Future, These Islands, Scottish Business UK, the Centre for the Union, the Scottish Independence Convention and Reform Scotland.
Alastair Tibbitt, head of engagement at openDemocracy, says think-tanks played a very important role in decision-making in a democracy.
"They're an incredibly valuable resource for fact and policy in public debate," he said. "However, that very influence means that we have to be aware of who funds their activities, so that we can know what interests might behelping shape their work."
OpenDemocracy said some organisations contacted during the production of the report said they did not disclose the identity of significant donors because "concerns had been raised about their personal safety" or that they may "suffer significant professional consequences if their identity became public".
The report said it accepted there were "some limited circumstances" it may be appropriate not to disclose such details.
However, it added organisations should still be as transparent as possible, and should never have anonymous donors making up more than 85 per cent of their income. A total of seven think-tanks were given an "A" grade for being highly transparent, because they name all funders who gave £5,000 or more in the past year, and declared the exact amount given by each funder.
They include Business for Scotland, Common Weal, Scotland Futures Forum, Migration Policy Scotland and IPPR Scotland.
The Scotsman attempted to contact the six organisations given an E grade.
A spokesperson for Scottish Business UK said: "SBUK is a limited company funded mainly through donations received from its Advisory Council, details of which are on the website. Its annual accounts are freely available."
These Islands referred to a statement issued in December 2021, which said: "These Islands is funded by private donors. As a matter of policy, we only accept donations compliant with Electoral Commission rules for permissible sources."
Our Scottish Future, which was set up by Mr Brown in 2019 to make the case for "a better Scotland in a reformed UK", was unavailable for comment.
The Centre for the Union, a recently established think-tank that focuses on Northern Ireland, but also has former Aberdeen South Conservative MP Ross Thomson as its director of Scotland policy, declined to comment.
A Scottish Independence Convention spokesperson said: "We thank openDemocracy for this important report and the debate around funding and income of think-tanks and democracy more widely. Whilst we do develop policy papers, the Scottish Independence Convention is not a think-tank. Our main role is to provide a gathering place for discussions and campaigning related to self determination forScotland.
"We are funded by our members with some income from past events and crowdfunding."
Reform Scotland did not respond.