Gordon Brown kickstarts fight for union as Nicola Sturgeon says referendum is matter of 'when not if'
A campaign to save the union by holding on to "middle Scotland" is to be launched by former Labour Prime Minister Gordon Brown to counter Nicola Sturgeon's demand for a second independence referendum in the wake of her election victory.
Mr Brown said that Boris Johnson needed to change if the UK was to hold together, to be a "minister for the union rather than just for unionists", with "ad-hoc" leaders meetings no longer enough.
He said he would transform his think tank, "Our Scottish Future", into a campaign organisation to ensure the "not yet nationalist" voters in Scotland do not drift towards supporting independence, and would set up policy commissions to lay out the groundwork of a shared common purpose for the four nations of the UK.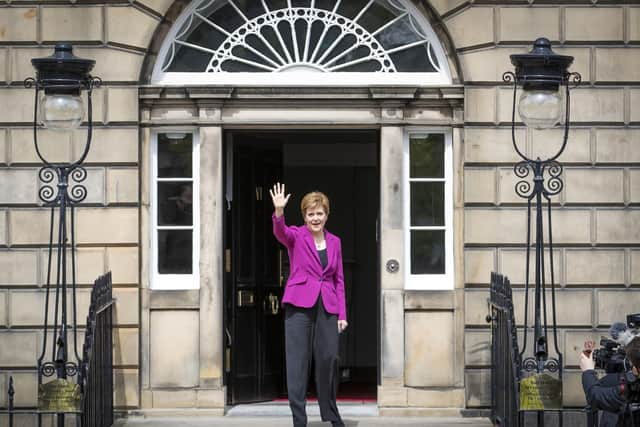 His decision to kickstart a campaign to save the union, comes as another organisation Scotland in Union, said it was set to launch a billboard and social media campaign after its polling showed that just 12 per cent of Scots believe the government should prioritise an independence referendum.
Both campaigns launch a day after the First Minister told Boris Johnson, in a leaders' phone call, that when the Covid crisis is over the question of a referendum "is now a matter of when – not if."
The SNP leader also said yesterday the pro-independence majority of MSPs returned to Holyrood was a mandate for a second referendum and it would be "completely outrageous" for the Prime Minister to block one through a court challenge.
Ms Sturgeon said that if that were to happen "it would mean a Conservative government had refused to respect the democratic wishes of the Scottish people and the outcome of a democratic election and tried to go to the Supreme Court to overturn Scottish democracy."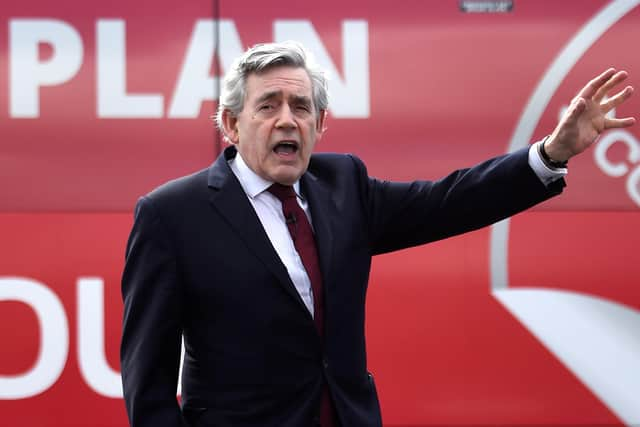 She added: "The people of Scotland have voted for the SNP, on the strength of offering, when the time is right, an independence referendum.
"As in 2011, leading up to 2014, any UK Government that has any respect for Scottish democracy would simply accept that and come to an agreement with the Scottish Government that puts it beyond any legal doubt."
Ms Sturgeon has said that while a referendum should be held after the Covid pandemic, she has predicted that would be within the next two-and-a-half years.
But writing in The Scotsman Mr Brown said that while "no-one should deny the SNP its moment of celebration" the pandemic crisis meant it was "not the time for a victory lap, nor for a headlong rush to irreversible constitutional change."
He added: "Our multiple social and economic crises – in health, social care, jobs, poverty and climate change – are so profound that the Scottish people want time to heal and time to look at what independence and the alternatives to it really offer."
In-depth polling by his think tank, he said, had shown that Scotland was not divided into two camps, but three – the "ideologically committed nationalists" at just above 30 per cent of the electorate, the "out-and-out Unionists", who also number about 30 per cent, but also the 40 per cent "in the middle, without whose vote no majority can be built for independence or the Union."
His polling showed that on election day while the SNP won 48 per cent share of the vote, 73 per cent of Scots "told our pollsters that they wanted better co-operation between Scotland and the rest of the UK and the living symbol of this British connection, illustrated by the vaccination, is for Scots, the NHS."
He added: "Nicola Sturgeon and Boris Johnson do not share much but they have this in common: neither truly represents the views of middle Scotland," he said. "Indeed by trying to force Scots to choose between Scotland and Britain, the pair are colluding with the other to turn the complex 3D reality of Scotland into a binary 2D contest."
As a result, he said the think tank would be "transformed into a campaigning movement" and would "invite people to join us in putting the positive progressive and patriotic case for Scotland in Britain.
"We will argue for a reformed UK with a more inclusive centre, a permanent decision-making forum that brings the leaders of the nations and regions together and for UK resources to back local policies for economic prosperity."
Referencing a letter Mr Johnson sent to Ms Sturgeon and Mark Drakeford on Saturday inviting them to a Covid summit, Mr Brown added: "If the Prime Minister really is to be 'Minister for the Union' rather than just 'Minister for Unionists' then he needs to do more than call ad-hoc meetings with the leaders of Wales and Scotland. He should immediately call together leaders from the regions and nations not as a on-off but in a task force to tackle our multiple crises. As he must now realise, he has to change if the United Kingdom is to stay together."
Mr Brown's decision is likely to win the backing of Scottish Liberal Democrat MP Christine Jardine, who in The Scotsman today writes that the only way to put the "constitutional issue to bed" is for pro-UK parties to stop fighting separate corners.
She said there is a need for a "progressive force for unity" such as the former Constitutional Convention which brought those in favour of devolution together.
She adds: "In the past few months I have found myself in agreement on various aspects of the constitutional debate with figures as different as former Labour Prime Minister Gordon Brown and Scottish Tory MP Andrew Bowie."
Meanwhile Pamela Nash, chief executive of Scotland in Union, said Survation polling for her organisation on the eve of last week's election had overwhelmingly shown people wanted the government to prioritise the NHS and social care, the economy and Covid recovery.
"The new SNP government must listen to the people of Scotland, who are clear that independence is not a priority," she said. "It must not treat every vote as a vote for a referendum and must instead focus on the NHS, economy, Covid recovery and education.
"The recovery period will be long and difficult, and no responsible First Minister would contemplate dedicating time to debating and preparing for another referendum any time soon. The responsible thing to do is to bring people together to build a recovery for every community in the UK."
A message from the Editor:Thank you for reading this article. We're more reliant on your support than ever as the shift in consumer habits brought about by Coronavirus impacts our advertisers.
If you haven't already, please consider supporting our trusted, fact-checked journalism by taking out a digital subscription.
Comments
 0 comments
Want to join the conversation? Please or to comment on this article.