In an email to staff this morning seen by The Scotsman, Jon Vincent, principal of Glasgow Clyde College, outlined the move, which he said was required to avoid a "significant deterioration" in the college's financial situation.
Mr Vincent blamed the Scottish Government's effective 'flat-cash' funding for colleges, something the Government blames on the pressures of inflation and a lack of funding from the UK Government.
It is not known how many job cuts are required, nor what is meant by "changes to our working practices".
However, the college is set to launch a voluntary redundancy scheme that will be open to all staff to apply.
In his email, sent just before 9am on Wednesday morning, Mr Vincent said the financial pressures on all colleges was "extremely challenging", with the impact of a 'flat-cash' Government settlement "severe and requires urgent action".
He states: "In the specific context of Glasgow Clyde College, we need to make savings of more than £2m to deliver our 2023/24 budget and further substantial savings are also required in each of the following years.
"These forecasts are based on our current understanding of the financial situation and do not reflect the potential impact of any pay awards above the Scottish Government's public sector pay policy recommendation. To put this in context, it is important to highlight that each additional 1 per cent increase in staff costs equates to circa £400k per annum in additional unfunded staff costs."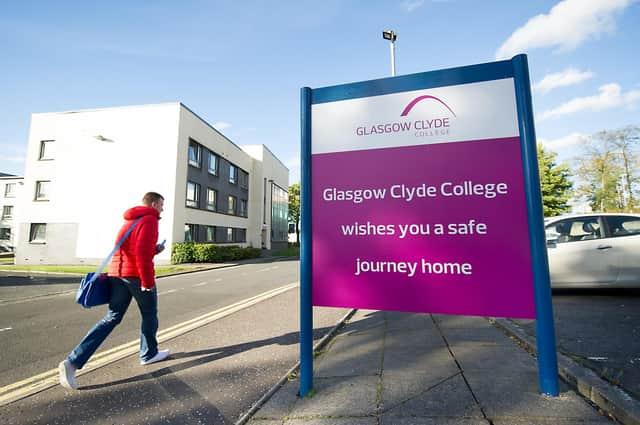 Mr Vincent said the financial hole was a problem shared by "all colleges", with work ongoing since the start of the academic year intended to develop plans to "address our financial situation".
He said: "However, it is now clear that we need to take decisive action to avoid a significant deterioration in our financial situation. In addition to the VS [voluntary severance] scheme, we will all need to accept changes to our working practices to allow the college to protect the core service we provide to our students and to minimise job losses in the future.
"Changes to the way we work will unlock considerable savings and so reduce the impact of the financial challenge we face. I wish to reassure you that the steps we are proposing to take are only as a result of the critical need to address our financial challenge and place the college on a more stable financial footing for the future."
The matter was raised by Stephen Kerr, the Scottish Conservative education spokesperson, at Holyrood's education committee. He asked education secretary Shirley-Anne Somerville whether the financial settlement for colleges risked "undermining the quality of the education they can deliver".
Ms Somerville said Colleges Scotland, the representative body of colleges, welcomed the Budget. She pointed at the £26m increase in the resource budget, adding: "I think that does demonstrate that under very difficult financial circumstances we are seeing a real commitment from the Government to support our colleges and indeed our universities."
The education secretary added: "There may be changes that colleges will need to make in terms of curriculum and in terms of ensuring that they are delivering what they wish and need to deliver for the local economy. Colleges will take those decisions."
Pam Duncan-Glancy, Scottish Labour MSP for Glasgow, said it was "yet another failure" of the Government to support the college sector.
She said: "It is an assault on education and terrible news for jobs and skills in Glasgow. For the Cabinet secretary to leave this down to colleges in absolute abdication of responsibility. At a time when young people should be supported to continue into further education, we need a government that actually stands up for them and the people of Glasgow."
A spokesperson for Glasgow Clyde College said: "Like all colleges in Scotland, we face a serious financial challenge ahead of the 2023/24 academic year.
"In keeping with the Fair Work Framework and long-standing agreements with our trade union partners, we intend to overcome these challenges in consultation and partnership with them and our members of staff."
Want to hear more from The Scotsman's politics team? Check out the latest episode of our political podcast, The Steamie.