Giving the vote to under-18s boosts voter participation, Edinburgh University study shows
Giving the vote to people at a younger age is more likely to see them turn out and retain the habit of voting, a study has shown.
The finding follows academics from the University of Edinburgh and Sheffield University analysing voter behaviour at the 2021 Holyrood elections among younger voters.
Around 1,000 people aged between 16 and 31 were surveyed about their voting habits following the election by the researchers, who found there were positive long-term consequences for turnout among those given the vote at 16.
This was in comparison to those whose first vote was at 18 in general, local or Holyrood elections.
The Scottish Government introduced the change of voter age ahead of the 2014 independence referendum, with the right then extended to local and parliamentary elections in 2015.
Despite the broader positive trends in terms of turnout, more affluent people and those from higher socio-occupational classes were more likely to vote than those from more deprived areas and more working-class backgrounds.
Researchers also found the lower voting age did not make people more likely to take part in other types of political engagement such as demonstrations and petitions.
The report states the introduction of votes at 16 "appears to partially disrupt the normal lifecycle pattern" of voters, which usually sees a decline in voter participation during early adulthood, later increasing as individuals get older.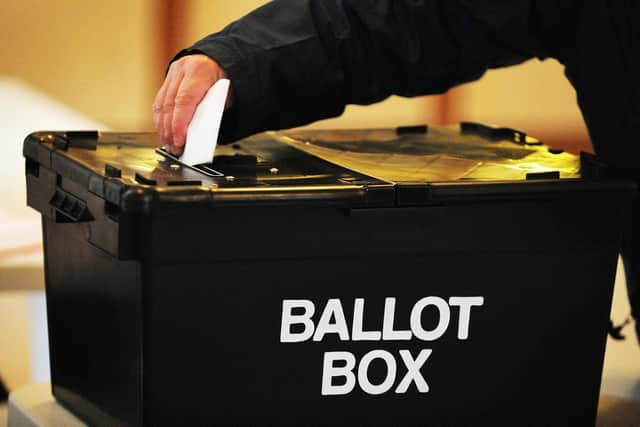 This decline "looks to be smaller for young people whose first election was either the 2014 independence referendum or one in which they were enfranchised at age 16", it adds.
Dr Jan Eichhorn, of the University of Edinburgh's School of Social and Political Science and lead author of the study, said the move to introduce votes at 16 was a "good decision".
He said: "Allowing 16 and 17-year-olds to vote was a good decision taken by the Scottish Parliament. Many younger first-time voters retain a habit of voting and participate in greater numbers than older first-time voters.
"The findings strengthen the case for enfranchising younger voters across the UK to improve long-term voting behaviour. But more can be done.
"Making sure all young people receive great civic education, that includes learning how to discuss political issues well, could help reduce persistent social inequalities in turnout."
Dr Christine Hubner, from the University of Sheffield's Sheffield Methods Institute, added: "The data allows us for the first time to look into the long-term trends in voting in Scotland after 16 and 17-year-olds were given the vote.
"This change appears to have disrupted the usual lifecycle patterns for political engagement, with the decline in voter participation during early adulthood years – the mid-20s – being smaller for those enfranchised at age 16. This shows these young people not only vote in higher numbers, they continue voting at ages where voter turnout is usually at its lowest.
"The report clearly demonstrates that advocating for a lowering of the voting age to 16 for all gives more people the opportunity to benefit from engaging with politics."
Want to hear more from The Scotsman's politics team? Check out the latest episode of our political podcast, The Steamie.
Comments
 0 comments
Want to join the conversation? Please or to comment on this article.