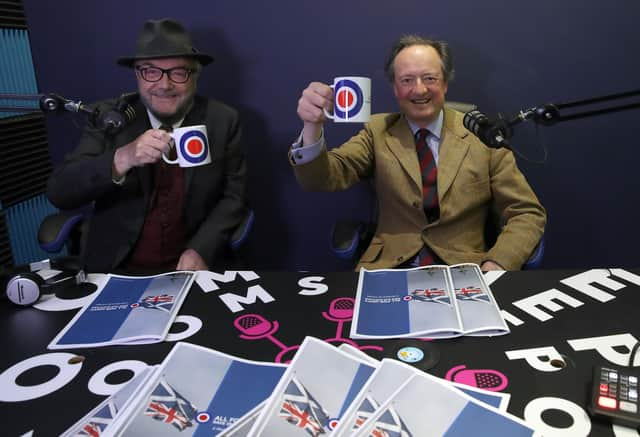 George Galloway and Jamie Blackett(r) during the launch of the Alliance 4 Unity party's manifesto for the Scottish Parliamentary election, at reflexblue studio, Glasgow.
Willie Rennie was asked for his thoughts about All for Unity, founded by Mr Galloway, and their manifesto pledge for regions to have the vote to ratify any referendum in favour of Scottish Independence.
The new unionist party, which a recent IpsosMori poll put at 0.5 per cent of the vote, said Scottish regions should vote to either "leave with an independent Scotland or to remain as devolved administrations within the United Kingdom".
In response, the Scottish Liberal Democrat leader criticised the All for Unity approach to the May elections, adding that Mr Galloway was "predicting defeat" and should "just get off the electoral stage".
Mr Rennie said: "The idea that you need a new party in the mix in order to unite all those parties when they spent a lot of the time criticising those parties seems a very bizarre way of going about uniting.
"It is odd that George Galloway is already predicting defeat, it doesn't particularly give you an indication he is optimistic about his chances of influencing this whole debate.
"If he is not confident about influencing this whole debate he shouldn't be in the debate.
"If he's already predicting that we need to have different referendums in different parts of the country, it doesn't apply a great deal of confidence in his abilities.
"He has clearly had his moments in life where he has shone and this is not one of them.
"He should just get off the electoral stage."
The leader of the Scottish Liberal Democrats, who will celebrate 10 years in the job later this year, was also asked whether he believed Mr Galloway and the leader of the Alba Party, Alex Salmond, should be given a place on the next leaders' debate on STV.
Asked whether the two parties should be included, Mr Rennie said it was a decision for the broadcasters and for Ofcom.
He said: "I've debated with both of them before so I am not afraid of debating with them.
"There would be an advantage I suppose that the public would see what the next five years be look like if they were on the platform.
"They would see the division and the chaos and the bitterness, they would see that, that would be an advantage.
"The political parties who are on that platform have worked hard for years to build up a support base to earn the right to be heard on these debates, so therefore it is up to the regulators to decide, it is not up to me."
Mr Salmond had claimed that a recent Panelbase poll showing his party on six per cent of the vote was enough for a place in the debate as it was ahead of the Scottish Liberal Democrats, although an IpsosMori poll today showed Alba on three per cent and the Liberal Democrats on six per cent on the regional list.
Mr Galloway said legal action would be taken against STV for their perceived snub ahead of next week's leaders' debate.
A message from the Editor:
Thank you for reading this article. We're more reliant on your support than ever as the shift in consumer habits brought about by coronavirus impacts our advertisers.
If you haven't already, please consider supporting our trusted, fact-checked journalism by taking out a digital subscription.