Shirley-Anne Somerville said opponents should question whether they are "comfortable" staying in a party where they "pick and choose" which policies to support. Her comments came as Joanna Cherry, the high-profile SNP MP, insisted it is time for the party to "eat some humble pie" over gender reform and "sort this mess out".
Nine SNP MSPs, including former minister Ash Regan, defied the party whip when the Government's Gender Recognition Reform (Scotland) Bill was voted through the Scottish Parliament before Christmas.
The legislation aimed to make it easier for transgender Scots to obtain a gender recognition certificate, and would also have lowered the minimum age for applicants from 18 to 16. It has since been blocked by the UK Government.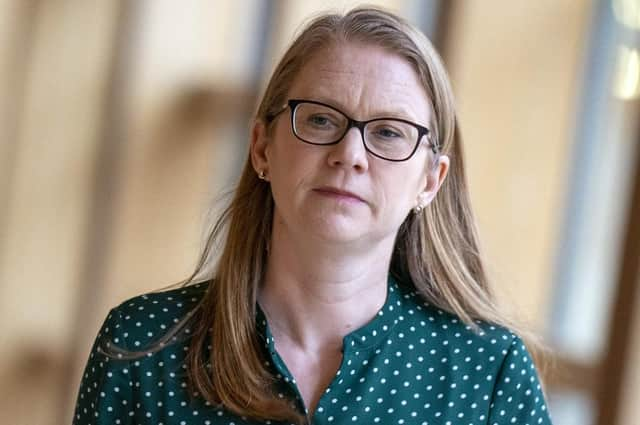 Debate has been further fuelled in recent weeks by the case of Isla Bryson, who was convicted of two rapes while known as a man called Adam Graham. Bryson, 31, was initially held in a women's prison, but was later moved to the male estate following a huge backlash.
A YouGov poll for the Sunday Times, which was carried out at the same time as the Bryson row, found support for the SNP at Holyrood and Westminster has dropped, while support for independence has also fallen.
Alyn Smith, the SNP MP for Stirling, previously said internal party critics should quit and stand as independents.
But Ms Cherry said self-identification "was not promised in the SNP manifesto". She insisted: "We rebels are going nowhere particularly now that events have substantiated our legitimate concerns."
She said it was time to admit that feminist criticisms of the legislation were right, "eat some humble pie and sort this mess out before it does any more damage to the reputation of our party, Parliament and the cause of Scotland's independence".
During an interview on the BBC's Sunday Show, Ms Somerville, the education secretary, was asked if SNP politicians who did not agree with the Government's policy should resign.
She said: "We all stood on a manifesto that was obligated to look at improving the trans community's life chances and life circumstances, particularly around gender recognition. I think if we stand on a manifesto for that, there's an expectation, as in any representative of any political party, that you follow that manifesto."
She said politicians "may wish to take decisions that are against that manifesto", adding: "They can do that – political parties have that. They should then question about whether it is comfortable being in a party where you pick and choose the policies after you've been elected."
Pushed on the issue, Ms Somerville said she did not think critics should resign from the SNP, but added: "If you're standing as an SNP candidate at an election on a manifesto, you should stand on that manifesto and you should follow that through. At the next election, you can, of course, then decide if you wish to be an SNP candidate."
She said it was "entirely up to" critics such as Ms Cherry and Ms Regan whether they stand for the SNP at the next election.
Asked if she was saying they should leave the party, Ms Somerville said: "No, I'm not, and I haven't actually said that. What I'm saying is if they wish to stand as an SNP candidate, and their branch and their constituency wish to have them, then they have to stand as SNP candidates on a manifesto, with an expectation that they would follow that through."
Jim Sillars, a former deputy leader of the SNP, said the gender recognition legislation would be Ms Sturgeon's "poll tax".
"She allied herself with zealots, ignored public anxieties, denied biology, produced a Bill that most can see is deeply flawed, rejected sensible amendments such as barring sex offenders from self-identification, and cannot hide from the people that predatory males, if the Bill becomes law, can manipulate it to invade women's safe spaces," Mr Sillars wrote in The Sunday Times.
"The recent rapist case will not be the only one to haunt her."
Meanwhile, writing in the Sunday Post, former SNP MSP Joan McAlpine said: "Not since Bonnie Prince Charlie sacrificed his Highlanders at Culloden has a Scottish battleground been so ill-chosen. This ideology is a personal passion of the First Minister, so now she must answer for any harm done – to women, obviously, but also to her party and the cause of independence."
Conservative MSP Rachael Hamilton said the SNP needed to "acknowledge the dangers" of self-ID and rethink the gender reform legislation.
She said: "It's extraordinary that as Nicola Sturgeon's self-ID policy unravels before her eyes, the response of the SNP hierarchy is to tell those who warned of its dangers that they are no longer welcome in the party unless they support it.
"Shirley-Anne Somerville's remarks show how out of touch the SNP are with public opinion and – even despite the enforced and chaotic U-turn on sending a double rapist to a women's prison – their complete intolerance of those within their own party who have voiced legitimate, and vindicated, concerns.
"Nicola Sturgeon should be putting her hands up and saying 'sorry, I got this badly wrong', rather than doubling down and signalling to her internal critics they're no longer welcome in the SNP.
"She was repeatedly warned by women's groups, experts and academics that her self-ID policy risked women's safety, but she not only dismissed the warnings, she launched baseless smears at anyone who disagreed with her.
"The SNP need to acknowledge the dangers their self-ID policy and GRR Bill present to women and girls and redraft them both immediately."