Gender Recognition Reform Bill: Blocking Scotland's gender reforms would be 'disastrous', campaigners claim
Any action from the UK Government to block controversial reforms to the gender recognition process in Scotland would be "disastrous" for the trans community, campaigners have said.
Colin Macfarlane, director of nations at the charity Stonewall, which campaigns on behalf of lesbian, gay, bisexual and transgender people, said such action would be "yet another example of hampering progress on LGBTQ+ rights". He said it would also undermine a commitment given by Prime Minister Rishi Sunak to "govern with compassion".
He was speaking after reports claimed Scottish Secretary Alister Jack has received initial advice from Attorney General Victoria Prentis and Lord Stewart of Dirleton, the Advocate General for Scotland, the Bill could be challenged under the Scotland Act.
MSPs last month passed the Gender Recognition Reform (Scotland) Bill by 86 votes to 39, approving reforms which would allow trans people to obtain a gender recognition certificate (GRC) without the need for a medical diagnosis.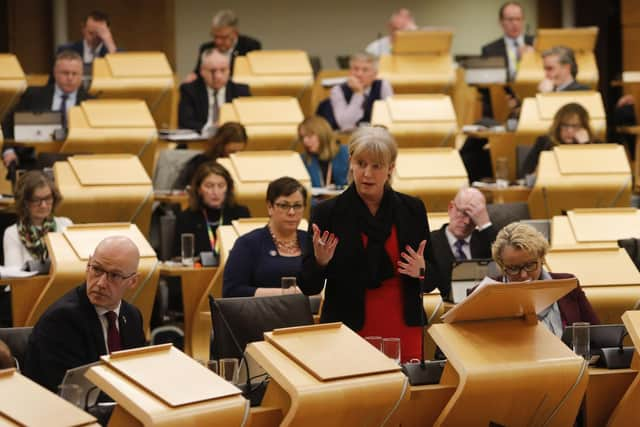 The Bill will also allow 16 and 17-year-olds to apply for a GRC for the first time, and would reduce the amount of time a person has to live in their acquired gender before they can be granted the document. It was passed despite concerns from some politicians and women's rights groups the changes could impact on safe spaces for females.
Mr Jack said the UK Government shared "concerns that many people have regarding certain aspects of this Bill, and in particular the safety issues for women and children".
He said the UK Government would look closely at the legislation and its impact on the UK-wide 2010 Equality Act, including whether a Section 35 order should be sought to stop the Bill gaining royal assent.
A Section 35 allows UK ministers to issue an order prohibiting Holyrood's presiding officer from submitting a Bill for royal assent if there are reasonable grounds to believe it would adversely affect the operation of UK-wide equality legislation reserved to Westminster. The UK Government has until January 19 to make such an order.
But Mr Macfarlane said: "We hope this is not the approach the Prime Minister wishes for the UK Government to take." He said the Scottish Government had an "overwhelming mandate to reform" the gender recognition process, and that the Bill is "one of the most consulted on in the Scottish Parliament's history".
Mr Macfarlane continued: "The new law was passed by a resounding cross-party majority, with support from MSPs in all parties. The Bill has been subject to extensive, appropriate scrutiny that has closely considered safeguards and interaction with UK-wide legislation, with almost 150 amendments debated and voted on.
"In May this year, the Scottish Parliament's Equalities, Human Rights and Civil Justice Committee undertook 10 weeks of detailed evidence hearings … the UK Government has had more than six years to engage constructively with the Scottish Government over the proposals."
He also said it would be "spiteful" if the UK Government refuses to recognise GRCs issued in Scotland.
A UK Government spokesperson said: "We share the concerns that others, including the Equality and Human Rights Commission and the UN Special Rapporteur on Violence Against Women and Girls, have set out with the Scottish Bill, particularly around safety issues for women and children." The spokesperson added: "No decision has been made on a course of action at this time."
Comments
 0 comments
Want to join the conversation? Please or to comment on this article.