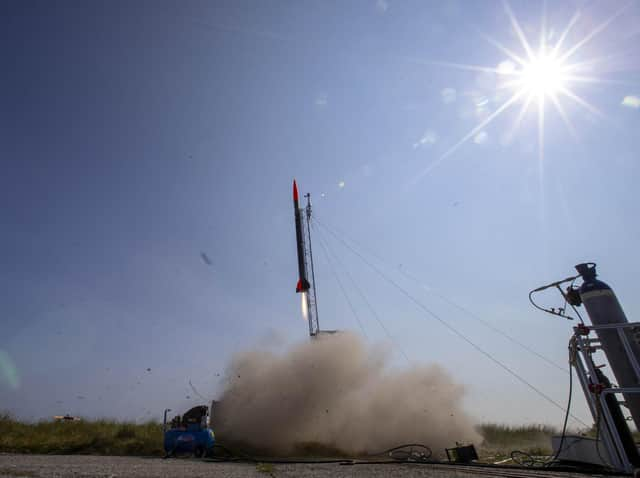 The funding includes £50 million each from the Scottish and UK Governments, with some £293 million more expected in match funding from other sources as well as up to 1,300 jobs.
Over 10 years, the three islands' councils will invest in 16 projects, including a spaceport on North Uist, a vertical farm in Orkney and redevelopments of University of the Highlands and Islands campuses in the Outer Hebrides and in Shetland.
Orkney Islands Council leader James Stockan said: "We have worked together to successfully achieve an impactful growth deal from our Governments in both London and Edinburgh that will help secure a better future for us all.
"Not only does the agreement recognise all our unique challenges faced as island areas, but also the strength of our assets and opportunities that we offer."
Western Isles Council leader Paul Steele said: "The signing of the Islands Growth Deal is both the culmination of a vision set out by the Islands Councils and the UK and Scottish Governments and the beginning of the implementation of that vision."
Shetland Islands Council leader Emma Macdonald said: "The deal contains projects which are island-specific and focus on local opportunities and priorities, as well as those which, working in partnership, will help us unlock more economic success for all our islands.
"These vital projects supporting our islands' sustainability could not have progressed without the UK Government and Scottish Government's support and investment."
The signing, inside the Orkney Islands Council chamber on Friday, was also attended by Scotland Office minister Malcolm Offord and Scottish Government business minister Ivan McKee.
Mr McKee described the deal as a "game-changing initiative", adding: "This £50 million Scottish Government investment will support the transition to renewable energy sources - including equipping the workforce with new skills - and trial emissions reduction initiatives on islands.
"It will drive innovation in key space, food and drink and creative industries sectors; help develop significant tourism and cultural attractions and expand education provision."
While the Scotland Office minister said the deal would "not just boost local economies and create jobs, but also empower communities to get the most out of the many assets and attributes that make the islands such unique and special places to live".
He added: "This deal is packed with a broad range of high-impact projects, whether it's leading the transition to net zero or developing must-visit destinations such as the St Kilda trail.
"The UK Government's £50 million support for the islands deal, in addition to other levelling up investments, shows our continued commitment to the Scottish islands."