Gambling firms to face compulsory levy as government under fire for not going fast enough
The gambling industry is facing new checks and maximum stake limits for slot machines as the UK Government warned addiction can "wreck lives".
Ministers published new plans for the industry on Thursday, with the Culture Secretary saying the proposed changes will "protect vulnerable customers".
Lucy Frazer told MPs the gambling white paper would cover "six key areas" of reform, but was criticised Labour for not making changes fast enough.
Making a ministerial statement in the Commons, she said: "Firstly, we want to tackle some of the challenges unique to online gambling. Campaigners have expressed to me the one thing that differentiates problem gambling from so many other forms of addiction is that it can often take place in secret.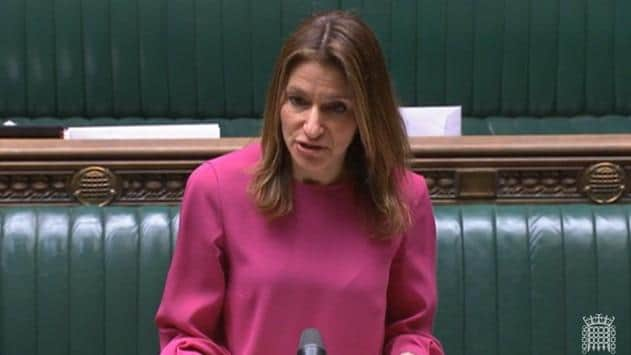 "So, we are going to force companies to step up their checks on when losses are likely to be unaffordable or harmful for punters.
"Companies already have to intervene when they know a customer is spending vast sums, but this change will better-protect those least able to afford even small losses.
"On top of the checks, we plan to bring in online slot games more in line with bricks and mortar equivalents, with a stake limit on online slots of between £2 and £15, subject to consultation."
Gamblers who are losing £1,000 a day will face checks, as will those making losses of £2000 over 90 days, though it is unclear how that will work.
Ms Frazer said her "balanced" proposal would still let people enjoy gambling, in proposals that had been delayed four times since first announced in 2020. This saw it supervised by four culture secretaries, six gambling ministers, and three prime ministers.
Ms Frazer also announced a new statutory levy requiring gambling companies to fund research, education and treatment.
Labour has now urged the Government to bring in reform before the Summer recess, claiming it could "save lives".
SNP MP Ronnie Cowan, vice-chair of the APPG on Gambling-related Harm, claimed the UK Government had "finally listened".They said: "Affordability measures and stake limits are essential to protecting people.
"However, I am concerned that after years of delay the UK government is still talking about putting some matters out for consultation.
"They should have been engaged in this discussion, especially with those with lived experience, for years.
"We have urgently needed a proper levy on the industry and will be making sure this is fit for purpose.
"We will, of course, be looking intensely at the detail and will continue to work with the UK government to ensure that these reforms are not watered down and are implemented as soon as possible, but this White Paper is a positive step forwards that has the potential to save lives."
Zoe Osmond, chief executive of charity GambleAware, said: "We're pleased that after years of delay the gambling White Paper is finally being published.
"This White Paper is just the start of the process, so we hope any subsequent consultation period is swift to ensure sufficient protections are in place to help prevent gambling harm.
"As the leading charity and strategic commissioner of gambling harm prevention and treatment services across Great Britain, we will continue to play our full part in collective efforts to achieve a society free from gambling harms."
Comments
 0 comments
Want to join the conversation? Please or to comment on this article.