Now the chair of LGBT+ charity Stonewall, Iain Anderson called for ministers to instead adopt an approach that allows trans people to be "respected".
His intervention comes with Rishi Sunak still considering whether to try and block the legislation, with the Prime Minister insisting as recently at Friday he is still seeking legal advice on how to proceed.
Speaking to Scotland on Sunday, Anderson said: "I want to see the UK Government adopt an approach that sees trans people as citizens to be respected. The gender recognition model legislated for by the Scottish Parliament is leading practice among our peers across the world, with 30 other countries, including Canada, Australia, New Zealand and most of the US, who've adopted similar de-medicalised approaches for legal gender recognition.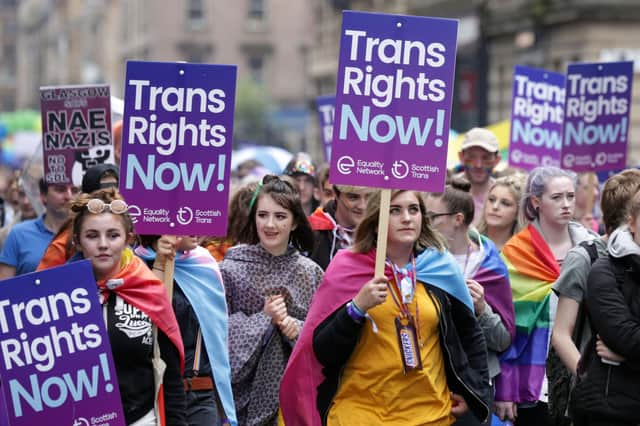 "For the UK to block this legislation is to firmly step away from being a global leader on LGBTQ+ rights. This would be a huge mistake for the UK's international reputation, but most importantly for trans people in all parts of the UK."
Anderson previously resigned as the Government's LGBT+ business champion over the decision not to ban conversion therapy for transgender people.
MSPs last month passed the Gender Recognition Reform (Scotland) Bill by 86 votes to 39, approving reforms which would allow trans people to obtain a gender recognition certificate (GRC) without the need for a medical diagnosis.
The Bill will also allow 16 and 17-year-olds to apply for a GRC for the first time, and would reduce the amount of time a person has to live in their acquired gender before they can be granted the document.
Stonewall were joined in urging ministers not to intervene by veteran human rights campaigner Peter Tatchell.
He said: "Any veto on Scotland's new gender recognition legislation by the UK Government would be a direct attack on devolution and the Scottish people's right to determine their own laws.
"This would be an abuse of the veto powers, which were never intended to be used on such an issue. If Westminster can tear up devolution whenever it likes, it will rightly strengthen support for Scottish independence.
"Conservative opposition to trans human rights is reviving their negative image as the nasty party. It risks undoing the efforts by David Cameron and Theresa May to detoxify the Tory brand."
Cleo Madeleine, a spokesperson for Gendered Intelligence, a charity that aims to promote gender diversity and improve trans people's lives, claimed blocking the Bill would suggest the UK Government was taking "punitive measures against Scotland and trans people".
She said: "It's true that it's going to damage the UK's reputation which is already in the toilet, and saw it last year condemned by the Council of Europe for backsliding on LGBT rights.
"This is a further step in that direction. One of the key things to recognise about the current issues between Westminster and Holyrood is GRR is really just about quality of life and dignity for trans people.
"Trans people have become a political football for what is increasingly the English government, rather than the UK Government, as our colleagues in Scotland, Wales and Northern Ireland continue to move ahead with progressive reforms."
Ministers are currently considering using section 35 of the Scotland Act 1998, entitled "power to intervene in certain cases", which could allow them to block the Bill.
Downing Street insists no decision has yet been made, and the UK Government has until Wednesday evening to do so.
On Friday the Prime Minister insisted it was "entirely reasonable and standard" to consider action.
Speaking during a visit to Scotland, Mr Sunak said: "As is completely standard practice, when the Scottish Parliament passes a law, it's completely normal for the UK Government to take advice on the impact of that law across the UK and then consider how best to proceed.
"What I'm concerned about is the impact of the Bill across the United Kingdom. These questions kind of slightly demonstrates that there may be impacts across the UK that we need to be aware of and understand the impact of them and that's what we're doing."