Exclusive:

Former Tories leadership contender Rory Stewart says he would consider standing for Scottish Parliament and calls second independence referendum prospect 'less relevant'

Former Tory leadership candidate Rory Stewart has called the idea of becoming a MSP 'very attractive'
Rory Stewart has said he would consider standing for election to the Scottish Parliament, calling the idea "very attractive".
The former Tory leadership candidate said he cared deeply about Scotland, and Scottish Conservatism "has more in common with the way that I view the world".
However, he said he was "struggling" with the idea of returning to politics at all, admitting he found the experience "very unpleasant".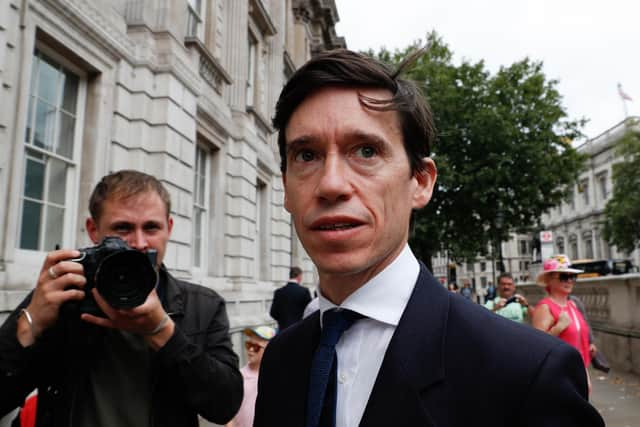 In an exclusive interview with The Scotsman, Mr Stewart said the prospect of a second independence referendum was "less relevant than it was", but insisted he "definitely wouldn't be complacent" about the unionist side winning if another vote did take place.
He also spoke of his disappointment after former Scottish Tory leader Ruth Davidson chose not to back his leadership bid in 2019, instead coming out in support of Sajid Javid. Mr Stewart said it would have made a "huge difference" if Ms Davidson had backed him, giving him "critical momentum with a very important group of MPs". The contest was eventually won by Boris Johnson.
Mr Stewart, who has strong Scottish roots, served as the MP for Penrith and The Border from 2010 to 2019 and became a Cabinet minister under Theresa May. However, he lost the Tory whip under Mr Johnson alongside 20 other Brexit rebels, and resigned from the party in October 2019. He now hosts the hugely popular podcast The Rest is Politics with Alastair Campbell.
In a memoir published this month, called Politics on the Edge, Mr Stewart writes the government and parliament are now in a "shameful state". Speaking to The Scotsman, he backed moving to "more of a proportional representation [voting] system, to give space for smaller parties to come in, because I think the old parties are so sclerotic and dead that we need a bit of new blood".
He added: "I'd like to see us devolve much more power down to the local level. I think that's a problem not just in England, but in Scotland too. I don't think it makes sense to try to run things from either London or Edinburgh."
Mr Stewart said he suspected his criticisms of Westminster were also true of Holyrood. "I don't know Holyrood politics as well, but my sense of MSPs is that it's a very similar culture to MPs," he said. "They have come to a similar formation.
"A lot of it is their priorities being very focused on just winning the next election, not really thinking hard in detail about policy. It's very tribal. It's very much about sticking it to the other side. It's a culture where the press releases seem to substitute for policy. I think this is true both sides of the border."
He is scathing about Mr Johnson. "I think it's mind-blowing that people could have voted for him to be prime minister," he said.
The Scotsman asked Mr Stewart if he would ever consider standing for the Scottish Parliament, given his brand of Conservatism may fit better north of the border. "Yes, I have often thought of it," he said. "I think for somebody like me who is about the liberal centre, and obviously it would be a liberal unionist centre in Scotland, I can see a real point to that, yes. And maybe that is something to think about in the long run."
He added: "I'm still struggling about whether I want to go back into politics at all. But I think if I did go back into politics, I think that's a very attractive, interesting thing. I care deeply about Scotland, and you're right, I think Scottish Conservatism has more in common with the way that I view the world."
He said there were "huge echoes" between the 2014 independence referendum and the Brexit vote two years later. "They're much more similar than people like to acknowledge," he said. "They're both very, very much driven by social media.
"The Scottish referendum was one of the first real social media-driven events in British politics. I think it found itself, like Brexit, in this stand off between David Cameron making quite dry economic arguments, and not really understanding the arguments of identity and emotion on the other side, and struggling to really mobilise a more emotional story.
"I think he was lucky to win it, actually. I think it was a close-run thing, and I don't think that campaign was done right. I think it's possible that if it had been done two years later, as populism begins to really sink in, it might well have been lost."
Mr Stewart said the prospect of an independence referendum was less relevant than it was, adding: "And it's interesting, I've got to admit that I was wrong about this. I thought when Boris Johnson came in that he would have no choice other than to grant a referendum.
"It seemed to me that Nicola Sturgeon was inevitably going to be able to box him into a referendum in 2019, 2020, and when Johnson and others said 'no, we're not going to hold one', I thought, you know, 'you're naive, you're not going to be able to get away with this. You don't understand Scotland. You don't understand the demand. It's going to be very difficult for you to resist this'.
"But of course, he did resist it, and oddly, as the SNP has been damaged by the scandal and as Labour's beginning to get a bit more momentum again, it doesn't feel to me as though this is a very propitious moment for Humza Yousaf."
Mr Stewart said he was "very sad" that Ms Davidson did not back his leadership bid in 2019. "I thought she would," he said. "I made a lot of effort to reach out to her. I thought we had a lot in common, we shared values in common.
"And I think if she had come in behind me, it would have made a huge difference. It would have given me critical momentum with a very important group of MPs who I liked, and I was very close to a lot of the Scottish MPs. So no, I was sad about that.
"The truth is politics is a brutal business, and many, many people, many of my friends, many people who I hoped would support me didn't, and they will have had many different reasons for that."
Asked if he could ever see himself running to be prime minister again, Mr Stewart said: "I think I'd have to take some time off. I'd have to develop new skills, new resilience, new strength, and I'd have to feel it was a moment where really the stakes were very, very high. At the moment, I'm very much trying to gather my thoughts, work out what I'm doing. I'm a bit reluctant to get back into it at the moment."
Given his own experiences, could he honestly recommend politics to a young person today? "I found it very unpleasant, and I think many of my colleagues find it very unpleasant and very difficult," Mr Stewart said. "At the same time, of course, you want good people to go into politics.
"So I'm afraid we've created a horrible world in which you take young, idealistic people, you encourage them to do something because you need young, idealistic people to do it, but it does feel a bit like encouraging some young soldier to sign up for the First World War. You want the soldiers out there in the trench, you need those brave young men, but you're pretty aware of what you're putting them into."
Comments
 0 comments
Want to join the conversation? Please or to comment on this article.