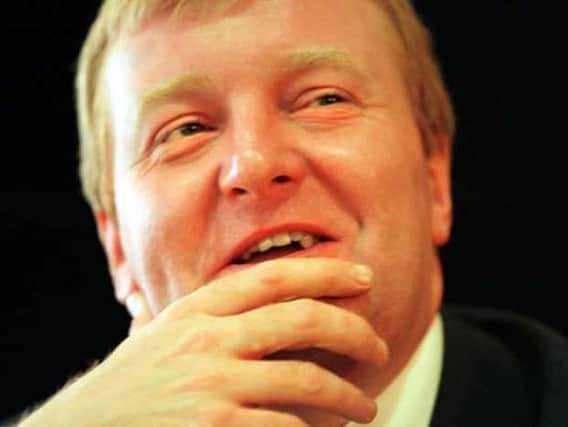 The MP, who represented Ross, Cromarty and Skye for 32 years before he was defeated by the SNP's Ian Blackford, died at his home near Fort William just three weeks after the election, suffering a major haemorrhage as a result of years of alcoholism.
A new documentary of his life for BBC Alba sees his closest friends and colleagues talk of his early life, entry into politics at 23, rising to lead his party for seven years and then his descent into alcohol dependency, which forced him to resign as leader and then claimed his life at just 55.
However, the one-hour programme also details the abuse he suffered in his last months, during a bad-tempered election campaign, while he also dealt with the deaths of his parents and a close friend.
Brian Wilson, a journalist and former Labour MP, says: "He had someone full-time deleting the abuse that was being rained in on him on social media. Charlie was mourning
"Charlie was grieving the death of his parents, the loss of his best friend. Charlie was trying to hold a family together. Nobody could have been well equipped to deal with that. It was beyond belief the things that were being said and done."
Mr Wilson adds: "What Charles was subjected to had nothing to do with his politics, had no respect for what he'd done in politics or in public life, and had no respect for his personal circumstances.
"It was naked abuse and denigration of the worst kind. I think what was done to him was cruel beyond words."
His close friend and former brother-in-law James Gurling also reveals that Mr Kennedy had anonymous, aggressive notes left on his car and put through his letterbox. He says the level of anger "really worried" the politician.
"The level of anger, the vociferous nature of the campaign surprised and really worried him," Mr Gurling said. "When you've got anonymous notes left in your car or put through your letterbox, unsigned, but highly aggressive, you begin to wonder what's in those people's minds that they think that is an appropriate way of doing things.
"All politicians get shouted down in meetings and get called all sorts, but generally speaking that's in a public view that the community can judge is fair or not. This was something quite different."
After Mr Kennedy's death it was revealed an SNP official, Brian Smith, who was convener of the party's Skye and Lochalsh branch at the time, had resigned after making abusive Twitter comments.
Mr Smith called Mr Kennedy a "drunken slob" and "quisling-in-chief". He was reported to have sent more than 130 messages to Mr Kennedy before and immediately after the election.
In the programme, David Green, who worked for Mr Kennedy, said that in 2015 the SNP had wanted to re-run the 2014 independence referendum.
Looking visibly upset, he adds: "There's a lesson in trying to be careful about language. Because you don't believe in a certain constitutional outcome for the country you deeply care about doesn't make you a quisling or a traitor it just means you have a different view point, which is perfectly valid in a democracy.
"But using that kind of language in the communities he represented, and which were home, was far harder to experience than the theatre that is the House of Commons chamber.
"As much as you think about that period as a decrease in apathy and an increase in voter turnout with that came some pretty difficult times, which even now, working in politics and through Brexit, I haven't got anything to compare to."
His close friend, former Labour spin doctor Alastair Campbell, also contributes to the documentary. Mr Campbell is seen to wonder if Mr Kennedy had been "more open" about his problems with alcohol, if it would have left his political opponents much "less willing and able" to use it against him.
Mr Kennedy was just 23 when he won the Ross, Cromarty and Skye seat – an area that had been devastated by unemployment after the closure of the Aluminium Smelter at Invergordon, which launched his 32-year career in politics and saw him return the most Liberal Democrats to the Commons and take a principled stance against the Iraq War.
Regarded across the political spectrum as a "good man", Mr Kennedy was gracious in his defeat to Mr Blackford, which he said was a "moment of political history", describing it as "the night of the long sgian dubhs".
His body was discovered by his partner, Carole MacDonald, the widow of one of his oldest and closest friends, Murdo MacDonald, late on Monday evening at his home.
He left a ten-year-old son, Donald, and his former wife, Sarah Gurling. He was buried on land in Lochaber dating back to the 18th century when Cameron of Lochiel gifted burial rites to the Kennedys of Cluny for their support during the Jacobite Rebellion.
Following his death, tributes for the former party leader poured in from across the political spectrum, with former Lib Dem leader and deputy prime minister Nick Clegg and Prime Minister David Cameron among those expressing their sadness.
Tearlach Ceannadach: Labhraiche Lochabair / Charles Kennedy: A Good Man Speaking is on BBC ALBA tonight at 9pm and will be available on the BBC iPlayer for 30 days afterwards.
A message from the Editor:Thank you for reading this article. We're more reliant on your support than ever as the shift in consumer habits brought about by Coronavirus impacts our advertisers.
If you haven't already, please consider supporting our trusted, fact-checked journalism by taking out a digital subscription.