Former governor urges prison service to change trans policy
The policy of housing transgender prisoners in the female estate should be rewritten, according to the former governor of Scotland's only women's jail.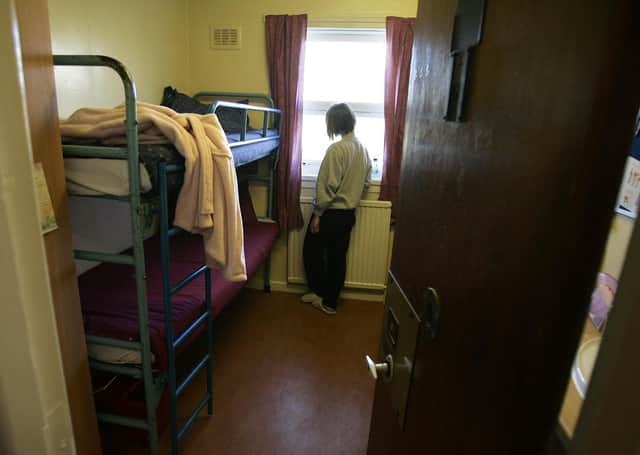 A female prisoner in a cell at Cornton Vale prison. A former governer has said the SPS must be "robust" and re-write its policy on housing transgender prisoners in order to protect single-sex spaces.
Rhona Hotchkiss, a former governor of Cornton Vale, also said the outcome of a recent court case in England should not have a bearing on any decision made by the Scottish Prison Service.
Currently, prisoners who are transwomen can be housed in the female estate after a risk assessment, based on their own declaration of being transgender.
However, the assessment does not take into account the impact of having a transitioned or transitioning male on female prisoners, many of whom, says Hotchkiss, are victims of male violence.
A long-awaited review of the SPS policy is expected to get underway within weeks – after months of delay due to the pandemic – and Hotchkiss has urged prison chiefs to be "robust". She said they must revert to "single sex" status for prisons and "act in the best interests of female prisoners".
The SPS has been under pressure to review its policy on where transgender prisoners should be placed after concerns were first raised in December 2018.
Hotchkiss, who retired from the service in 2019 when there were 22 prisoners born men but identifying as the opposite sex, said: "The review has been long promised and really needs to happen now with a degree of urgency.
"The original policy was put in place without any recourse to its impact on female prisoners, or prison staff, and it's time that situation was reversed.
"The female prison estate is no place for male bodies, even if they are in the process of transitioning.
"It's important for the women, many of whom are incredibly vulnerable, that they remain single sex spaces, and the SPS should abide by the Equality Act which allows for that to be the case. The SPS needs to find another solution for transgender prisoners."
She said the outcome of a judicial review brought by a female prisoner in England, who reported being sexually assaulted by a trans prisoner convicted of sexual offences, should not impact the SPS policy review.
Last week, the High Court ruled the Ministry of Justice's transgender prison policy was "capable of being operated lawfully" though it acknowledged women prisoners may "suffer fear and acute anxiety" with the psychological impact likely to be "significant".
Hotchkiss said: "That case confirms the unacceptability of the policy. The Equality Act permits all males to be excluded from single-sex spaces for women, where this is a proportionate means to a legitimate aim. Women's prisons and prison wings are the definitive example of facilities that should be single-sex.
"While I agree with the case's conclusions on the impact on women, I cannot understand how that did not result in the policy being ruled out of order. I would urge the SPS to put women at the forefront of their thinking and not feel it has to abide by the conclusion of the ruling."
A spokesperson for the SPS said risk assessments were always carried out, including the conviction of the transgender prisoner, before any decisions were made about where to place them in the estate, and added that the review would be starting "within weeks".
A message from the Editor:Thank you for reading this article. We're more reliant on your support than ever as the shift in consumer habits brought about by Coronavirus impacts our advertisers.
If you haven't already, please consider supporting our trusted, fact-checked journalism by taking out a digital subscription.
Want to join the conversation? Please or to comment on this article.