Foreign Secretary 'censoring' Scottish Government and 'damaging Scotland's interests', claims Angus Robertson
The Foreign Secretary is attempting to censor the Scottish Government through new guidance intended to stop the SNP meeting with overseas officials and politicians without the involvement of Westminster, Holyrood's constitution secretary has claimed.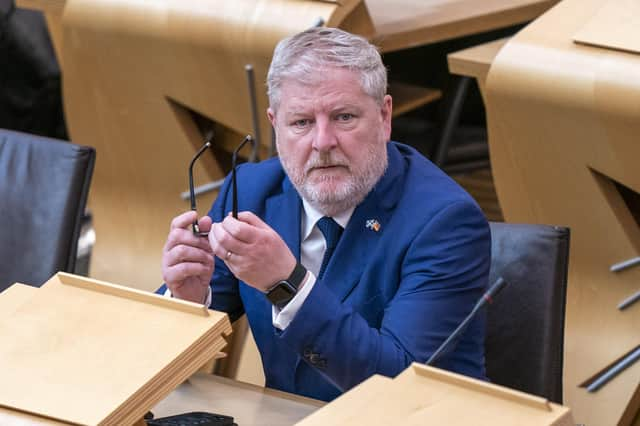 Mr Robertson – who was reappointed to his role as external affairs secretary by Humza Yousaf – also accused the foreign secretary of trying to "limit the Scottish Government's international activity".
The intervention comes after a letter from Mr Cleverly to ambassadors and diplomatic staff requested a crackdown on the engagements of the Scottish Government, demanding a "strengthened approach".
This would see foreign governments being told not to meet with Scottish Government ministers without the involvement of the Foreign, Commonwealth and Development Office (FCDO).
A UK government official is also recommended to attend meetings with Scottish ministers, "particularly those [meetings] where you judge reserved issues may be discussed".
Scottish Government sources believe such demands are part of a wider attack on the Scottish Parliament as an institution, led within Rishi Sunak's Cabinet by Scotland Secretary Alister Jack.
They highlight the use of the Section 35 order to block gender recognition reform, plus the escalating row over the deposit return scheme and the internal market act as examples of this increased hostility to devolution.
In his response to the fresh guidance, Mr Robertson demands their withdrawal warning of "real, practical damage to Scotland's interest", and says it is further evidence of the "UK government's intention to undermine devolution and its dismissal of the idea that the UK is a voluntary union".
The Edinburgh Central MSP and former SNP leader in Westminster has been nicknamed "Air-Miles Angus" by opposition politicians due to his regular trips abroad, with Scotland's overseas engagement receiving more political opposition from unionists in recent years.
Around £35 million is set aside in the Scottish budget specifically for such activity, which includes international offices and meetings with foreign diplomats.
Diplomatic figures including the German and Irish ambassadors met Mr Yousaf during his visit to London last week, with the US deputy head of mission meeting Mr Robertson.
Mr Robertson writes: "The UK government's apparent determination to reduce Scotland to the status of a mere administrative unit and for it to be characterised as such by UK government diplomats is unacceptable.
"It should be needless to say that Scottish Government ministers would never purport to speak for the UK. The fact that we have very different views on matters such as immigration, asylum and Brexit will be well known to governments overseas, and it would be absurd to think that our such views could be confused with those of the UK government."
He adds: "Your letter and guidance amount to an attempt to censor Scottish Government ministers' legitimate engagement in international forums and meetings. They give an inaccurate picture of both the way the Union itself is supposed to operate and of devolution. And above all, they will damage the Scottish economy and a range of Scottish interests."
A source close to the Foreign Secretary said: "The promotion worldwide of Scotland, its history and its magnificent tourist pull, huge investment opportunities and unique cultural heritage are a genuine pleasure for us all to sell around the world and we do. But on foreign policy, Scotland has a Foreign Secretary and it isn't Angus Robertson it's James Cleverly."
An FCDO spokesperson said: "The UK has one of the best, most expansive and expert diplomatic services in the world, with people from across the UK representing our interests abroad.
"As a permanent member of the UN Security Council, the G7, NATO and the Commonwealth the UK has an unparalleled influence on the international stage.
"We are delivering effectively for the whole of the UK, including by ensuring that Scotland's interests remain at the heart of our international agenda."​​​​​​​
Comments
 0 comments
Want to join the conversation? Please or to comment on this article.