FMQs: SNP 'tone deaf' on LEZ concerns as Humza Yousaf accused of ignoring homeless charity who received late exemption
A last-ditch legal challenge to the scheme was thrown out by the Court of Session on Wednesday.
The SNP has been accused of being "tone deaf" to concerns about the introduction of the low emission zone (LEZ) in Glasgow, as it emerged a homelessness charity had already received an exemption by the time Douglas Ross claimed its work had been "condemned" by the restrictions.
The LEZ came into effect in Scotland's largest city on Thursday. It means only vehicles with the latest engine emission standards will be permitted within the LEZ. The LEZ is bounded by the M8 to the west and north (which is not included in the zone), the River Clyde to the south, and High Street and Saltmarket to the east.
Drivers of vehicles which do not meet emissions standards face fines mounting to hundreds of pounds a day.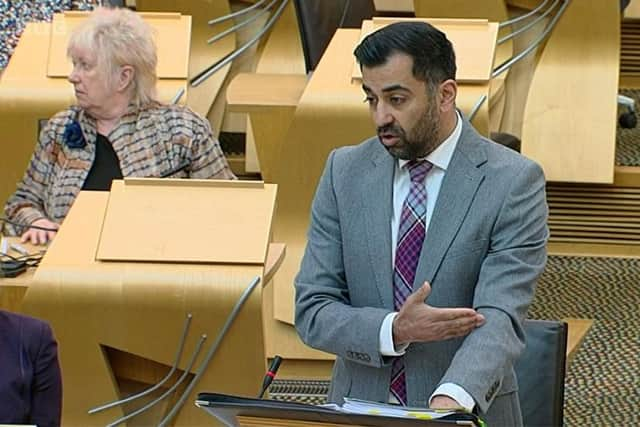 Douglas Ross, leader of the Scottish Conservatives, raised the plight of Homeless Project Scotland – a group that says it serves food to around 300 people a night in the city centre – at First Minister's Questions (FMQs) on Thursday.
The refrigerated van used by the charity does not meet the mandated environmental requirements to operate in the LEZ, forcing it to fundraise more than £16,000 for a new vehicle.
Following a terse exchange between Mr Ross and First Minister Humza Yousaf at Holyrood, the charity said on Twitter it was provided with an LEZ exemption at 9pm on Wednesday – just hours before the scheme came into force.
The two-month stay will allow the charity to use its existing vehicle while work is carried out on its new, LEZ-compliant van.
Mr Ross asked the First Minister how many drivers had applied for exemptions to the scheme and were refused - a question that Mr Yousaf did not have an exact answer for.
However, Mr Yousaf pointed out the policy was being run by Glasgow City Council and stressed a "number of time-limited exemptions" had been granted.
Mr Ross replied: "Maybe [local government minister] Joe Fitzpatrick, the First Minister and the SNP could listen to Homeless Project Scotland. They were refused an exemption … to use a refrigerated van within the restricted area.
"Their chairman, Colin McInnes, said it helps to feed 300 people every day. It collects food from 15 to 20 businesses in the city centre right at the heart of the LEZ. His message was simple - exemptions for exceptional circumstances must be reviewed."
The charity said it was "forced" to fork out thousands of pounds for a brand new van to get the exemption. In a statement, the charity said: "We were forced to buy a van at £15,000 before we could receive an exemption at 9pm last night.
"Douglas Ross was right, we were being forced to put our fridge van off the road until we pleaded with Glasgow City Council to allow us two months to finish the prep on our new van."
A spokesperson for the Scottish Conservatives later told The Scotsman this information had not been made publicly available until after FMQs.
In response to Mr Ross's question, Mr Yousaf declined to comment, and instead said: "We do have to ask ourselves why they are having to feed so many people in any given week and that's undoubtedly the case because of over a decade of Tory austerity, because of a cost-of-living crisis, because of high inflation, because of high energy costs."
Mr Ross stressed: "That is not commending a charity, that is condemning them and their inability now to do the work they want to do. The delivery of this scheme has been tone deaf to the needs of the city and charities like Homeless Project Scotland."
Speaking afterwards Mr Ross said: "The SNP leader has nothing positive to say to all those businesses and workers who are concerned this scheme is going to put jobs at risk. The LEZ is the latest anti-driver policy from the SNP that looks like a shambles in the making."
Mr Ross said the SNP should have delayed the introduction of the LEZ by a year to give more time for charities, businesses and workers to air their concerns.
Despite this criticism, the zone's introduction has been welcomed by the Scottish Greens, who say radical action like LEZs is needed to tackle the climate crisis. Patrick Harvie, Green MSP for Glasgow, said: "This is a big moment and a vital precedent. It will save lives.
"The air pollution in our city has been unacceptably poor for decades, and that has had a profound and damaging impact. It has been a long time coming, but this is a big step towards a cleaner, greener future for Glasgow."
Businesses have also raised concerns the LEZ will create a "low economy zone" in Glasgow city centre, with fears it will put people off coming into the area for work and socialising.
Paul Waterson, from the Scottish Licensed Trade Association, said he was "deeply concerned" about the impact the LEZ would have on the hospitality sector and the night-time economy.
He said: "As an organisation, together with our members, we care greatly about creating cleaner, less-polluted city centres. However, this must be achieved in the right way, at the right time, with a fully integrated approach.
"Recent air quality reports show that Glasgow's air quality is good and meeting required standards, so why is it necessary to introduce this scheme?"
Mr Waterson said he was particularly concerned about the impact on taxi drivers who relied on being able to pick up punters in the area now designated as an LEZ.
He said: "There is already a dearth of taxis serving the city centre and if hundreds more taxis are taken off the road, then how do customers and workers get home?"
LEZs will be introduced in Edinburgh, Aberdeen and Dundee in 2024.
Comments
 0 comments
Want to join the conversation? Please or to comment on this article.