FMQs sketch: General Sturgeon shows she is still in charge of her troops as proxy war over successor begins
Nicola Sturgeon may well be leaving the very top of Scottish politics, but for now she remains the SNP's general. And don't you forget it.
The first session of First Minister's Questions after the SNP leader announced her intention to resign was fill to the brim with fire, fury, and, well, much the same.
This was the beginning of what will become a proxy war between Douglas Ross and Anas Sarwar against Ms Sturgeon who – while very much leaving the front line – remains the defensive bulwark on which Humza Yousaf and Kate Forbes rest their campaigns.
You'd be forgiven for thinking you had seen this all before, but Mr Ross kicked off the session asking about long waits in accident and emergency. "Shameful" he crowed, not at the First Minister, but at the man sat to her left, Mr Yousaf.
One patient waited two and a half days in A&E, he said. "Doesn't this confirm Humza Yousaf isn't even up to the job he's doing at the moment?" he asked.
And so Ms Sturgeon began her defensive effort, stating Scotland was the only part of the UK to avoid strikes in the health service and that Audit Scotland's report outlining the leadership contender's flimsy "pamphlet" of a Covid recovery plan was fine, actually.
So poor is Mr Yousaf's record as health secretary he felt it needed some emergency surgery. But Ms Sturgeon wasn't listening to his words of advice, given with his head bowed, out of the eyeline of the bullies to his left.
At one point, a flick of the hand in his direction saw him get the message. Shut up, the First Minister was saying, I'm still in charge.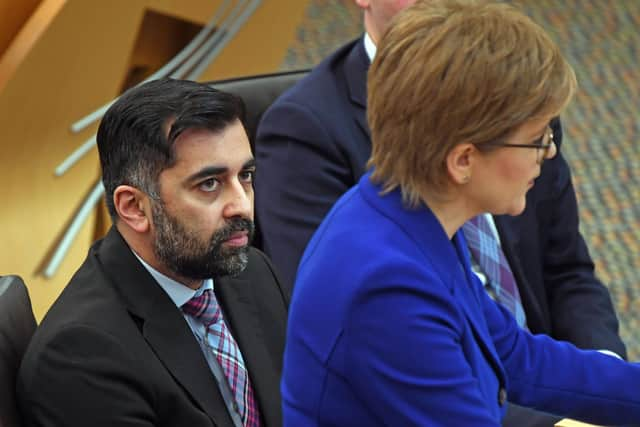 Mr Ross closed in, asking why anybody would "risk" Scotland's future by handing it to a man with Mr Yousaf's record.
Then the killer blow; he was a transport minister who drove without a licence and "clapped like a seal" next to a unfinished ferry, a justice secretary who fell for a hoax video and "the worst health secretary since devolution", Ross proudly listed, adding: "It looks like he is going to fail upwards."
"Douglas Ross is sounding pretty scared of Humza Yousaf", replied Ms Sturgeon, utterly unconvinced of the words coming out of her own mouth. Cue laughs galore from the opposition benches who rubbed their hands in glee at the possibility of this proxy war one day becoming serious.
In part two, a sequel so dull and repetitive it may as well have been aired on Dave, Anas Sarwar got a surprising endorsement as he paid tribute to Ms Sturgeon's service and Covid-19 leadership.
He is a man of class, the SNP backbenchers cried, as the Scottish Labour leader simultaneously connected to something deep inside John Swinney.
So stirred by such a humble statement from Mr Sarwar, the deputy first minister span violently left, waving his arm back and forth shouting with red-faced fury at the Tory benches, condemning them for their lack of good grace.
But there again was General Sturgeon, who slapped her deputy's arm out of the sky, returning him to a less explosive facial hue.
One wonders that without her, how will the SNP survive?
Want to hear more from The Scotsman's politics team? Check out the latest episode of our political podcast, The Steamie.
Comments
 0 comments
Want to join the conversation? Please or to comment on this article.