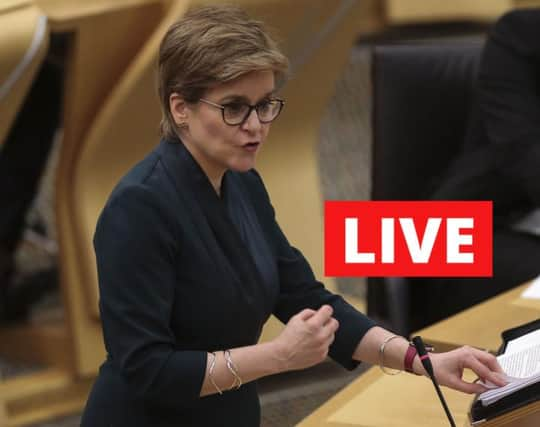 You can follow live updates in our live blog.
FMQs LIVE: Nicola Sturgeon to face MSPs
Show new updates
Hello and welcome to our live blog ahead of FMQs.
Catching up on events in Holyrood....
A Scottish Tory motion decrying the Scottish Government's policy on exams has failed at Holyrood.
MSP Meghan Gallacher tabled a motion in the Scottish Parliament yesterday which claimed "that education has never been the First Minister Nicola Sturgeon's number one priority".
It went on to "express frustration at the widening attainment gap and the failure to guarantee that the 2022 school examination diet will go ahead in full".
An SNP amendment to the motion passed by 67 votes to 54.
What can we expect today?
Topics could range on a number of issues from Covid protocols, self isolation and more. There also could be calls for the end of mask wearing in Scotland's schools and other measures being adopted in England.
The First Minister could also face questions on an auction of seabed plots for major offshore wind projects around the Scottish coast.
Douglas Ross asks if Nicola Sturgeon's government imposed too many Covid restrictions on Scotland and she agrees with Pete Whishart's comments that restrictions were "too much".
The First Minister says that her government introduced a series of balanced measures and that Scotland is in a better position now looking ahead. She adds that Scotland was not in a position, and is not in a position, that allows complacency.
She says: "Douglas Ross is showing rather more political desperation than we even thought he might have been. 'At the moment, this cautious approach is the one we should be taking - that's my sentiment' - those are not even my words, but the words of Sandesh Gulhane on 7 Jan."
Douglas Ross asks "The First Minister has tried to build a reputation for caution during this pandemic - but she was far too gung-ho in imposing extra restrictions last month. Will she now accept that her government went too far?"
Nicola Sturgeon says that Douglas Ross is "striking a desperate tone" and that Scotland took a balance approach. She says "We introduced a series of balanced protective measures over the festive period. Coupled with the extraordinary response of the public and the booster programme, we're thankfully now in a better position - but we can't be complacent."
Douglas Ross once again quizzes the FM on restrictions and the delivering of compensation for businesses for others.
Nicola Sturgeon says that the government can ill afford to throw caution to the wind. She adds that Douglas Ross has always opposed the handling of the pandemic from the Scottish Government. She says on the issue of business support she says that all local authorities have started processing payments.
Douglas Ross says serious illness and death "doesn't just come from COVID."
He says that Nicola Sturgeon has got the big decisions wrong. He asks if she can finally admit that by introducing stricter restrictions before Christmas she made the wrong call.
Nicola Sturgeon says that she will let the people of Scotland decide but adds that Scotland is leading the way on vaccinations across all fronts.
She adds that ONS figures show that infection figures are 20% higher in England than in Scotland. She says that the cautious approach is the one to be taking and calls for Douglas Ross to "get his own house in order"