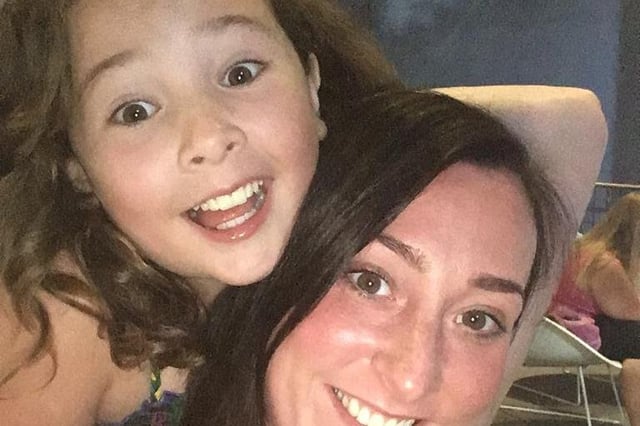 Kimberly Darroch and her daughter Milly Main, who died at the age of 10 in 2017. Milly had leukaemia from the age of five, but was in remission before contracting an infection at the QEUH.
Nicola Sturgeon was pressed by Scottish Labour leader Anas Sarwar to support the call for an FAI as he told a silent Holyrood chamber that he would not rest until there were "answers and justice" for Milly's family.
Milly, who was in remission from leukaemia, died in 2017 after contracting a virus while a patient in Glasgow's Queen Elizabeth University Hospital (QEUH), but her family was not told about the link to contaminated water problems at the hospital.
Mr Sarwar wrote last year to Lord Advocate James Wolffe QC on behalf of Milly's family, stating that an FAI "is the very least the family deserves to hear at this difficult time".
Scottish Labour leader Anas Sarwar raised the case of Milly Main at FMQs.
He said he now believed that an independent case note review published this week, which concluded there were significant failings over infection prevention and control, governance and risk management at the QEUH campus, underlined the need for an FAI.
Raising the issue at the final First Minister's Questions before the election campaign, Mr Sarwar said the review's findings were "heart-breaking".
"It found almost 40 infections were most likely linked to the hospital environment and tragically played a part in the deaths of two children," he said.
"We would never have got to this point if it wasn't for the bravery of NHS whistleblowers, but there are still lots of unanswered questions.
"Milly Main had leukaemia and was in recovery, but sadly caught a deadly water-borne infection and died. For years Kim was never told the true cause of her child's death.
"Nothing I have done in my time in this Parliament has been more important or more difficult than raising the case of Milly Main.
"I promised then that I would not rest until I got answers and justice for Milly and all the families affected.
"Four years on from Milly's death, we are finally starting to get answers, but her family have demanded a fatal accident inquiry and that is the very least they deserve."
Mr Sarwar said Milly's family, including her mother Kimberly Darroch, had demanded a fatal accident inquiry and it was "not fair to prolong their grief".
"I know the First Minister cannot direct the Lord Advocate, but given the findings in this report does she agree there should be a fatal accident inquiry?" he asked.
Ms Sturgeon agreed the review had shown there were lessons to be learned by the health board on "transparency and openness". She said the government was determined "to get the answers that are required".
Ms Sturgeon said: "It is not a decision for me as to whether there should be a fatal accident inquiry and I think it's important, recognising the separation of powers, nor do I say anything that could be seen to be putting undue influence on those whose decision that is, the law officers.
"That said, I completely understand and completely sympathise with the view of Milly's family that there should be a fatal accident inquiry and I'm sure the strength of that feeling is understood by the law officers, although they have considerations they have to weight in reaching that decision. But I understand why Milly's family want to see that inquiry."
Mr Sarwar said he welcomed Ms Sturgeon's comments, but there were lessons for the government as well as the health board.
He said Ms Sturgeon was health secretary when the hospital was commissioned and built, and First Minister when it opened.
"And we now know an independent report found that the water supply was not safe and posed a high risk of infection," he said. "That report was ignored and the hospital opened anyway – another example of secrecy and failure that has had devastating consequences. No-one would have known without the bravery of NHS whistleblowers.
"It is just one of the huge challenges our country was facing even before Covid. When lockdown ends and the virus is defeated, we must focus all our energy and effort on delivering the strong and fairer recovery that Scotland needs."
Ms Sturgeon said she agreed there were lessons for government and "whatever you think of my politics, this is a government that is prepared to face up to issues that arise". "The public inquiry that has been instructed is a key part of doing that," she said.
"As health secretary, you recognise each and every day the import of the decisions you make and they weigh very heavily."
The First Minister added: "There are plenty of things which divide us in this chamber, but that's the hallmark of a healthy democracy. We should be able to have these debates without resorting to personal attack and I hope that changes in the next Parliament.
"Every single day in the last year I have focused on trying to lead this country though a crisis and that will continue to be my focus for as long as I'm First Minister.
"It has changed my perspective and as we come back from the election, yes, we may have differences of opinion, but the future of this country really matters.
"We shouldn't shy away from debates, but we should do it respectfully and civilly and we should all recognise that while we might disagree we all have the best interests of this country at heart."
A message from the Editor:Thank you for reading this article. We're more reliant on your support than ever as the shift in consumer habits brought about by Coronavirus impacts our advertisers.
If you haven't already, please consider supporting our trusted, fact-checked journalism by taking out a digital subscription.