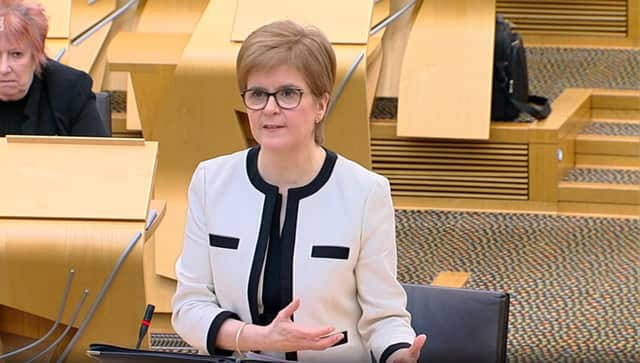 Nicola Sturgeon was challenged three times by Scottish Labour's interim leader Jackie Baillie if she would resign should an inquiry by James Hamilton QC find she had broken the ethics code by which all government ministers are bound.
She was also quizzed by Ruth Davidson, who leads the Scottish Conservative group in Holyrood, over "conflicting" versions of a meeting with Mr Salmond held in her house in July 2018.
However the First Minister accused both MSPs of "prejudging" the outcome of the Scottish Parliament committee's inquiry into the government's handling of the sexual harassment allegations. She also reiterated her belief she had not misled Parliament, was "entitled to due process" and said when the ministerial inquiry outcome was published "I will set out what I intend to do".
Further, she appeared to throw down a challenge to the committee to ensure Mr Salmond appeared before it, declaring it was not her "who was refusing to appear".
Ms Sturgeon is scheduled to give evidence to the committee investigating her government's unlawful handling of the investigation into allegations of sexual harassment, next Tuesday. Mr Salmond, who won a judicial review of the procedure and more than £500,000 in costs, has refused to give oral evidence after the committee decided not to publish all his written evidence due to legal restrictions as a result of its specific remit – despite the information already being in the public domain.
Ms Sturgeon is also being investigated in a separate inquiry by James Hamilton QC, to determine if she broke the ministerial code by misleading Parliament over statements about meetings with Mr Salmond in 2018, held in her own home, and whether she met him in her capacity as First Minister or as SNP leader.
At First Minister's Questions in Holyrood, Ms Baillie said she was not prejuding any inquiry, though she said it did "appear that the government procedures were deeply flawed and two women were let down by the process".
She added: "The First Minister is subject to a referral for a potential breach of the ministerial code… so can I ask her, if she is found to have breached the ministerial code, will she resign?"
Ms Sturgeon said that when the outcome was published she would "set out what I intend to do but I do not believe I have breached the ministerial code and that is my position right now and I'm entitled to due process just like anybody else."
She added that she "relished" the prospect of being before the committee to give evidence, and said: "I still hope it will perhaps use the powers available to it to ensure that everybody relevant sits before the committee and gives evidence, but that's a matter for the committee."
However Ms Baillie asked again: "I asked if she breached it what action would she take? The First Minister cannot simply ignore the ministerial code. That would have deeply damaging consequences to this parliament, to the government and to our democracy.
"On the 29th March 2018 the First Minster attended a meeting here in Parliament with Geoff Aberdein, the former chief of staff to Alex Salmond. The First Minister claimed to have forgotten about that meeting and told the parliament it was fleeting or opportunistic, but it was the case the meeting was prearranged and for the specific purpose of discussing the complaints made against Alex Salmond."
Reading a section of the ministerial code, she added "it is of paramount importance that ministers give accurate and truthful information to the parliament, correcting any inadvertent error at the earliest opportunity. Ministers who knowingly mislead the parliament will be expected to offer their resignation. So I ask again, if the First Minister is found to have breached the ministerial code will she resign?"
Ms Sturgeon said she would "not engage on the hypothetical" and again said she welcomed the opportunity to be questioned at the up-coming committee. "That's the best way to secure full scrutiny of me and my government, to respect the interests of the women whose complaints started this process, and the best way to allow me due process. I think if the committee is really interested in proper full transparency, it will be ensuring that everybody who has got relevant information to offer is doing that on the record."
Ms Baillie said that it wasn't just an issue with misleading Parliament, but that the ministerial code was explicit in how the "the legal implications of any course of action are considered at the earliest opportunity" by government.
She added: "We know that in the judicial review there was a significant delay between counsel's opinion and the conceding of the case, and it took the threat of senior counsel to resign before the government collapsed the judicial review costing the taxpayer well over £600,000. I ask again, if the First Minister is found to have breached the ministerial code will she resign?"
Again Ms Sturgeon said that Ms Baillie was prejudging the outcome despite "not a single word in oral session from me, so she needs to decide whether she's open-minded, objective and impartial on this, or whether she has prejudged."
She added: "I'm well aware of the terms of the ministerial code, I do not consider I breached the code and I will make that case very robustly and then we will see what the findings of James Hamilton are, and then we can have all these discussions."
Earlier Ruth Davidson had raised the appearance of Ms Sturgeon's husband Peter Murrell at the parliamentary committee this week, saying he had been "very clear Nicola Sturgeon did not discuss the Alex Salmond meetings with him as party chief executive, it's just about the only thing he's given a straight answer on. He was certain the meetings were government business, so did Peter Murrell tell the truth under oath?"
Ms Sturgeon defended her husband saying "he did tell the truth" and added: "I'll get my opportunity to set out my account to the committee next Tuesday and I relish that. It's clear to everyone why the opposition parties are so keen to drag Peter Murrell into a process he had no part in and to try and damage him. Perhaps they know how integral he's been over the past 15 years to the electoral success of the SNP."
Ms Davidson said that Mr Murrell's evidence conflicted with Ms Sturgeon's and challenged her again on her evidence. "In everyone's mind this was always a government matter but according to the First Minister's story it only became a government matter on the 6th of June when she wrote to the Permanent Secretary about the investigation.
"Being a government matter she then, a month later, set up a meeting with Alex Salmond in her house, and then called him four days later – all of this on a government matter, all without an official present or a record taken, and all against the ministerial code. Why did she set up these meetings without an official present and no record taken?"
Nicola Sturgeon pointed to her published written evidence and said when she appeared in front of the committee next Tuesday. "I will take head on some of the ridiculous conspiracy theories that people like Ruth Davidson, in my view, have been all too quick to want to indulge.
"All of my meetings were in my capacity as party leader. I informed the Permanent Secretary in June when I thought the government was going to be subject to legal challenge. All along I've was determined that I would do nothing to intervene in or compromise the confidentiality and integrity of a process kicked off by women, who's voices have been lost in this process, because I thought it was important this got properly investigated and not swept under the carpet because of the seniority of who the complaints were about."
A message from the Editor:Thank you for reading this article. We're more reliant on your support than ever as the shift in consumer habits brought about by Coronavirus impacts our advertisers.
If you haven't already, please consider supporting our trusted, fact-checked journalism by taking out a digital subscription.