FMQs: Nicola Sturgeon under pressure on care home deaths report
The First Minister was forced to again defend her government's handling of the Covid crisis and the policy of discharging elderly people into care homes, even if they had tested positive for coronavirus.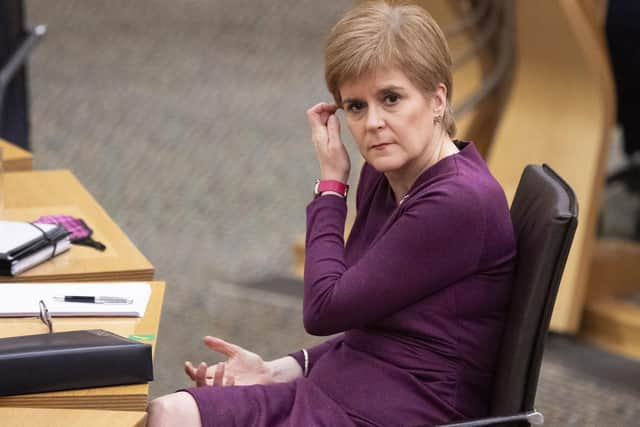 At a sombre First Minister's Questions, Nicola Sturgeon apologised for "getting it wrong" as opposition MSPs demanded answers on why thousands of patients had been sent from hospitals to care homes, either without being tested for Covid-19, or in the knowledge they were already infected.
Yesterday a Public Health Scotland report found that there was no significant statistical impact on care home outbreaks by the policy, and the size of the care home was a more important factor. Nearly 2000 elderly people died in care homes as a result of contracting coronavirus.
However today Scottish Tory Holyrood leader Ruth Davidson accused the First Minister of being "selective" with the report and said it showed "a relatively wide variation in the estimated levels of risk" of the government's policy to get older people out of hospital to free up beds for an expected influx of infected patients.
Demanding a public inquiry, she said the report showed that if a patient "tested positive for Covid before being transferred the best estimate was a 45% increase in the risk of an outbreak, but because of wide variation the risk could have been higher, as high as 374%… a 374% chance of seeing Covid rip through a care home. This is exactly why we need a public inquiry to start now."
Ms Sturgeon said she recognised the "toll Covid has taken on people in care homes" and said she was "deeply sorry" for the "grief and distress" it had caused.
She added: "This report has hard messages for us, it tells us some of what we think are factors in driving outbreaks in care homes but there is work to do to understand this.
"I don't think this report is the last word on these issues – there's much more work to be done. While the report said there was not statistical evidence hospital discharges were associated with outbreaks, it did say there was a variation in the confidence of these different scenarios. The risk of an outbreak associated with care home size is much larger than any plausible risk from hospital discharge, so we have to look at other factors.
"I take all this extremely seriously. We're in the grip of a second wave and everyone who has a part to play needs to concentrate on getting us through that. There will be a full public inquiry when the time is right and we've got the country through this next stage."
However Ms Davidson accused her of "delay, spin and sleight of hand" surrounding the launch of the report and added: "This is about the people who lost their lives and the people they left behind. For six months grieving families have had no answers and are not satisfied with this report and neither are we. Will she show them the respect they deserve, tell Public Health Scotland to go back and fill in the blanks?"
Reiterating her agreement that a "public inquiry is necessary" and the report was "not the only or final word", Ms Sturgeon said the government would "continue to do whatever work is required."
"I don't expect any grieving family to think they have answers to their questions in this report," she said. "I want to do all I can to provide those answers and to make sure there's full learning and accountability in due course.
"These grieving families are probably the last thing I think about at night and the first thing I think about when I wake up, not that its a comfort to anyone who has lost a loved one, but my condolences to them and my regret at what they have suffered knows no limits. "
Scottish Labour leader Richard Leonard also criticised the government, accusing Ms Sturgeon of failing to apply the same "precautionary principle" to the elderly as she had to other areas the pandemic.
He said: Care homes which took hospital discharges were three times more likely to have outbreaks – can you really tell families of those who have lost loved ones that there is no link between your government's decision to discharge people untested and the tragic outbreaks that occurred?
"The drive to clear space to free up beds in hospitals, the discharge of Covid positive and untested patients straight into care homes were encouraged by government guidance, so families deserve answers: why did the government apply a precautionary principle to all other areas of the pandemic but not to Scotland's care homes?"
Ms Sturgeon responded: "I don't agree with that, but I don't minimise the impact on care homes. We got things wrong… not because we didn't care about care homes, we got things wrong as other countries did in care homes, because of underdeveloped understanding of the virus, and because of a significant acute concern our hospitals would be overwhelmed with Covid making them an unsafe place for older people.
"Some of what people say we should have done then is applied in hindsight that we didn't have then."
She added: "At the end of the day the fact that there were outbreaks that led to people losing their lives is not something I will be comfortable with for the rest of my life.
"I really do sincerely apologise if anyone listening to me at any time thinks I am in any way seeking to minimise what happened in care homes. If that's an impression I give I readily say sorry for that because that is not the impression I'm trying to give. I'm trying to understand it and give the public as deep an understanding of this as possible but I'm not and never will underplay the severity of seriousness of what happened and all the factors that have played a part in that."
A message from the Editor:Thank you for reading this article. We're more reliant on your support than ever as the shift in consumer habits brought about by Coronavirus impacts our advertisers.
If you haven't already, please consider supporting our trusted, fact-checked journalism by taking out a digital subscription.
Comments
 0 comments
Want to join the conversation? Please or to comment on this article.