Firm which audited SNP accounts resigned six months ago, reveals Humza Yousaf
Fresh questions have been raised after it emerged the firm which audited the SNP's accounts resigned more than six months ago but this information was not disclosed to the public or even senior party figures.
First Minister Humza Yousaf admitted the situation was "problematic" and said one of his "major priorities" was finding new auditors. He said he only became aware of what had happened when he won the leadership contest.
Last week, the SNP's former chief executive Peter Murrell, who is also Nicola Sturgeon's husband, was arrested amid an ongoing police investigation into the party's funding and finances. He was later released without charge pending further investigation.
Scottish Labour's deputy leader Jackie Baillie said the latest revelation "stinks to high heaven", adding: "It is deeply worrying if they have been unable to replace the auditors in all this time. It is time for the secrecy to end."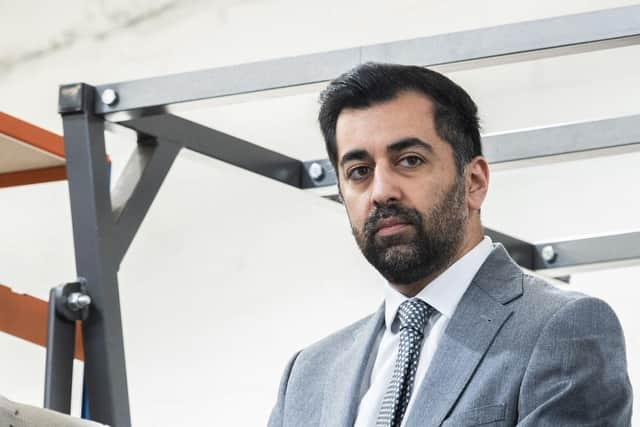 Scottish Conservative chairman Craig Hoy said: "The stench surrounding the SNP's finances becomes more toxic by the day. It is an extraordinary revelation that the SNP's auditors resigned as far back as October, when senior figures have spent months maintaining that there were no questions over the party's finances.
"The fact that they have apparently not yet found replacements makes this business even murkier. Without hampering the police investigation, it's long past time for the SNP to drop their addiction to secrecy, and give a full account of what has been going on in the management of their party."
Asked if Mr Murrell's party membership should be suspended during the police investigation, Mr Yousaf, who was speaking to journalists during a visit to a business in Leith, said: "I don't think so. He has of course been questioned under caution, which of course is undoubtedly serious, but I tend to work on the premise that someone is innocent until proven guilty."
He said people should wait and "see where the police investigation goes". However, he confirmed the SNP will not be paying Mr Murrell's legal costs.
It was previously reported that accountancy firm Johnston Carmichael had told the SNP of its decision to quit after reviewing its client portfolio. However, it was not known exactly when this happened.
Mr Yousaf said he thought it was "around about October last year" but said he would have to double-check this. It later emerged Johnston Carmichael actually alerted the party in September.
Put to him that it was "quite extraordinary" that the auditors resigned last year and yet he and other people at the top of the party were not told, Mr Yousaf said: "I wasn't at the top of the party then. I was a government minister, you're right, but I didn't have an office-bearing position.
"I don't disagree with the premise of your question. That's clearly why I've asked the NEC [the National Executive Committee, the SNP's ruling body] to do a review around governance and transparency."
Asked why Johnston Carmichael resigned, Mr Yousaf said: "I don't think we can release that information. I can see with Johnston Carmichael if we're able to do so, but my job, as leader of the SNP, is to make sure we get auditors in place as soon as we possibly can."
Put to him that the situation was "dysfunctional", he said: "It's certainly problematic, I won't deny that at all. That's why one of the first things I did as leader on hearing this information, was to instruct the party to get on with finding another auditor, and that's what we're doing."
It has been reported that even members of the NEC were kept in the dark.
Mr Yousaf made the comments while visiting Nova Innovation in Leith, which is currently testing Scotland's first array of floating solar panels.
Johnston Carmichael had worked with the SNP for more than a decade. They informed the party they had "taken the decision to resign following a review of our client portfolio and existing resources and commitments". It is understood no concerns were raised about the SNP's 2021 accounts.
The SNP approached alternative firms in late 2022, and this search "intensified" at the beginning of the year. However, it is understood no firm with the required capacity has yet been identified.
A party spokesperson said: "We have informed the Electoral Commission of the difficulty in identifying replacement auditors and the national treasurer has made the party's finance and audit committee aware."
Large political parties are required to submit independently-audited accounts to the Electoral Commission each year. The SNP has until the first week of July to present their accounts or face possible sanctions, including an independent audit.
Mr Yousaf said the party is working to have its accounts ready by the July deadline, but added: "It will be a challenging task, given what has gone on. So we are trying to work furiously to try to meet that deadline."
A spokesman for Johnston Carmichael previously said: "As a regulated organisation, we adhere to our obligations on client confidentiality and do not discuss client business."
A spokeswoman for the Electoral Commission said: "Where political parties income and expenditure exceeds £250,000, their submitted annual accounts must be approved by an independent auditor before they are submitted to us. The party has told us about their auditor resigning but the appointment of an auditor is an internal party matter. If the party were to miss the deadline for reporting their statement of accounts we would consider that under our usual processes."
Elsewhere, Mr Yousaf said he had had no contact with Mr Murrell or Ms Sturgeon. He said the SNP would not be paying Mr Murrell's legal costs.
Asked why, Mr Yousaf said: "He's no longer the chief executive of the party." He added: "I'll be castigated, I'm sure, if we pay his legal fees and castigated if we don't pay his legal fees. So we've taken a decision as a party not to pay those legal fees given he's no longer the chief executive of the party, I think that's pretty reasonable."
Mr Murrell had been chief executive of the SNP for 25 years but quit the job during the contest to find a successor to Ms Sturgeon. Last week, he was questioned by Police Scotland as part of its investigation into the whereabouts of about £600,000 donated to the party which had been earmarked for Scottish independence campaigning.
Mr Murrell was later released without charge "pending further investigation", following 11 hours of questioning.
SNP president Mike Russell, who has stepped in as interim chief executive in the wake of Mr Murrell's departure, recently warned the SNP faces its biggest crisis in 50 years. Mr Yousaf accepted the situation was "difficult". He said: "It's a challenge. There's no getting away from it, it is difficult. It has got the potential to damage the party, we know that."
But he insisted the SNP was still in a "position of strength", saying it was "the largest political party in Scotland by quite some distance".
Mr Yousaf also said the party had the opportunity to rebuild under his leadership and with a new chief executive, adding: "I think there's an opportunity to refresh, to rebuild, and we've got to do that."