Firefighters strike: Remembering when workers went on strike in Scotland in 2002-03
For those of us who remember it, the last occasion that firefighters in the UK went on strike in 2002 was a strange time indeed.
As a young reporter covering the strike, I recall even back then, pay was also high on the agenda, with local authorities recommending a wage increase of 4 per cent, whilst an independent review had advised 11 per cent.
Naturally this didn't sit well with firefighters, who were also about to take on greater responsibilities in the growing war on terror.
News broadcasts became a daily war of words between Tony Blair's New Labour government and FBU general secretary Andy Gilchrist as tensions heightened throughout late autumn.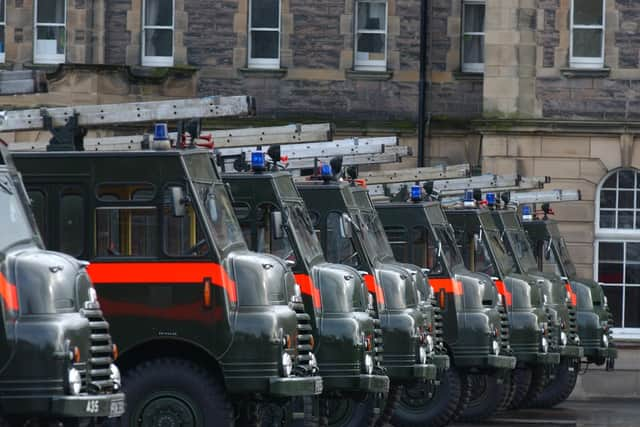 Then in November 2002, firefighters walked out for a 24-hour period. The army was mobilised and quickly stepped in to cover emergency callouts.
Armed with only a fraction of the tools, training and experience of the firefighters, the soldiers took to the streets while the striking workforce went out to picket assorted fire stations across the country.
It made for an odd sight, with soldiers driving around in decrepit fire engines. They had merely dusted off the 'Green Goddess' fire engines that had been deployed some 60 years earlier during the Second World War.
However, there remained goodwill on both sides, with firefighters offering quotes to me about how they felt for the soldiers, in that them being thrust into the ridiculous situation of fighting fires with antique equipment was akin to sending firefighters abroad to tackle terrorists in Afghanistan. For the army's part, they were quietly humble and grateful whenever firefighters broke the picket to attend life-or-death emergency callouts. "They got there quicker than we could, and lives were saved as a result," one soldier told me after a car flipped over near Rosyth. "We've no hard feelings. We're just glad they were there."
The strikes carried on until June 2003, when at an FBU conference in Glasgow, the dispute finally came to an end when a pay deal worth 16 per cent over three years was accepted.
Now we find ourselves back in a similar position to 2002, but since all the Green Goddesses have now been scrapped or auctioned off, it begs the question as to what we will see on the streets this time.
Comments
 0 comments
Want to join the conversation? Please or to comment on this article.