Fife politicians call on BiFab owners JVDriver to step aside to save yards
Two leading SNP politicians in Fife have said the first step to saving BiFab is removing its Canadian owners, JVDriver.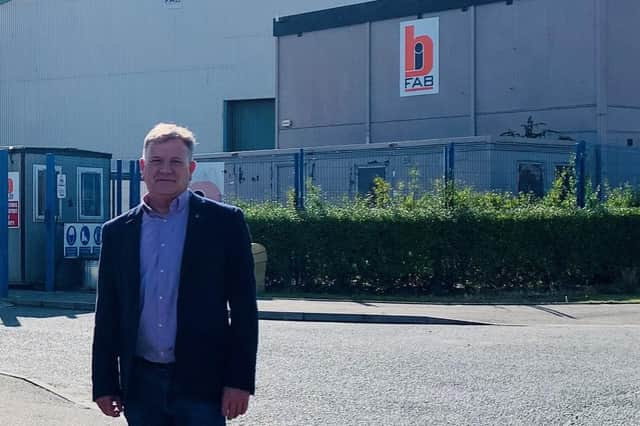 Neale Hanvey MP and David Torrance MSP said the company "seemed completely unwilling to invest" in the troubled yards in Burntisland, Methil and on the Isle of Lewis.
The engineering firm faces a bleak future after failing to land contracts for offshore wind farms which are to be built off the Fife coast.
The Fife politicians said the owners were one of two major problems to securing vital work for the yards.
They also said the Scottish Government was working with "one hand tied behind its back" because key powers required to help the yards, and the wider renewables supply chain in Scotland, are reserved to Westminster.
In a joint statement, Mr Hanvey and Mr Torrance called on JDriver to invest - or step aside.,
"We are confident that Scottish ministers have done everything within their power to support BiFab," they said.
"JV Driver seems completely unwilling to invest. The simple solution is that it makes way for someone who can back up their words with investment."
Their comments came after Mr Hanvey convened a meeting of local SNP MSPs and MPs last week.
He said: "We had a robust and frank discussion about the future options for the yards. While this is bad news, there is clearly huge potential for Fife to play a central role in our renewables industry.
"The question is how we get from here to there, and it's obvious to me that the first step is to get JV Driver off the scene."
Mr Torrance added: "The Scottish Government has fought tooth and nail to secure a future for BiFab, with investment of more than £50m since 2017, but ultimately the lack of investment by the majority shareholder JV Driver, and the fact that key powers that would help the company are reserved to Westminster has resulted in this negative position
"I strongly believe that if JV Driver is not willing to invest in BiFab to create jobs in the renewable sector, and more importantly highly-skilled local jobs that will benefit the local economy, then as the majority shareholder it should step aside and allow other interested parties to come in and invest."
The politicians also called for a review of the stated aid regulations which, they said, were a major barrier to the Scottish Government saving the yards.
They added: "The reality is BiFab was competitive with all European yards in its bid for the SSE Seagreen fabrication contract, but ultimately the work went to yards in Asia because the UK Government's Contract for Difference (CfD) auctions drive a race to the bottom on price, while ignoring the wider economic impact.
"JV Driver has confirmed that the failure to include protections for local supply chains in CfD is making it extremely difficult for yards anywhere in the UK to compete for these contracts.
"The Scottish Government has no powers to change the CfD rules. This is squarely a failure of the UK Government and illustrates the unacceptably high price that Scotland is forced to pay as part of the UK."
Thank you for reading this article on our free-to-read website. We're more reliant on your support than ever as the shift in consumer habits brought about by Coronavirus impacts our advertisers.
Please consider purchasing a subscription to our print newspaper to help fund our trusted, fact-checked journalism.