Ferries scandal Scotland: Tories criticise 'woolly' SNP response to fears KC probe won't investigate 'rigged' ferry contract allegations
Barry Smith KC was appointed by CMAL to undertake an independent investigation
Ministers have been accused of a "woolly response" to concerns a leading lawyer hired to investigate allegations a key ferry contract was rigged will not in fact look at the central accusations.
Graham Simpson, the Scottish Conservative transport spokesperson, said it remained unclear what the scope of the probe led by Barry Smith KC entails.
The Scotsman revealed earlier this month that Mr Smith's investigation will "exclude examination" of allegations Scotland's ferry procurement body CMAL "rigged" the contract process for two ferries being constructed at Ferguson Marine shipyard.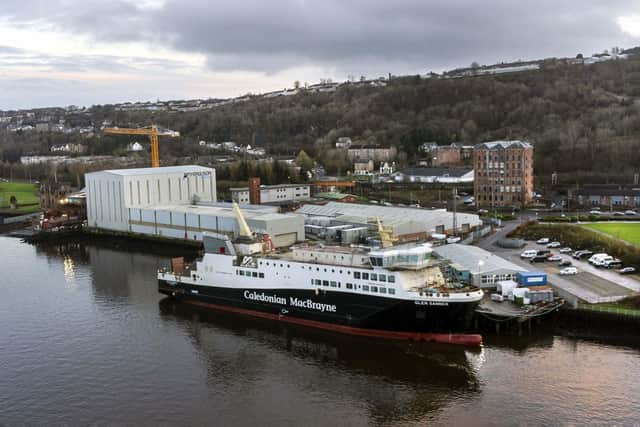 Hull 801 and 802 are several years late and significantly over budget, with the accusations the procurement process was rigged first made in a BBC documentary in September last year.
Instead the probe will look only at whether the criminal act of fraud took place, something not alleged in the BBC documentary.
The Scottish Government promised the allegations would be examined, with CMAL hiring Mr Smith to undertake the investigation.
However, in response to a letter from Mr Simpson to Neil Gray, the economy secretary who is responsible for Ferguson Marine, the SNP minister failed to answer whether the probe will in fact investigate whether the procurement process was "rigged".
Avoiding the question in its entirety, Mr Gray added: "It would not be appropriate for Scottish ministers to intervene in, nor pre-judge findings of, an independent report.
"Neither would it be appropriate to consider the need for an additional investigation before the findings of the current investigation have been established."
Mr Simpson said this answer was not satisfactory and demanded further explanation.
He said: "Neil Gray's woolly response does not commit to the KC-led investigation looking into the specific claim made in the BBC programme that the process was rigged.
"It is unclear if the probe will examine that claim and we are left with the strong impression that this might not be the case.
"The SNP should be crystal clear on this. Has Barry Smith KC been asked to look at the 'rigging' claim or not. If not, why not?"
A Scottish Government spokesperson said: "The Cabinet secretary's response to the letter from Mr Simpson makes clear that CMAL's lawyers have asked Barry Smith KC to carry out an investigation, which aligns with CMAL's obligations under the Scottish Public Finance Manual, regarding the allegations made during the BBC documentary.
"We understand the work is still ongoing. The outcome will be reported to the CMAL board in due course."
CMAL has said it cannot comment while the probe is ongoing.
Comments
 0 comments
Want to join the conversation? Please or to comment on this article.