Ferguson Marine needs to be three times more productive, a secret report examining how to make the shipyard commercially competitive has found.
The report, undertaken by industry experts First Marine International, was commissioned to examine how to improve the yard's ability to win contracts for ships, with the view to eventually sell the yard back into the private sector.
Ministers last week confirmed they were forced into the unusual step of issuing a direct instruction to civil servants to continue funding the yard to finish the two ferries, the Glen Sannox and hull 802, which are now more than five years late.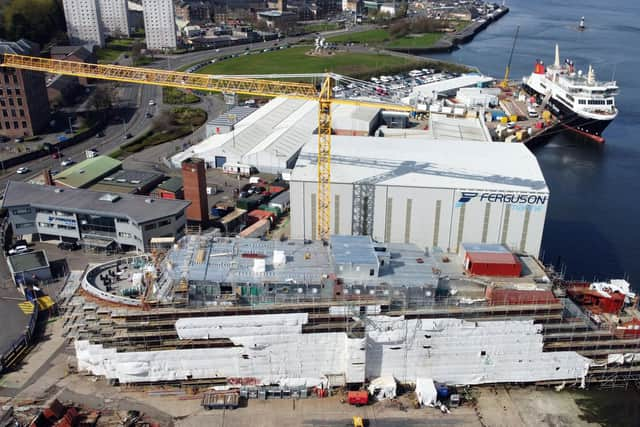 Board meeting minutes from February 2, published by Ferguson Marine, state Chris Mackay, a non-executive director, noted during the meeting "the FMI report is saying the yard needs to be 3x more productive".
Kate Hall, the deputy director of the Scottish Government's strategic commercial assets division, said there were also concerns about productivity assessments in any future direct contract award – one route the Government is considering for the Small Vessel Replacement Programme (SVRP) – adding "productivity in the yard needs to be higher".
The SVRP is viewed as critical to the future of Ferguson Marine and a failure to win or be directly awarded the contract could prove fatal to the yard.
Despite the publication of one of the central findings of the report, the Scottish Government reiterated it was unable to publish it and open it to public scrutiny.
Gregor Irwin, a senior civil servant and the director general of economy at the Government, told Holyrood's public audit committee in a newly published letter that publication would "substantially prejudice the commercial interests" of both the yard and FMI.
He said: "The report has been shared with FMPG and is being used to inform consideration around future investment in the business. While we remain committed to transparency as far as possible, making this report publicly available would substantially prejudice the commercial interests of both FMI, whose methodologies and intellectual property inform the report, and FMPG, whose ability to compete for tenders on a level playing field would be compromised if competitors had access to detail about its productivity levels and potential improvements it might wish to consider."
Want to hear more from The Scotsman's politics team? Check out the latest episode of our political podcast, The Steamie.