Last year the Scottish Government paid around £200,000 to First Marine International (FMI), a leading consultancy firm with specific expertise around shipyard competitiveness, to help turn around the yard's fortunes.
It was the second report after Ferguson Marine hired the company directly a year earlier for similar work. The gagging clause covers "anything before or after signing of the NDA", the shipyard said.
Ministers initially claimed there was no NDA in place, however later clarified that they were not aware of the agreement until The Scotsman brought it to their attention.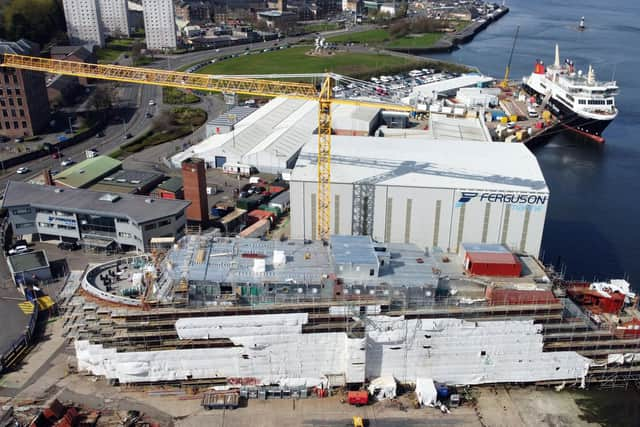 Both reports will be used by ministers and the yard to inform future investment and improvements to the yard in a bid to ensure it can be competitive within the global shipbuilding market. Ferguson's has been shackled with the delayed and over-budget construction of the Glen Sannox and as-yet-unnamed hull 802, which will cost the taxpayer around £350 million.
The firm's future is heavily dependent on winning the contract for the Scottish Government's small vessel replacement programme, which would provide several years of guaranteed work for the yard.
Critics called for the publication of the main findings of the FMI report, citing the "public importance" of the future of the yard. However, when approached Ferguson Marine confirmed non-disclosure agreements are in place around the two reports, meaning they contractually can never be published.
Ministers, however, rejected the existence of such agreements, directly contradicting the yard they own. This is despite Freedom of Information disclosures showing civil servants were consulted on the possibility an NDA would be signed.
Emails state: "Both FMI and FMPG were keen to have an NDA in place to prevent material from this report becoming public, as it will be highly commercially sensitive and that the company has other NDA's in place with businesses that they are discussing prospective contracts."
A spokesperson for Ferguson Marine confirmed the existence of gagging clauses. They said: "We are bound by non-disclosure agreements in relation to the Scottish Government-commissioned First Marine International report and recommendations, and the initial work done by FMI direct for FMPG in 2021."
They later added after being asked to clarify their position: "Ferguson Marine signed an NDA with Royal HaskoningDHV – parent company of First Marine International – on 2 August 2022, following a request from FMI. The NDA wording is broad and does not refer to a specific study or report. In terms of confidential information it refers to 'anything before or after the signing of the NDA'."
However, a Scottish Government spokesperson said there was no NDA between them and FMI, and that they were unaware of the agreement between Ferguson Marine and the company. They said: "There was no non-disclosure agreement entered into between Scottish Government and First Marine International (FMI) with regards to the FMI report on Ferguson Marine commissioned in 2022.
"The Scottish Government was unaware of any confidentiality agreement between Ferguson Marine and FMI.
"The Scottish Government is committed to the yard, its workforce and the vessels under construction. A public interest test, undertaken as part of an FOI request, concluded disclosure of the report would be likely to substantially prejudice the commercial interests of FMI and Ferguson Marine (Port Glasgow) Limited."
Scottish Conservative transport spokesperson Graham Simpson said Ferguson's "productivity and viability is of significant public interest" and criticised the secrecy around the report. He said: "Eyebrows will be raised at the secrecy about this report since – now that it's owned by the taxpayer – Ferguson's productivity and viability is of significant public interest.
"There doesn't seem to be any particular need for heavy-handed measures of this sort, but unfortunately many of the details of the SNP Government's involvement in the yard have been deliberately withheld from scrutiny."
Paul Sweeney, Labour MSP for the Glasgow region and who has professional experience working with FMI on a project with BAE Systems, said the company's reports were of "public importance" to ensure a "clearly defined strategy for commercial shipbuilding" in Scotland.
He said: "Whilst certain details may be commercially sensitive, high-level information should be shared openly as we must establish what areas of Ferguson Marine's operations and facilities need to be improved, and the Scottish Government should then set out a plan to support the shipyard they now own with the investment necessary to improve so that Scotland can reach an internationally competitive position in world shipbuilding once again.
"It is absolutely essential that our shipbuilding industry takes robust measures to keep pace with international standards."
Scottish Liberal Democrat economy spokesperson Willie Rennie said it was "not clear" why the taxpayer was being blocked from seeing the results of the report.
He said: "Anyone can see that Ferguson Marine needs to adapt if it is to build up a conveyor belt of business and get a head of steam behind it. It's hard to believe there can be anything in this report more damaging than the errors made so far by ministers, CMAL and the former management of the yard."