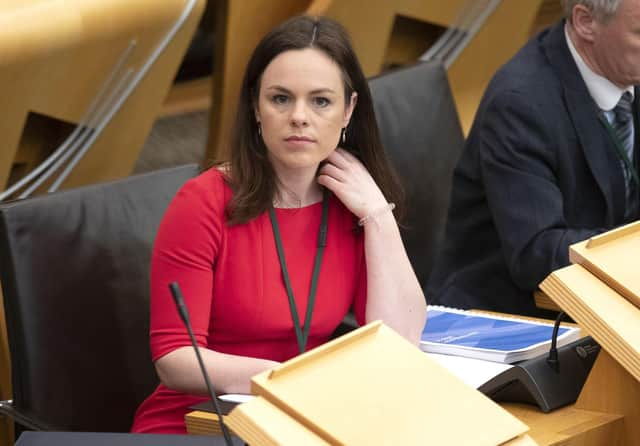 Kate Forbes has pledged to listen to the needs of business
Chancellor Rishi Sunack unveiled the £2.8 billion measure at the start of the lockdown which would provide £25,000 for small and medium sized enterprises for every business property which they have. It would mean a restaurant owner with four establishments south of the border would be entitled to £100,000. However, it soon emerged that the scheme is being applied less extensively in Scotland. Instead of firms getting the money for each property, it will instead be allocated to each individual business. So that same restaurateur in Scotland will only get a one-off flat payment of £25,000.
It has prompted a widespread anger in the business community, especially since Economy Secretary Fiona Hyslop told the Scottish Parliament soon after the measures announced that they would in fact apply to each individual property - contrary to what was subsequently implemented. There have been murmurs that businesses are now considering turning to the courts for remedy, such is the consternation over the Scottish Government's stance. It has even raised questions over the Scottish Government's claim that every penny of the Chancellor's funding support package has been passed onto firms north of the border. Political opponents are now demanding a breakdown of exactly how the the Scottish Government's own £2.2 billion business support fund is being spent.
Ms Forbes has insisted that the distribution of business support is geared towards ensuring that more businesses benefit in line with the "unique needs and circumstances of Scotland's economy" which is different from the rest of the UK.
In practice it means some properties with rateable value between £16-18,000 get a grant in Scotland which they may not get in England.
She insisted that "hundreds more businesses" are benefiting from support in Scotland compared with elsewhere, in a weekend newspaper article, including sectors like aviation, fish processing, the creative industries and charities which miss out south of the border.
But the row has heightened tensions within the business community north of the border amid consternation over the Scottish Government's more hardline approach to the shutdown, particularly in the construction sector. Building sites have been ordered to close north of the border unless they are working on NHS facilities. In England they can remain operational if staff are able to observe social distancing measures.
Three-quarters of firms in Scotland fear going to the wall if the lockdown continues for six months, according to the latest Fraser of Allander Institute business monitor. As Ms Forbes pledges to continue listening to the needs of Scots business, she will know their survival could hinge on the level of support being made available by Government.