Euan McColm: Humza Yousaf may soon come to regret achieving the highest office in the land
To her credit, Nicola Sturgeon kept her promise that she would be a leader for all Scots, regardless of whether they supported independence or not – for several weeks.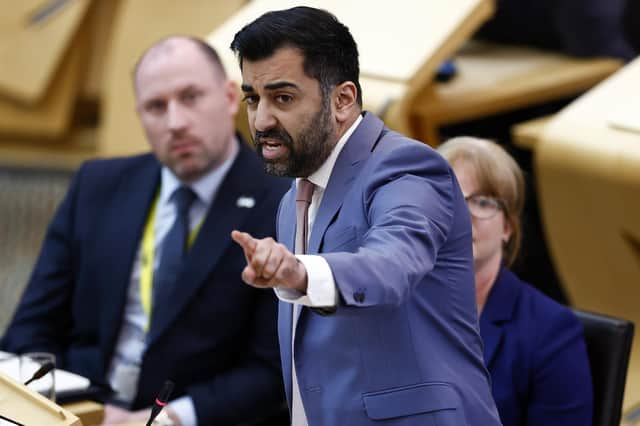 The former First Minister put at least some effort into maintaining the facade that she gave a flying fig about the priorities of the majority of voters before deciding that, no, she'd prefer to talk only to her supporters.
Sturgeon's successor, Humza Yousaf, has taken a more efficient route from self-proclaimed statesman to petty tribalist. The journey took him just a couple of days.
Speaking shortly after the announcement last Monday that he had squeaked past Kate Forbes by 52 per cent to 48 to become the next leader of the SNP, Yousaf explained he would be a leader for all. He would focus on the people's priority of tackling the cost of living crisis.
Yousaf repeated this pledge a day later in the Holyrood chamber when he was selected at the parliament's nominee to become First Minister.
A day after that, he announced the appointment of Jamie Hepburn MSP as Minister for Independence.
If the use of public money to employ a government minister charged with advancing the SNP's constitutional battle wasn't enough to persuade everyone that Yousaf's top priority is, of course, the continuation of the independence wars, his inaugural First Minister's Question Time on Thursday should have vanquished all doubt. Our new national leader revealed himself to be angry, thin-skinned and utterly determined to blame the Union for any and all of Scotland's woes.
Doubts about Yousaf's abilities are not shared only by smart-arse newspaper columnists and members of opposition parties. Speak off the record to SNP politicians and you'll hear a range of views from "he's not quite as bad as people say" all the way through to "he's even worse than people say".
A new line of spin has been developed and frequently deployed over recent days. Loyal SNP figures have taken to telling us there were grave doubts about Nicola Sturgeon's ability to succeed Alex Salmond in 2014 but that she had gone on to prove the naysayers wrong.
This line – which I heard parroted by former SNP MP Stephen Gethins on a podcast shortly before I sat down to write – is total bollocks of the first order.
When Sturgeon became First Minister, she enjoyed a public approval rating of +38. Her opponents feared her political skills and commentators reckoned she might increase support for independence. Nobody was in the business of casting doubt over her abilities.
Yousaf took office with an approval rating at a pitiful -20. His opponents, genuinely, think him incompetent and only the SNP's pet commentators think (or claim to think) he might boost support for the cause of independence. Sturgeon had complete authority over her party. Yousaf does not.
With such terrible approval ratings, the new First Minister's challenge is not really to increase support for independence from 45 per cent to the steady 60 per cent that would make it impossible for any UK government to deny a second independence referendum but to stop that 45 per cent dropping to the 30 per cent mark, where it stood at the start of the 2014 referendum campaign.
The decision of MPs on the House of Commons standards committee to recommend the suspension of Margaret Ferrier from the debating chamber for 30 days may further weaken the new FM.
Ferrier – elected SNP MP for Rutherglen and Hamilton West – was chucked out of the party after being found guilty of breaking Coronavirus lockdown laws. She has repeatedly denied calls to resign as an MP but, should members beck the standards committee's recommendation that she be suspended, the door will open to the possibility of a by-election. If 10 per cent of her constituents sign a recall petition, the game's on.
It seems remarkably unlikely that this won't happen. By late summer, Yousaf will be facing a by-election he could well do without.
If the SNP loses, he will – whether he likes it or not – be held responsible. Those who backed his leadership campaign unenthusiastically on the basis that they preferred his social liberalism to Kate Forbes conservative personal views, may wonder whether they should have held their noses when casting their votes.
Of course, a by-election in Rutherglen and Hamilton West does not just carry risks for Yousaf. If Labour cannot win back this constituency in its former heartland, it will be a huge blow to leader Anas Sarwar's desire to take as many as 20 seats from the SNP at the next General Election.
During the SNP leadership campaign, Yousaf was clear that he saw places under him for both of his opponents. That he did not, in the end, find a role for Ash Regan is to his credit. She was a poor candidate who frequently seemed surprised that anyone might expect her to be able to answer questions.
Kate Forbes, on the other hand, ran an excellent campaign. Early predictions that her opposition to same sex marriage would derail her candidacy proved premature. In the end, she ran Yousaf very close indeed.
The smart thing for Yousaf to have done would have been to bring her into government, not simply because she is talented but because she is the figurehead for the almost half of SNP members who didn't support him.
Instead, Yousaf offered her a demotion from the Finance brief to Rural Affairs and watched her walk off to the back benches.
Unpopular with voters, half of his own party, and a great many of those who supported his leadership campaign, Humza Yousaf may soon come to regret achieving the highest office in the land. Like the dog that caught the car, it's not clear he knows what to do with his prize.
Comments
 0 comments
Want to join the conversation? Please or to comment on this article.