Euan McColm: A rare chance to bridge the great constitutional divide
There's been plenty of fine talk from political leaders throughout the coronavirus crisis about how now is not the time for petty point-scoring and cheap jibes.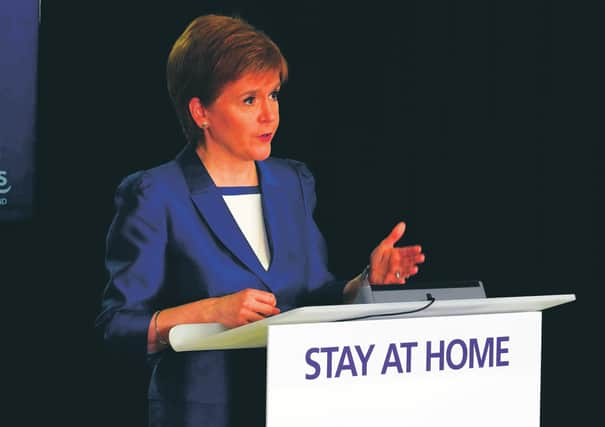 Take First Minister Nicola Sturgeon, for example. Haven't you lost count of the number of times she's said, during her daily press conferences, that she isn't interested in playing politics, right now?
And – for the most part – Sturgeon has been as good as her word. When she did take issue with the Prime Minister, recently, it was to complain that she had been cut out of the loop and was learning about UK government plans from newspaper reports. Even the First Minister's harshest critic might concede she had a point.
But, though leaders might be rising above petty politics, partisans on every side of every divide are doing anything but. For many, coronavirus has swept along to confirm their beliefs.
The wailing Corbynista insists the UK government's response to the pandemic proves the sainted Jeremy was right about everything. The tetchy unionist challenges the nationalist to accept that Scotland has benefited from its place in the UK during these difficult times. The impatient nationalist says the UK government's handling of matters proves the case for Scottish independence.
The pandemic has brought out all of the most exhausting people.
And so it was something of a relief last week when two of the more bearable participants in our interminable constitutional wrangle emerged from lockdown to discuss Scotland's future.
Andrew Wilson, the former SNP MSP and chair of Sturgeon's Sustainable Growth Commission, wrote in the Times about how the UK and Scottish governments might take on the challenges created by coronavirus.
How, he asked, might the university sector – facing a massive funding shortfall – be protected? Wilson floated the idea of a long-term government bond which he described as "not a bail-out but an investment in an entirely new system".
This is not an avenue open to the Scottish Government under the current devolution settlement, but Wilson suggested that Holyrood and Westminster might look, together, at how such bonds might be issued.
A day later, former chancellor Alistair Darling, who led the Better Together campaign in 2014, appeared on BBC Radio's Good Morning Scotland and said he could support the principle of changing the devolution settlement 
in order to unlock funding for universities.
This example of political opponents agreeing that an idea is worthy of exploration is all too rare. Politicians on both sides of the Scottish constitutional debate should pay attention.
Many Scottish nationalists might see cooperation with the other side on the rearrangement of the devolution settlement as a cop out.
A wide vein of fundamentalism runs through the contemporary Scottish nationalist movement, these days. Pre-2014, the SNP might have been all about the softly-softly approach, but the shrill rhetoric of the referendum campaign has left its mark. Why, some nationalists will ask, should they entertain the prospect of cooperating with the unionist foe? The prize remains independence and anything that doesn't place that objective front and centre is a waste of time.
Those nationalists who assume that a second independence referendum is coming along soon are, I think, kidding themselves.
Sturgeon has repeatedly dangled the prospect of indyref2 in front of her followers while having no power to deliver it. She and her colleagues may insist that they have a mandate to hold another vote on the constitutional question but the inconvenient fact remains that the authority to hold a referendum lies with Westminster and Prime Minister Boris Johnson has made it perfectly clear that he has no intention of exercising that particular power.
Ah, say enthusiastic Scottish nationalists, but if the SNP wins another overall majority in the 2021 Holyrood election, Johnson will have no choice but to change his mind.
This, I think, is an optimistic take. What evidence is there in Johnson's political record that he would be likely to accede to nationalist demands for another referendum? Why have Scottish nationalists who believe Johnson to be a most dishonourable sort convinced themselves that he can be expected to play by their rules should the SNP enjoy another electoral landslide next year?
Why would Johnson, having finally achieved the highest office, then choose to risk his premiership on calling a referendum that he might lose?
And so the protagonists in the Scottish political story have choices to make. When, eventually, the coronavirus pandemic subsides, where should the debate lie?
Should everyone reassume their positions in the great constitutional stand-off or might they find other, more productive things to do with their time.
At the very top of the SNP, there is an understanding that the impact of coronavirus will necessitate the rebuilding of the independence case. Some senior nationalists would welcome a period of calm on the constitutional question, allowing them time to put together a case fit for a post-coronavirus world.
Of course, Darling is an opposition politician, these days; his support for the principle of the UK and Scottish governments working together on reshaping the devolution settlement doesn't mean it will happen. But he remains an influential figure among pro-UK politicians across the spectrum and if this was an issue he wished to pursue in conjunction with the Scottish Government, I'd expect UK ministers to give them a hearing.
None of us yet know the full extent of the damage this pandemic will wreak on all four nations of the UK but it would be wise for politicians to take the most pessimistic view and react appropriately. This being so, might there be politicians of good faith on both sides of our grinding constitutional argument willing to set that issue to one side in order to explore how we deal with more pressing matters?
Andrew Wilson and Alistair Darling may be political opponents but on the need for action to protect Scotland's economy, they are in agreement.
Their intervention in our debate could not be more timely. I hope Nicola Sturgeon is playing close attention to this new discussion across Scotland's constitutional divide.
Comments
 0 comments
Want to join the conversation? Please or to comment on this article.