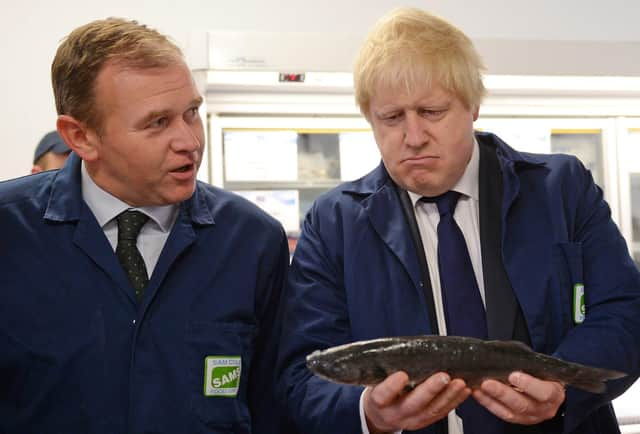 Brussel's chief Brexit negotiator Michel Barnier is believed to have told member states the existing offer to the UK is to return between 15-18 per cent of fish stocks currently caught by EU fleets in British waters.
Mr Barnier is believed to have explained the offer to EU ambassadors this morningand later again with various fisheries ministers this afternoon.
This included representatives from Belgium, France, Ireland and the Netherlands.
Speaking after the behind-closed-doors briefing, one EU diplomat warned there were "only a few days left" for the talks but the same sticking blocks were in place.
They said: "Without London taking the necessary decisions quickly, reaching a deal will be all but impossible."Time is running out quickly. There are only a few days left for further negotiations."
Britain is demanding more than half the fish in British waters be reserved for UK-based fishing vessels, but the EU's current offer is well short of this.
Prime Minister Boris Johnson has repeatedly criticised the EU's approach to fishing rights, saying their current position was "completely unacceptable".
The offer is believed to already have been dismissed, with the UK Government adamant they will not give up 80 per cent of the take.
On average European vessels catch £581 million worth of fish in UK waters each year.
It comes as Mr Barnier was set to return to London today for talks with his British counterpart David Frost for the first face-to-face talks since members of the team tested positive for coronavirus.
Despite initial hopes being raised by the visit, Mr Barnier today suggested talks were still at a deadlock.
He explained: "Physical negotiations can continue.
"In line with Belgian rules, my team and I are no longer in quarantine.
"I am briefing Member States & European parliament today. Same significant divergences persist.
"Travelling to London this evening to continue talks."
Earlier Mr Frost pledged to do his "utmost" to secure a deal and insisted it was "still possible".
He said: "Some people are asking me why we are still talking.
"My answer is that it's my job to do my utmost to see if the conditions for a deal exist. It is late, but a deal is still possible and I will continue to talk until it's clear that it isn't.
"But for a deal to be possible it must fully respect UK sovereignty.
"That is not just a word - it has practical consequences.
"That includes: controlling our borders; deciding ourselves on a robust and principled subsidy control system; and controlling our fishing waters."
The Prime Minister also admitted there were still "substantial and important differences" between both sides.
Speaking while visiting a lab in Wiltshire, he said: "The likelihood of a deal is very much determined by our friends and partners in the EU. There's a deal there to be done if they want to do it."
This week the European Commission president Ursula von der Leyen warned the next phase of talks would be "decisive", but admitted the EU was now "well prepared for a no-deal scenario".
If you haven't already, please consider supporting our trusted, fact-checked journalism by taking out a digital subscription.