Education secretary urges compromise on pay deal to halt teacher strike action
Scotland's education secretary has demanded trade unions compromise with the government to end strike action by teachers after negotiations continued to stall.
Shirley-Anne Somerville rejected accusations from critics she was "comfortable" and had failed to act quickly enough to halt the strike action and agree a pay deal for teachers.
Primary schools around the country closed after last-ditch talks failed to prevent strike action, with secondary school staff set to walk out on Wednesday.
Unions have demanded a 10 per cent pay increase but the Scottish Government has offered five per cent, including rises of up to 6.85 per cent for the lowest-paid staff.
A meeting of the Scottish Negotiating Committee for Teachers (SNCT), which brings together unions, local authorities and the Scottish Government, took place on Monday in an attempt to avert the strike action, but there was no progress made to halt the strike.
The pay deal is for the 2022/23 financial year, and is likely to spill over into next year's budget with further demands for pay increases in 2023/24.
Ms Somerville said "constructive" talks were ongoing with trade unions and local authorities, but called on all sides to "compromise" to end the strikes.
Earlier in the day, speaking on BBC Radio's Good Morning Scotland programme, she labelled the pay demands from unions as "unaffordable.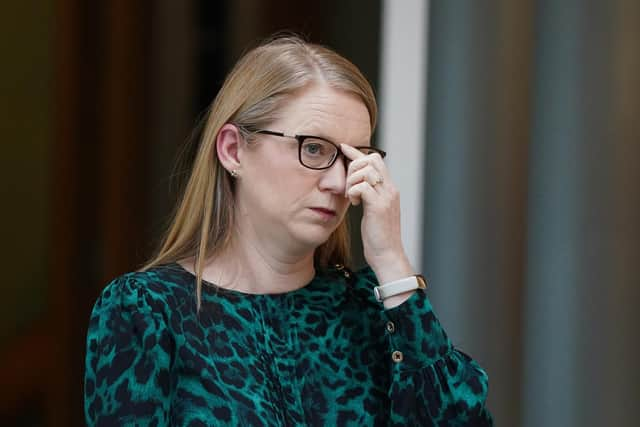 She told the Holyrood chamber: "We are open to considering options that will resolve the dispute looking at the scope to see where there is compromise.
"There will have to be compromise, not just from the Scottish Government but from all resolved in this dispute.
"We will of course look very carefully to see what can be done and we will of course leave no stone unturned to try and do that as quickly as possible."
Education spokesperson for the Scottish Conservatives, Stephen Kerr, attacked the government's record on ending the strike and criticised Ms Somerville not attending negotiations on Monday.
The Scottish Negotiating Committee for Teachers, which negotiates pay deals, is not normally attended by ministers and is joint-chaired by representatives from trade unions and local authority and government officials.
Mr Kerr said: "It is painfully obvious that education is this government's last priority; the SNP have made no effort to mitigate the effect of the strikes. Their inertia has revealed an appalling lack of concern for the impact of industrial action on Scotland's children.
"Yesterday, it was the unions that organised a meeting to negotiate an agreement, not the Scottish Government. This sums up just how little Shirley-Anne Somerville has done to find a solution and end the strikes.
"The public will rightly be wondering why teachers, parents and pupils are being treated with such disdain by the SNP's education secretary."
In response to a question from Scottish Labour's education spokesperson, Michael Marra, Ms Somerville also failed to confirm whether there would be a new offer from government.
She also rejected allegations from Willie Rennie, the Scottish Liberal Democrat education spokesperson, that she appeared "incredibly relaxed" and "chilled out" despite having "taken no action".
He said: "The Cabinet Secretary says she will take no lessons today. The trouble is that no pupils in the whole of Scotland are getting any lessons today because of a strike that this government cannot resolve.
"Teachers are on strike, pupils are going without an education, but she is incredibly relaxed and taken no action to resolve the strike."
Want to hear more from The Scotsman's politics team? Check out the latest episode of our political podcast, The Steamie.
Comments
 0 comments
Want to join the conversation? Please or to comment on this article.