DUP to vote against new Brexit deal over concerns with Northern Ireland Protocol
The DUP will vote against the Government in this week's first parliamentary vote on the new Windsor Framework Brexit deal, party leader Sir Jeffrey Donaldson has said.
Sir Jeffrey Donaldson said DUP officers met on Monday morning and unanimously agreed to vote against the first aspect of the Windsor Framework to be considered by Parliament, the Stormont brake.
The brake would allow a minority of MLAs at Stormont to formally flag concerns about the imposition of new EU laws in Northern Ireland – a move that could see the UK government veto their introduction in the region.
The leader of the Democratic Unionist Party said: "Our party officers, the only decision-making mechanism in our party on these matters, met this morning and unanimously agreed that in the context of our ongoing concerns and the need to see further progress secured whilst continuing to seek clarification, change and re-working, that our Members of Parliament would vote against the draft statutory instrument on Wednesday.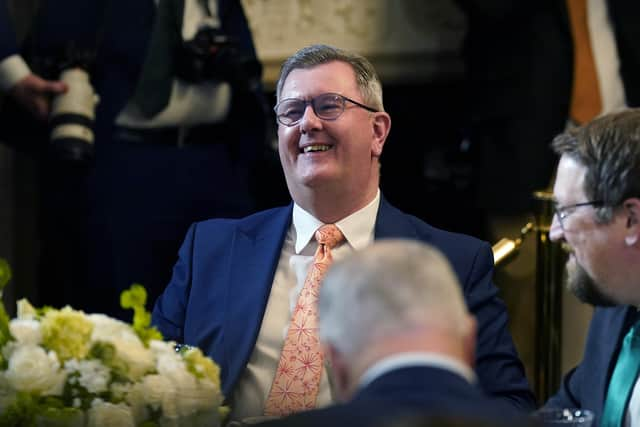 "We will continue to work with the Government on all the outstanding issues relating to the Windsor Framework package to try to restore the delicate political balances within Northern Ireland and to seek to make further progress on all these matters."
The first Commons vote on the EU/UK agreement on trading arrangements for Northern Ireland will take place on Wednesday.
The Prime Minister's official spokesman said: "We think this is the right approach, allowing MPs to have their say on what we believe to be the most significant elements of the framework.
"This framework secures changes which many individuals and groups said weren't possible. The Stormont brake is chief among them.
"With regard to EU regulation, these have been reduced right down to the very minimum level to ensure there is no border on the island of Ireland.
"I think that is the overriding priority of all parties in protecting and securing the Good Friday Agreement."
The vote will be on secondary legislation that would give effect to the Stormont brake.
The DUP is currently blocking devolution at Stormont in protest at the terms of the post-Brexit Northern Ireland Protocol.
The protocol was designed to prevent a hardening of the land border on the island of Ireland and moved regulatory and customs checks to the Irish Sea, creating economic barriers on the movement of goods between Great Britain and Northern Ireland.
The UK and EU agreed the framework as a way to cut the red tape created by the protocol.
DUP leader Sir Jeffrey Donaldson has said the Stormont Brake does not cover all of the concerns his party has with the Windsor Framework.
"The Stormont Brake of course is designed to manage any future change to EU law so it deals to a certain extent with the democratic deficit in Northern Ireland where the Assembly had no say whatsoever in these matters.
"At least the Stormont Brake offers some degree of democratic scrutiny, but it doesn't cover all of the concerns that we have, and divergence between UK and EU law can occur not just because the EU changes its law but also because the UK changes its law, and we need to ensure that Northern Ireland's place within the United Kingdom and its internal market is properly protected."