Drug deaths Scotland: Calls ramp up for drug consumption rooms to be introduced in Glasgow
Calls are ramping up for drug consumption rooms to be introduced in Glasgow.
Last month Westminster' home affairs committee said providing a safe space for drug users to go to consume their drugs could reduce drug deaths should be considered.
They recommended a pilot scheme be trialled in Glasgow on the back of their report.
This comes as new statistics show 1,051 people died in 2022 north of the border from drug misuse.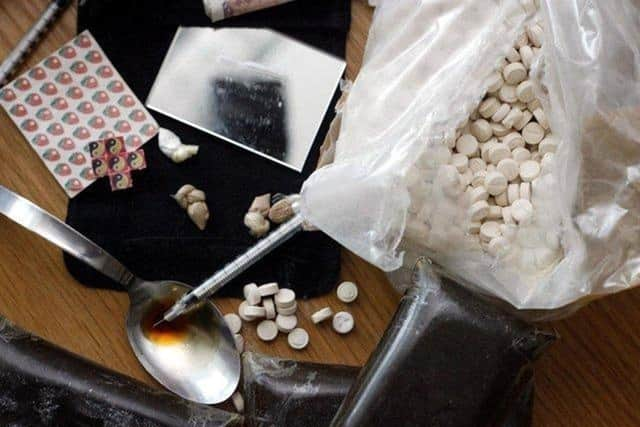 A group of Glasgow SNP MPs and MSPs, including First Minister Humza Yousaf and former first minister Nicola Sturgeon, have now written to Home Secretary Suella Braverman urging her to not ignore the home affairs committee's recommendations.
Thirteen Glasgow MPs signed the letter, saying "bold and courageous" thinking is needed to tackle problematic drug use in Scotland, and saying the powers to tackle drug deaths need to be devolved to Holyrood.
Kaukab Stewart, MSP for Glasgow Kelvin and one of the politicians who signed the letter, said: "Far too many lives in Scotland are still being lost to drug misuse, and we need direct, bold and courageous thinking if we want to turn the tide on these statistics.
"While the most recent drug deaths statistics showed a small improvement, much work is still urgently needed.
"For years now the SNP has called for the funding of safe consumption facilities, so that people who use illicit drugs can do so in a safe and supervised environment, which removes the stigma that so often prevents people from accessing the help they need and now, a Tory-led committee agrees."
She added: "Westminster needs to take heed of their committee's recommendations and start treating problematic drug use like the public health emergency that it is.
"If not, they should at least devolve the appropriate powers to Scotland so that we can make our own policy and implement safe consumption facilities so that people involved with illicit drugs are treated with the compassion and respect they deserve."
Another echoing the calls is drugs campaigner Peter Krykant.
He is the lead campaigner for the charity Cranstoun, which supports drug users in Scotland, and recently made a trip to Copenhagen to see how drug consumption rooms work in Denmark.
Although Scotland has a similar population size to Denmark, its drug death rate is around four times higher.
Mr Krykant said: "It was amazing to see such wonderful services in Copenhagen
"It is distressing to see these things in other countries when we don't have access to them at all in Scotland.
"The difference between Scotland and Denmark is massive.
"There were drug checking facilities so users could check for contaminants as well as the injection and inhalation rooms.
"This is not a silver bullet, but it does connect drug users to support from health and welfare services."
He also says the cost of drug consumption rooms may actually end up saving taxpayers' money in the long run, as it will reduce pressure on health services and council sanitation staff.
Mr Krykant said: "Around the site in Copenhagen there has been over an 80 per cent reduction in discarded equipment.
"Ambulance call outs don't happen there anymore because staff can deal with overdoses on site.
"Very rarely will staff have to use naloxone to deal with an overdose, as often it can be dealt with by using oxygen and without an ambulance.
"All this reduces the strain on the health service.
"Because users are consuming drugs in a sterile environment, there are also less blood borne viruses like hepatitis C and HIV.
"All of that costs money to treat, and if they don't get the infection in the first place it reduces costs.
"People ask who will pay for these facilities and where the money comes from, but taxpayers are paying a lot more now with such outdated drug laws which are not fit for purpose"
The Home Office has been approached for comment.
Comments
 0 comments
Want to join the conversation? Please or to comment on this article.