'Dozens' of Scottish shellfish lorries park by Downing Street in Brexit protest
"Upwards of 50" Scottish seafood lorries descended on central London on Monday morning to protest the post-Brexit paperwork that they say has left the UK fishing industry struggling to survive.
More than 10 of the haulage vehicles were photographed parked near Downing Street and Whitehall to raise awareness of changes to regulations that have caused severe delays that threaten seafood exporters' businesses.
Dozens more lorries, including several from Scottish seafood suppliers D.R. Collin & Son, and Islay Crab Exports were also filmed driving past the Houses of Parliament.
Signs on the lorries accused the Government of "destroying shellfish industry," and called the exporting delays "Brexit Carnage".
Since the UK withdrew from the EU, seafood distributors have complained of lorries stuck in central distribution hubs in Scotland while paperwork is processed, or on other stages on the journey, as the stock deteriorates inside.
The introduction of catch certificates, health checks and customs declarations are thought to have created severe delays to export processes.
Reports suggest that produce which has made it across the Channel has gone rotten by the time it arrived.
In Peterhead, the price of fish has fallen by around 80 per cent, and some companies have lost hundreds of thousands of pounds in a matter of weeks.
A spokesperson for DR Collin & Son said: "We have been asked to take part in a peaceful protest with another 20-plus Shellfish Exporters from around the whole of the UK in connection with the current difficulties that the seafood industry is facing due to the new Brexit regulations.
"The industry is being tied in knots with paperwork requirements which would be easy enough to navigate, given that companies have put in the time and training in order to have all the relevant procedures in place for 1st January 2021.
"However, all the training is going to waste as the technology is outdated and cannot cope with the demands being placed on it – which in turn is resulting in no produce being able to leave the UK.
"These are not 'teething issues' as reported by the Government and the consequences of these problems will be catastrophic on the lives of fishermen, fishing towns and the shellfish industry as a whole.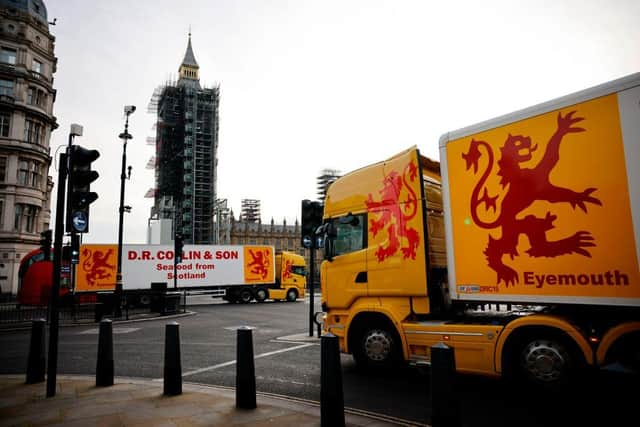 "Action needs to be taken urgently to allow the procedures to be realigned in a manner which reflects the time restraints faced in the export of live shellfish to Europe.
"We are trying to adapt our business together with our customers with a view to come into line with the new regulations, however, no-one is listening to our industry."
One English company involved in the protest insisted it was designed to raise awareness of the "unworkable" system the fishing industry is facing.
"It's not supposed to be an aggressive protest," Mark Moore, from the Dartmouth Crab Company, told LBC.
"It is industry-wide and nationwide, it's not exclusively the Scots - we're all in this together.
"The system is almost unworkable," he added, "and our industry is in a downward spiral."
Alasdair Hughson, Scottish Creel Fisherman's Federation chairman, said: "It is inevitable that the UK Shellfish industry would want to make its voice heard loud and clear on this matter.
"After the year that all of these businesses have had, struggling to survive against the odds, now faced with this situation, to now find themselves being blamed for not completing forms correctly when they are all just trying to follow Government guidelines which are unclear and changing all of the time.
"If this debacle does not improve very soon we are looking at many established businesses coming to the end of the line. With the knock on effects for all who depend on them, including the hundreds of small fishing businesses in extremely fragile communities around our coasts who rely on these trucks to turn up day after day, week after week, to get their catch to market.
"From seabed to plate, this is not an easy business. People put their heart and soul into making it work, with ridiculously long hours. The blood, sweat and tears poured into their operations.
"What else can they do but fight to make their voices heard. We need Government and civil service to step up to the plate like never before and do whatever they can to help this industry survive and get through this so that we can all benefit when things improve.
"All we want to do is roll up our sleeves and get to work supporting our communities. We don't have all the answers but they are out there and we need to find them."
Labour leader Sir Keir Starmer accused the Government of trying to blame fishing communities for the issues caused by Brexit.
As the convoy of Scottish seafood lorries descended on Westminster, Sir Keir said: "They are beyond frustrated, they are pretty angry about what's gone on because the Government has known there would be a problem with fishing and particularly the sale of fish into the EU for years.
"It didn't prepare for it and now it is doing the classic thing of the Government, which is trying to blame the fishing communities rather than accepting it's their failure to prepare."
He added: "I'm not in favour of dumping fish on Boris Johnson's lawn or anything like that, but the point they are trying to make is a very important point about the Government not preparing, and then again blaming somebody else for the mess that they have created."
A message from the Editor:
Thank you for reading this article. We're more reliant on your support than ever as the shift in consumer habits brought about by coronavirus impacts our advertisers.
If you haven't already, please consider supporting our trusted, fact-checked journalism by taking out a digital subscription.
Comments
 0 comments
Want to join the conversation? Please or to comment on this article.