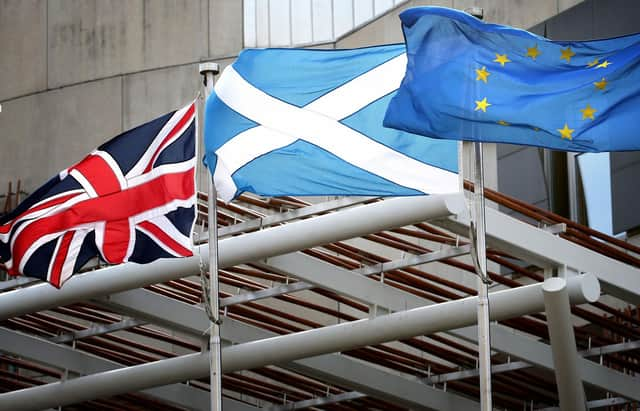 Downing Street tried to get the Oxford University coronavirus vaccine labelled with Union Jacks.
The Huffington Post reported that No.10's new "Union Unit" wanted injection kits to be labelled with the flag, but the idea had not been approved.
Set up this month, the Union Unit is tasked with battling the surging support for Scottish independence ahead of the crucial Holyrood elections next year.
Today Number 10 did not deny the request was made, which is believed to have support from both Health Secretary Matt Hancock and Business Secretary Alok Sharma.
A UK Government spokesperson said: "Manufacturing for some of the leading potential vaccines is already underway so they can be rolled out quickly if approved.
"Manufacturers are well-versed in the best way to package products like this."
It is believed Prime Minister Boris Johnson's aides hoped pointing to the British success of the vaccine would boost support for the Union.
Others hoped it would kill off criticism from the anti-vaxxer movement, and add a sense of legitimacy to the vaccine.
A Whitehall official said: "There has been a renewed interest on the impact of policy decisions on the union, and ensuring it is in no way detrimental to the devolved nations.
"It is something we have to constantly be mindful of. They are trying hard to keep the union intact."
The SNP claimed the reports showed the UK Government was desperate.
A spokesperson said: "If true, these reports suggest utter desperation from the Tories.
"The creation of a vaccine is a global effort with scientists and countries coming together to share their expertise to tackle Covid-19.
"Politicians of all kinds should be focused on getting the vaccine to the right people at the right time."
SNP candidate for Edinburgh Central, Angus Robertson, said: "Coronavirus is literally a life and death matter. However, the major priority for the UK Government is to weaponise the Covid vaccine against growing support for Scottish independence.
"This is as bad as the Boris Johnson devolution 'disaster' intervention. Utterly pathetic."
Responding to the news, Labour MP Wes Streeting joked: "I'm just surprised it doesn't have Rishi Sunak's signature on it."
If you haven't already, please consider supporting our trusted, fact-checked journalism by taking out a digital subscription.