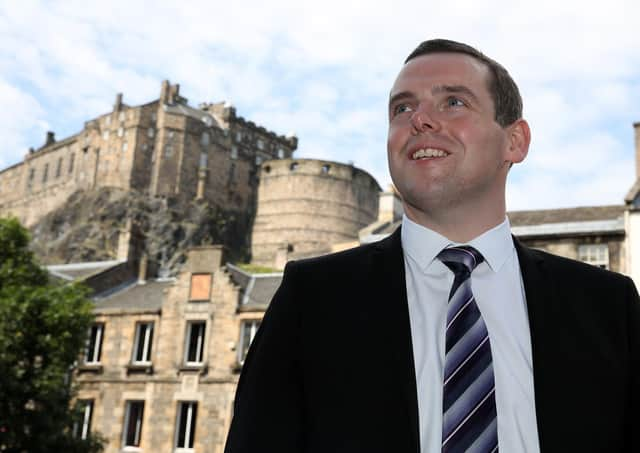 Mr Ross is expected to be the only candidate to replace Jackson Carlaw when nominations close this week.
The Moray MP says the SNP Government's recovery plan from the pandemic has failed to stand up for Scottish jobs.
His claims were dismissed by the SNP, which said the Tories' record in office at Westminster had left millions behind.
Hotels, pubs and shops are facing the threat of imminent closure due to the crisis and Mr Ross says all political parties must work to provide practical ideas to help out Scottish firms.
"I am committing to delivering a Scottish Conservative plan for jobs within the first month of my leadership to set out fresh ideas on how our government in Scotland can both protect jobs and chart a new path for growth," Mr Ross said.
"We want to end the SNP power grab that has sucked up control to Edinburgh.
"We back new investment on infrastructure. And we will support a skills revolution so people out of work can get new jobs.
"Lives and livelihoods are on the line in this pandemic. My pledge as leader will be to protect both. The SNP Government need to step up and do the same."
Mr Ross is likely to be confirmed as the new party leader on Wednesday when nominations close to replace Mr Carlaw after his shock resignation last week.
The Moray MP, who plans to run for Holyrood on the 
Highland list in next May's Scottish election, is expected to be the only candidate for the role.
He has committed to publishing ideas in his first month as leader on how the powers of devolution can be used to improve Scotland's infrastructure and support skills.
"It's clear that the pandemic is threatening our entire way of life," he added.
"The UK Government has done its bit – its furlough scheme has protected millions of jobs and kept tens of thousands of businesses alive.
"But the SNP Government's response has been totally inadequate.
"My message to Nicola Sturgeon is this: you aren't standing up for Scotland if you're not standing up for Scottish jobs.
"And the problem with her SNP government is that it just doesn't get it on the economy. The Scottish Conservatives do."
The claims were dismissed by SNP deputy leader Keith Brown.
"While Douglas Ross boasts about his party's appalling record in government, millions of people are being left without support and levels of poverty in the UK are soaring. The reality is that too many people have been left behind by this Tory government," he said.
"And with just months left before the UK crashes out of the EU in the middle of a global pandemic, the Tories are putting jobs and the economy at risk by piling one crisis on top of another.
"If Douglas Ross wants to talk about saving jobs and livelihoods, he should call on his colleagues at Westminster to extend the furlough scheme and devolve key financial powers to Holyrood so that we can secure a strong recovery for Scotland."