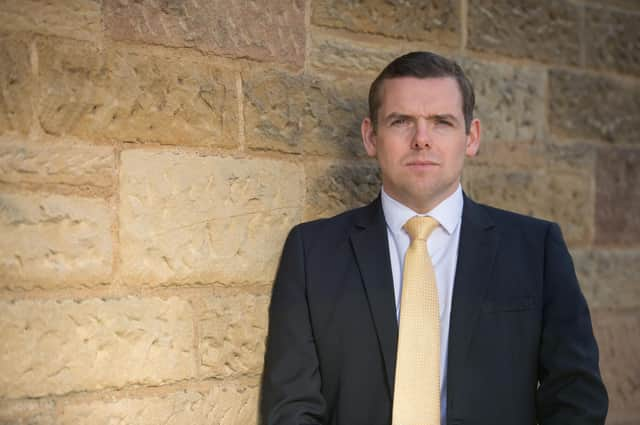 The Scottish Conservative leader went against comments from his colleague Andrew Bowie who warned people under 30 will not "reap the benefits" of Brexit.
Asked about them at a Bright Blue event on Friday, Mr Ross admitted he was a "reluctant remainer", but that leaving the EU had helped with tariffs and vaccines.
He said: "This generation are already seeing the benefit of Brexit.
"The 50,000 people employed directly or indirectly in the Scottish whisky industry are celebrating today because they can see these tariffs being suspended, and young people here in Scotland and right across the UK are seeing the benefits of our vaccination programme, which isn't being replicated in Europe, and that will see our freedoms being returned far quicker.
"We are already seeing the benefits of being an independent country outside the EU."
Earlier this week appearing on BBC Debate Night, Mr Bowie, the West Aberdeenshire and Kincardine MP, had declined to give a timeframe for when the benefits would appear.
He said: "We are hoping very much in the near future to allow students from this country to be able to study and enjoy life abroad, but am I going to sit here and say Brexit is perfect and that your generation is going to reap the benefits?
"No, I'm not, because you're not, frankly, at the minute. And I can see that we've got work to do."
Mr Ross was also challenged on a lack of support for Scotland's fishing communities in this week's UK Budget.
The Moray MP had written to the Chancellor urging an increase to the Brexit fishing fund as part of his eight-point plan, but his pleas fell on deaf ears.
He explained: "I don't just ask for things I know I am going to get.
"Our coastal communities and fishing communities need our support. The Brexit deal did not deliver for them in the way they would have hoped.
"There have been added problems in terms of paperwork and bureaucracy that need to be resolved.
"I am pretty sure the Chancellor is looking at how that support is being spent and we might have to come back to this."
The Scottish Conservatives leader also admitted he "deeply regrets" comments he made about gypsy travellers earlier in his career.
Mr Ross was heavily criticised in 2017 when he was asked what his priority would be if he was prime minister for a day.
His answer was "tougher enforcement against gypsy travellers".
Now apologising, he said: "I was asked when I was a new MP what would be my number one priority if I was prime minister for a day.
"And there are a multiple of different, better answers than one I gave about a local issue here on enforcement against gypsy travellers – that's something that still comes up.
"It was on my Twitter feed the other day.
"I deeply regret my answer to that question and the way it was interpreted.
"I said at the time it was a big local issue and it continues to be a big issue here in Moray every summer. But it's not something I should have answered as being my top priority if I had one day as prime minister."
If you haven't already, please consider supporting our trusted, fact-checked journalism by taking out a digital subscription.