Douglas Ross criticises Rishi Sunak's team after row with media mars conference
Douglas Ross has criticised Downing Street after Rishi Sunak's team attempted to block several newspapers, including The Scotsman, from attending a media Q&A session with the Prime Minister after his speech.
The Scottish Conservative leader said the chaotic scenes were "wrong" and should not have happened. He said he would be making the "strongest possible representations to Number 10 about it".
A row erupted after Mr Sunak's team initially tried to limit the number of journalists who were allowed access to just six hand-picked reporters, as well as the Press Association news agency. They relented when the event was gate-crashed by other members of the media anyway.
No.10 then attempted to cancel the Q&A – referred to as a press huddle – and instead only do one pooled broadcast clip with the Prime Minister, citing a lack of time. This would have seen no newspapers allowed to ask questions.
When this was unanimously rejected by the journalists present, they eventually U-turned and agreed the huddle would go ahead as planned.
Only the six journalists who were originally invited – from The Daily Telegraph, The Scottish Daily Mail, The Scottish Sun, The Times, The Press and Journal and the Scottish Daily Express – were permitted to ask a question. Mr Sunak also did a pooled clip for broadcasters.
"You can all delete your tweets about us restricting access," a member of the No.10 team said, to laughter from journalists. Earlier, the event had descended into a full-blown row between reporters and Mr Sunak's press team.
Asked why he had tried to speak to only a hand-picked group of journalists, Mr Sunak said: "That is absolutely not my understanding of what happened.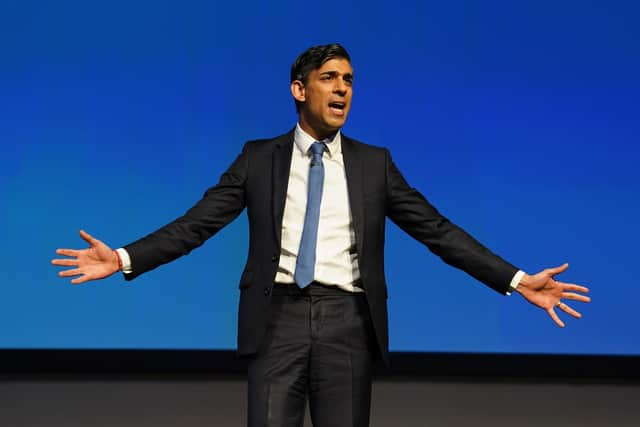 "Just yesterday, I filmed quite an extensive interview with BBC Scotland, part of which was also pooled and made available to other broadcasters, and I've just done another pooled clip earlier today, and I'm speaking to half a dozen of you here, which was always the plan."
He added: "That's just completely wrong, just completely wrong. I was always due to speak to, I think, half a dozen or so today, including PA [Press Association] as well, and yesterday I filmed, as you all saw, a long interview with BBC Scotland, a chunk of which was also pooled to other broadcasters."
However, Mr Ross hit out at Downing Street. He told journalists: "It was unnecessary, it shouldn't have happened. I always speak to the press, I speak to all of you, we'll have as many questions as you need to take.
"You were rightly upset about it and sorted it amongst yourselves to make sure that at least more of you were in the room. I'll be making the strongest possible representations to Number 10 about it.
"We've had this a long time ago in the past with other political parties, so I'm acutely aware of how it looks and how it's wrong. I can only act on my behalf and that's why I'm going to take every single one of your questions this afternoon."
Scottish Labour deputy leader Jackie Baillie said: "The attempt to bar the press from asking questions was a desperate and cowardly act that has backfired spectacularly. Time is up for the Scottish Tories – people know that it is their dangerous and out-of-touch politics that are the biggest threat to the union."
Liberal Democrat MP Christine Jardine said: "As someone who has worked as both a journalist and an adviser in Downing Street, it's clear to me this attempt was a move of abject cowardice from Number 10."
In a statement, the Scottish Parliamentary Journalists' Association, which represents members of the political media, said: "Journalists expect to be able to hold the Prime Minister to account when he is in Scotland as a vital part of the democratic process. Today's actions to restrict access are unprecedented and undermine that important principle."
Comments
 0 comments
Want to join the conversation? Please or to comment on this article.