Donald Trump vs Joe Biden: highlights of the US presidential debate 2020 - and key quotes on race, coronavirus and taxes
Donald Trump and Joe Biden engaged in a bitter war of words on Tuesday night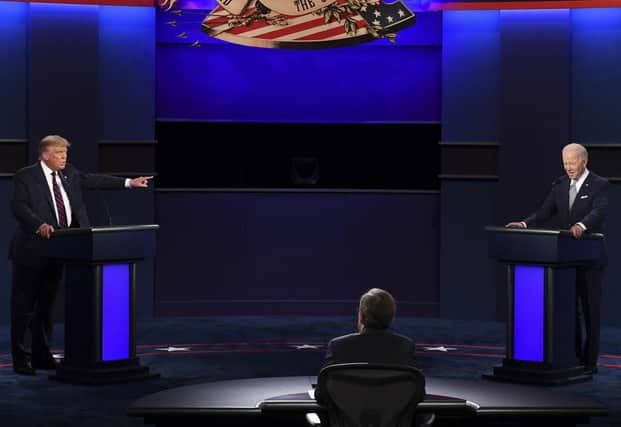 The two eldest presidential candidates in US history locked horns in a childish and chaotic television debate on Tuesday night.
Over 90 minutes, the incumbent president and the former vice-president traded jibes, clashing over the handling of the coronavirus pandemic, Mr Trump's taxes, the economy and race relations.
For the most part, any discussion of policy took a backseat, with heckles, childish jibes and interruptions dominating proceedings.
Labelled a "depressing spectacle" by the Wall Street Journal, the headline incident of the first exchange – of which there will be three – was the president's failure to condemn white supremacist groups.
The 2016 presidential debates between Mr Trump and democratic rival Hillary Clinton were ill-tempered, with the incumbent president resorting to cheap digs against his rival.
Four years on, and the 45th US president has if anything embraced this tactic further, restlessly interrupting Mr Biden throughout the debate in Cleveland, Ohio, with CBS News claiming that Mr Trump interrupted Mr Biden 73 times.
On white supremacist groups and Antifa
Moderator Chris Wallace asked Mr Trump to condemn white supremacist groups during the debate, to which Mr Trump responded "sure" enquiring which groups he was to condemn.
Mr Biden suggested the Proud Boys, a far-right, neo-fascist organisation who promote political violence to which Mr Trump responded, "Proud Boys? Stand back and stand by", before insisting violence was caused by the left, stating: "somebody's got to do something about antifa and the left, because this is not a right-wing problem."
Members of Proud Boys have since seen Mr Trump's answer as a call to prepare for action.
Mr Biden rejected Trump's claims, stating: "Antifa is an idea, not an organisation. That is what [President Trump's] FBI director said."
On honouring the election result
Mr Trump also caused outrage when he refused to commit honouring the result of the election.
He said: "Don't tell me about a free transition. This is going to be a fraud like you've never seen. This is not going to end well."
To which Mr Biden replied: "If you're able to vote in person, vote in person - whatever way is the best way for you. Because he cannot stop you from being able to determine the outcome of this election."
Trump: "I'm urging my supporters to go into the polls and watch very carefully… If I see tens of thousands of ballots being manipulated, I can't go along with it. They cheat."
On law enforcement and unrest in cities
The pair also duelled on the ongoing civil unrest in US cities, which started following the death of unarmed black man, George Floyd, at the hands of police officers.
Mr Trump pointed the finger at Democrat mayors and governors for the unrest, stating: "The top 10 cities and just about the top 40 cities are run by Democrats in many cases, radical left, and they've got you wrapped around their finger, Joe, to a point where you don't want to say anything about law and order. And I'll tell you what the people of this country want and demand law and order, and you're afraid to even say it."
Mr Biden lashed back, suggesting Trump had done little to extinguish the ongoing unrest.
He said: "He just pours gasoline on the fire… Under this president, we've become weaker, sicker, more divided and more violent."
On climate change, Mr Trump offered little in terms of policy.
He said: "I believe that we have to do everything we can to have immaculate air, immaculate water, and do whatever else we can that's good."
Mr Biden meanwhile said that his first action would be to rejoin the Paris Climate Accord.
On the coronavirus pandemic
Unsurprisingly Mr Trump's management of the coronavirus pandemic was also discussed during the chaotic debate.
Mr Biden criticised the president and his lack of presence.
He said: "you should get out of your bunker and get out of the sand trap and... the golf course and go in the Oval Office and (put) together Democrats and Republicans, and fund what needs to be done now to save lives."
Mr Trump retorted: "you didn't think we should've closed our country (to China) because you thought it was terrible... We've done a great job. But I tell you, Joe, you could never have done the job we've done. You don't have it in your blood."
Mr Biden said the response needed to get "a lot smarter a lot quicker", to which Trump replied: "there's nothing smart about you, Joe."
A New York Times investigation which claims Trump spent just $750 of federal tax during his first year as president dominated the headlines this week and unsurprisingly came up on Tuesday night.
Trump insisted that he paid "millions of dollars of income tax," without providing any evidence
Biden called on the president to "show us your tax returns", with Mr Trump replying: "You'll see it as soon as it's finished".
In 2019 Mr Biden and his wife Jill Biden paid nearly $300,000 in taxes.
How did the moderator perform?
Chris Wallace of Fox News has been criticised for failing to control proceedings.
Former Democrat senator Claire McCaskill was one of many who criticised the journalist, tweeting: "Chris Wallace is embarrassing, and trying to pretend that the problem isn't 100% Trump."
CNN presenter Ana Navarro Cardenas meanwhile tweeted: "Chris Wallace has totally lost control of this thing. He's allowing Trump to behave like schoolyard bully, completely disrespecting the millions of Americans who tuned-in hoping to see a debate of ideas, and a plan to move America forward."
New York Magazine columnist Josh Barro defended Walace, however, tweeting: "People are hating on Chris Wallace but I think there was no way to moderate this debate effectively."