Donald Trump coronavirus: what the president's positive Covid-19 test means for the US Election and next presidential debates
Much of the president's family were not wearing masks when he went up against Joe Biden on Tuesday
This week, President Donald Trump returned to the White House in particularly bombastic style after spending just three nights in hospital with Covid-19.
But even after Trump waved to supporters from a White House balcony before returning to his duties, there has been much confusion over the president's condition.
Medical staff previously confirmed that he was provided with supplemental oxygen and had a high fever, and that Trump was issued with dexamethasone, a steroid usually reserved for more serious cases.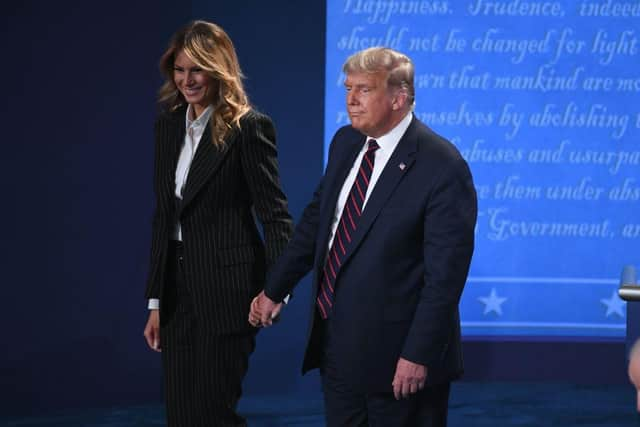 When did Trump test positive?
He tweeted: "@FLOTUS and I tested positive for COVID-19. We will begin our quarantine and recovery process immediately. We will get through this TOGETHER!"
Melania Trump, who also tested positive, tweeted that both "are feeling good & I have postponed all upcoming engagements".
What is the president's condition?
While in hospital, the president experienced lower oxygen levels and a high fever according to his medical team, though they have not commented on whether he has suffered any lung damage.
There is some confusion over the president's medical condition, with medical staff saying that Trump experienced mild symptoms, only for it to be revealed that he had experienced severe symptoms.
Physician Dr Sean Conley explained "I didn't want to give any information that might steer the course of illness in another direction".
Did family members wear masks at presidential debate?
The news of Trump's positive test came just days after the 74-year old participated in the first presidential debate of the election campaign.
The First Lady, 50, and much of Mr Trump's family were in the audience in support with many, including sons Eric, Donald Jr. and daughters Ivanka and Tiffany, choosing not to wear protective face coverings.
It is unclear if anyone else in Mr Trump's family has received a positive diagnosis for Covid-19.
What has Mr Trump said about coronavirus?
Mr Trump has played down the impact of coronavirus in recent weeks, just the other day saying "it affects virtually nobody" except the elderly and the vulnerable.
Mr Trump has also typically ignored official advice on the use of face coverings.
It is not clear how the remainder of the campaign will be impacted by the shocking news, with a second debate scheduled to take place on October 15.
Mr Biden reacted to the news by saying he and his wife "will continue to pray for the health and safety of the president and his family."
In a speech at Grand Rapids, he said: "This is not a matter of politics, it's a bracing reminder to all of us that we have to take this virus seriously."
What does it mean for the US election?
First and foremost the diagnosis brought an end to Mr Trump's in-person campaigning as he quarantines at the White House. Mr Biden continues to campaign, but confirmed that negative ads targeted at the president would be pulled.
The next US presidential debate is under two weeks away, and could be delayed.
A US election has never been delayed since the signing of the US constitution in 1787.
If Mr Trump's condition was to deteriorate he would be required to personally relinquish the nomination in order to lose it.
At this stage the Republican party would be required to select a replacement candidate. This could occur anytime in the lead up to the election even after absentee and early voting is underway.
When are the next presidential debates scheduled?
The remaining debates are scheduled for 15 October and 22 October, and are set to take place in Miami and Nashville, respectively. It is unclear if they will be impacted by Mr Trump's condition.
How many cases and deaths in US from coronavirus?
The United States continues to record tens of thousands of cases everyday, with 43,981 recorded on October 1.
The number of deaths registered on the same day was 861, with 1,017 recorded a day earlier.
Thus far 7.3 million positive cases have been recorded, with 208,000 deaths relating to coronavirus also confirmed.