Dominic Raab resignation: Departure over bullying inquiry leaves Rishi Sunak's list of allies growing thin
Dominic Raab has left the UK Government after a bullying inquiry contained critical findings against him.
The former justice secretary said he was "sorry for any unintended stress or offence that any officials felt", then proceeded to say the investigation was "Kafkaesque", and set a "dangerous precedent" for ministerial behaviour.
Mr Raab had promised to resign if the report "made any finding of bullying whatsoever", having been pushed into the commitment during an appearance on Sky News.
Coming as Rishi Sunak is under investigation by the parliamentary watchdog over a potential breach of transparency rules, this could not have happened at a worse time for the Prime Minister.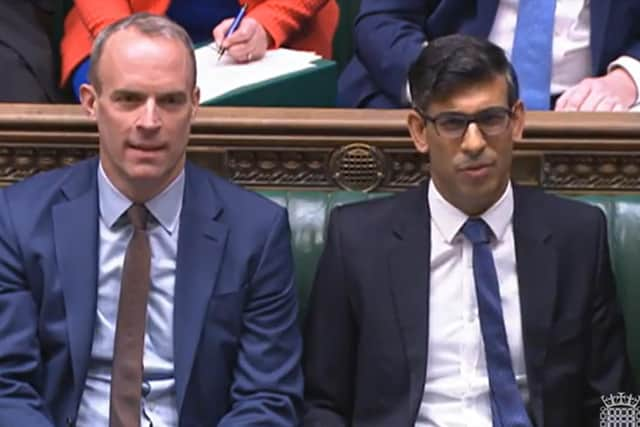 We also know he did not want Mr Raab to go, failing to sack him because Westminster is a world where an inquiry can found you bullied staff and you still resign on your own terms. What's more, it's understood the Prime Minister didn't tell Mr Raab to resign – the former justice secretary doing so as he'd made a promise.
When Nadhim Zahawi, the former Conservative Party chair, stirred controversy over his tax affairs, he was sacked within minutes of the Prime Minister seeing the report.
Compare this to Sir Gavin Williamson – another Sunak backer and loyalist – who resigned only days into the Tory leader's premiership after it was alleged he sent expletive-laden messages to a former chief whip. Mr Sunak has now lost three Cabinet ministers, two of which were close allies.
Mr Raab, the Esher and Walton MP, was a prominent figure through his leadership campaign, engaging in heated debates with the Liz Truss camp on screen, as well as going to bat for the now-Prime Minister privately.
Losing him is a blow, not just for Mr Sunak's support, but for who he appeals to. Mr Raab is on the right of the party, a hard-Brexit libertarian who was appreciated by a wing of the party intrinsically wary of Mr Sunak, and uncomfortable with some of his policies.
What's more, they are already angry, disappointed the Prime Minister allowed him to resign, a situation that will only stir more anti-civil service feeling. Expect more briefings about woke snowflakes and further criticism of Mr Sunak from his own party to follow.
Comments
 0 comments
Want to join the conversation? Please or to comment on this article.