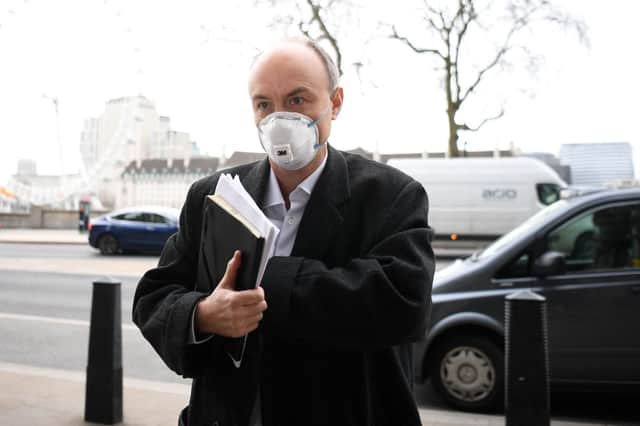 Former Number 10 special advisor Dominic Cummings arrives at Portcullis house for a committee hearing in central London. Picture: Daniel Leal-Olivas/AFP via Getty Images
In his first public appearance since quitting as the Prime Minister's chief aide, Mr Cummings claimed his wages jumped from £100,000 to £140,000 only after the 2019 election win.
The former chief adviser was appearing before the Commons science and technology committee, where he also described the civil service as a "disaster zone".
He said: "The media reports about me getting a pay rise after Covid are wrong.
"It is true that I interfered with the pay system, regarding my own pay, but that was in summer 2019. When I arrived I was put on the normal pay band for my position of 140-something thousand.
"I said that I didn't want that, I only wanted to be paid what I was paid at Vote Leave.
"I figured that I should be paid the same for trying to sort out the Brexit mess as I'd been paid for doing Vote Leave so I asked for a pay cut, which is what happened in summer 2019.
"For some reason this has appeared in the media as if I got a pay rise after Covid. But that didn't happen.
"When we were all rehired the day after the election, then I moved back onto the normal pay grade for my position."
The Prime Minister's ex-special adviser had been earning around £100,000 when he was recruited, but by the time he walked out of Downing Street with a cardboard box this had soared to £145,000.
Mr Cummings also told the committee the three conditions he had demanded from Boris Johnson before joining his team.
He said: "The Prime Minister came to speak to me the Sunday before he became prime minister and said 'would I come into Downing Street to try and help sort out the huge Brexit nightmare?'
"I said 'yes, if first of all, you're deadly serious about actually getting Brexit done and avoiding a second referendum.
"Secondly, double the science budget.
"Third, create some ARPA-like entity.
"And fourth, support me in trying to change how Whitehall works and the Cabinet Office work because it's a disaster zone'. And he said 'deal'."
Mr Cummings also once again criticised the EU and suggested the countries pausing the roll-out of the Oxford AstraZeneca vaccine showed the immediate benefits of Brexit.
He told MPs: "As things are being proved every day now, scientists can co-operate globally without having to be part of the nightmarish Brussels system, which has blown up so disastrously over vaccines.
"Just this week we have seen what happens when you have an anti-science, anti-technology culture in Brussels married with its appalling bureaucracy in its insane decisions over warnings on the AZ vaccine.
"We are extremely well out of that system."
Mr Cummings also accused his former colleagues of failing on protective personal equipment (PPE) and demanded an "urgent, very, very hard look into what went wrong and why".
He said: "I and others said repeatedly before 2020 'this system is an expensive disaster zone and when it hits a crisis it will completely fall over'.
"That system hit a crisis and it completely fell over."
If you haven't already, please consider supporting our trusted, fact-checked journalism by taking out a digital subscription.