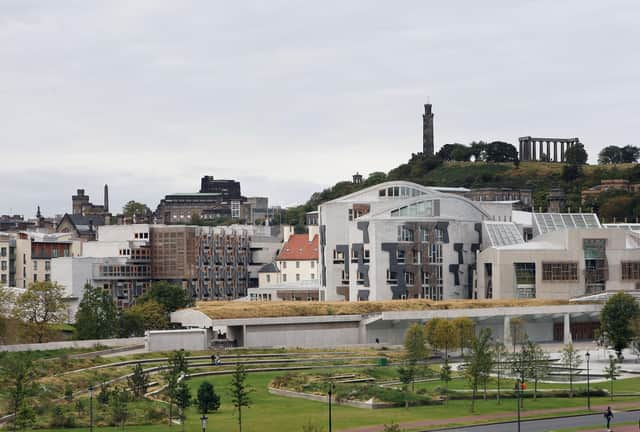 The radical suggestions, which would need to see many powers reserved to Westminster transferred to the Scottish Parliament, are part of a catalogue of 60 recommendations from the Assembly.
The report also includes recommending the living wage be made a legal requirement, for more tax powers to be devolved and to be "used innovatively" to end poverty, a cap on rents, more mental health support for young people, action on the climate crisis, a pay rise for NHS staff, devolution of foreign affairs, and free education for life.
The Assembly, which consisted of a group of 100 Scots broadly representing the people of Scotland in terms of demography, geography and political views, was independent of government, and its report will be laid in parliament for debate.
The citizens involved were asked to consider what kind of Scotland they would like to see and how best to tackle key challenges, deliberating on a range of evidence from key experts.
The remit allowed the Assembly to decide which specific challenges to consider and asked that "in doing so that the constitutional arrangements for dealing with those challenges and options for constitutional reform be examined".
Launching the report, convener Kate Wimpress said: "Our members made up a 'mini-Scotland' and worked hard together over many months to find common ground.
"We recognise that there are some UK government interests in many of the areas but it's for the Scottish Government and the Parliament to take things forward from here.
"We took evidence from many experts, including where powers lie, and they were looking at different constitutional scenarios. The constitutional framework is the one within which the Citizens Assembly was operating but it was up to the Assembly members to propose areas of interest against that backdrop."
She added: "I think for many [assembly members] it was a first foray into politics and was an enlightening moment. People realised that government is about organising yourself and it has an impact on everybody. We've done our work and passed the report to the Scottish Parliament and how the 60 recommendations are taken up across the next parliamentary term will be interesting to watch."
The report was welcomed by Cabinet Secretary for the Constitution Michael Russell who said: "This comprehensive final report from the Citizens' Assembly of Scotland provides an insightful and wide-ranging contribution to the debate about what kind of Scotland we want to build in the future – and how we go about building it.
"As we look to rebuild following the coronavirus pandemic I would like to thank members of the Assembly for their enthusiasm and commitment throughout these difficult times.
"Ministers look forward to meeting with Assembly members in due course to hear more about their recommendations and the experience of being part of this unique process, which was established to involve the public in our democracy and enable the widest possible range of voices to be heard on key issues."
However a spokesperson for the Scottish Conservatives said: "The Citizens' Assembly was an unnecessary and costly exercise. It was never going to be seen as an honest broker after it was announced at an SNP conference and referred to as 'the perfect way' towards independence by an SNP MP.
"The SNP government needs to focus 100% on managing the coronavirus pandemic and rebuilding our economy, rather than on political priorities like pushing for another independence referendum this year."
Scottish Liberal Democrat leader Willie Rennie welcomed some of the recommendations – but also said the Assembly had been "set up by SNP ministers as part of a package of steps to promote independence."
He added: "It is good that the Assembly has gone wider in order to look at issues such as mental health, tackling poverty and recovery from the pandemic.
"The evidence from around the world is that fairer societies are more successful economically and it is good to see the Assembly members highlight this. Their recommendations on universal income, fair employment and the living wage support that aim.
"I also share the concern of Assembly members that our public services and industries need people to move to Scotland from elsewhere, and we should welcome them."
One Assembly member, Shona, said how proud she was to have been involved: "Before the Assembly, politics was something somebody else did. That wasn't me. I had no say in what politics were about before. Now, I have had a say on how we bring Scotland forward for the next generation."
Another member, Anne, added: "It'll go down in history, to be part of the first ever Citizens' Assembly of Scotland. I want to be part of Scotland's future and I'm passionate about Scotland thriving as a country. To be part of something where you're representing the people – I want my daughter to look back and say 'that's my mum's face there, she's part of that line-up of people that were involved in that'. It makes you feel so proud."
The report and the Assembly itself were hailed by Willie Sullivan, Senior Director of the Electoral Reform Society Scotland who said it had "set out a shared vision for Scotland, one created not from the remote and dusty halls of power but by ordinary people, coming together with a shared purpose to improve their own community.
"The Government's commitment to remake Scottish local democracy starting with a Bill in the next parliament, is an ideal opportunity to build citizens assemblies into a system that allows people to really run their own towns, villages and communities.
"The process puts Scotland at the forefront of democratic innovation and sets out a blueprint for elsewhere."
A message from the Editor:Thank you for reading this article. We're more reliant on your support than ever as the shift in consumer habits brought about by Coronavirus impacts our advertisers.
If you haven't already, please consider supporting our trusted, fact-checked journalism by taking out a digital subscription.