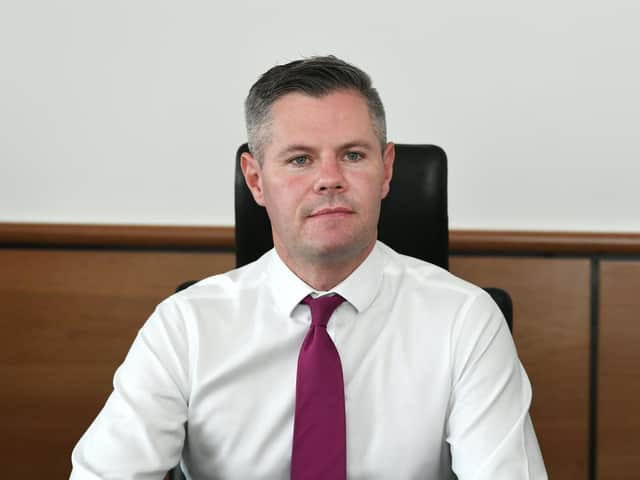 Derek Mackay could resign as an MSP with a 50k pay-off it has been claimed.
According to The Scottish Sun, SNP senior officials have held discussions about ensuring Mr Mackay retires due to ill health, as a result of the impact on his mental health of the revelations he was pestering a 16-year-old boy via social media for six months.
The party allegedly wants Mr Mackay to be able to resign as an MSP, with "as little damage as possible" and to prevent him "going on social security".
While the SNP suspended his membership, parliamentary rules mean that parties cannot force individuals to resign their seats. Both the Scottish Conservatives and Scottish Labour have already said Mr Mackay, who has not been seen in public since the scandal broke on February 5 but continues to be paid his MSP salary, should resign.
According to today's report an SNP source has said the party wants him to resign - but not without the financial settlement which is normally paid to MSPs when they stand down at an election.
"If he just resigns now, he leaves with nothing. He has two school-age sons to think about. The last thing the party wants is Derek going on to social security. If he stays until the 2021 election he gets a resettlement grant like any other resigning MSP. But he can't come back to Parliament so that's where the ill health comes into play.
Mr Mackay, who represents Renfrewshire North and West has not attended any surgeries since his resignation. The local authority where he began his political career, Renfrewshire Council, has recently passed a motion unanimously that he should quit as an MSP.
If Mr Mackay stays on until the 2021 elections he would be entitled to a £50,000 resettlement grant, based on his ten years as an MSP. If he retired on ill health he would be entitled to a similar level of grant. Under the Pension Act 2009, the parliament's pension fund trustees would have to be satisfied that Mr Mackay met six conditions, as set out under the rules, to qualify for the payment, and he may even have to undergo a medical examination by a medical practitioner nominated by them.
Nicola Sturgeon has said that she understands Mr Mackay is receiving "medical treatment" for his mental health and said that in the wake of Caroline Flack's suicide, the hashtag #BeKind was "trending for a reason".
However Scottish Conservative deputy leader Annie Wells said: "If Derek Mackay had been in any other line of work, he'd have been sacked for gross misconduct.
"People will be wondering why SNP government ministers are being held to different standards.
"Every mental health concern should be taken seriously but the SNP must also face up to this situation and deal with it responsibly, not pretend that the only victim in all of this was Mr Mackay himself.
"It does a huge disservice to the cause of mental health awareness that the SNP feels it can use it to hide behind Mr Mackay's despicable behaviour, and the SNP's murky handling of it."
An SNP spokesperson said: "Derek Mackay is receiving appropriate medical treatment. Any decision on his future is for him to make when he is well enough to do so."