Deposit return scheme Scotland: Greens accuse critics making 'opportunistic political attacks' as Lorna Slater tries to brush off concerns
Critics of Scotland's flagship recycling policy have been accused of making "opportunistic political attacks" as the minister in charge of the scheme attempted to brush off concerns.
The scheme will "absolutely" go ahead in August, circular economy minister Lorna Slater said, adding it was "all systems go" despite warnings from producers that a "huge number" of smaller drinks firms could stop selling their products in Scotland.
Her comments came as her party colleagues rounded on opponents to the scheme, accusing them of deliberately undermining confidence in the scheme.
Ms Slater held what was described as an "urgent meeting" with small drinks firms on Friday, with the minister pledging to look at what additional support they could be given.
Holyrood, however, has heard concerns that some firms could go out of business as a result of the scheme. Hundreds of leading figures from businesses across the food, drink and hospitality sector sent an open letter to Ms Slater in November last year calling for the initiative to be paused so it could be revised.
Nicola Sturgeon has indicated her Government is likely to make last-gasp changes to the working of the scheme prior to its go-live date in mid-August as a response to concerns from small businesses. It is understood this may see the burden on smaller businesses eased, though no final decisions have been made.
Businesses are expected to sign up to the scheme by the end of this month. Environment spokesperson for the Scottish Greens, Mark Ruskell, said the scheme was "vital" to cutting waste and said opponents were simply concerned about "party politics".
He said: "Unfortunately, the kind of opportunistic political attacks that we have seen from the Tories and, increasingly, Labour are being done to undermine confidence in the scheme. They are less concerned about the environment than they are about party politics.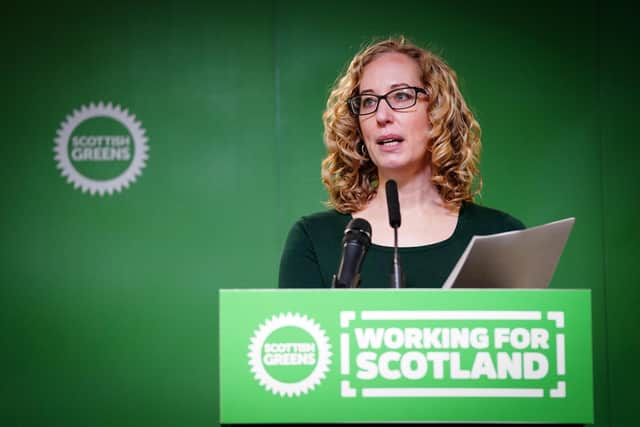 "This scheme will be a watershed moment for waste reduction in Scotland. It will bring us in line with the many other countries across Europe and beyond, who already have successful schemes in place, and will help us to reach our environmental targets.
"Tens of thousands of plastic bottles and cans are littered every day in Scotland. By working together we can change that. I am proud that the Scottish Government is taking action and that it is being spearheaded by a Green minister."
Chris Jones, managing director of Manchester-based Paragon Brands, said there was a "multitude of costs" arising from the deposit return scheme.
He told the BBC: "I am part of a wider drinks forum group of approximately 300 smaller producers and it is fair to say there is a huge number of smaller producers who have simply taken the option to stop selling in Scotland.
"The complications and the cost and the complexity involved in setting yourself up for this scheme just mean that the commercial returns are not there."
That runs the risk firms will not be able to afford to trade in Scotland after the deposit return scheme comes into force on August 16. This will mean fewer products for shoppers north of the border to choose from, with Mr Jones estimating there could be "somewhere in the region of 40 per cent" fewer drinks brands available.
Dougal Gunn Sharp, founder and master brewer at Innis & Gunn, said a delay seemed inevitable due to ongoing legal challenges.
He said: "The fact that we are launching ahead of England's DRS scheme, with the associated exorbitant price hikes here, will create significant grey market risk for businesses in Scotland, that will inevitably impact businesses based here and the viability of the whole scheme, and result in significantly lower recycling rates than we currently enjoy.
"Much has been said of other countries operating successful DRS schemes and that is true, but none has implemented a DRS scheme after they already had kerbside recycling. And furthermore, no country in the world has introduced DRS within a region of the country, which is in effect what we are attempting in Scotland.
"It would be like the Norwegians trying to implement a scheme for Oslo only, and which lead to prices in Oslo being double those outside. What do you think shoppers, faced with a short drive for cheaper prices, would do?"
But with producers having to sign up to the deposit return scheme before the end of February, she stressed the Scottish Government and Circularity Scotland, which will implement the scheme, were working with these companies.
Asked if deposit return will come into force from August 16 as planned, the minister said: "Absolutely, it is all systems go for Scotland's deposit return scheme."
The move will mean shoppers in Scotland pay an extra 20p when buying drinks in a can or bottle, with this then returned to them when they bring back the empty container for recycling.
Speaking to BBC Radio Scotland, Ms Slater continued: "Our scheme is very similar to successful schemes around the world that do increase recycling, but also reduce litter on our streets. We've got to do something about it and the deposit return scheme is our answer to that."
She said she was "really proud" that Scotland would be the first part of the UK to have a deposit return scheme in place.
Ms Slater continued: "The Scottish Parliament passed the legislation on this back in 2020 and we have been working really closely with industry towards this August launch date. In fact, we already pushed it back by a year to allow businesses to recover after Covid. And now we have been working through concerns of industry."
Action has been taken to reduce the cost to drinks producers, she said, with the minister saying she was "working through" the concerns that had been raised by those in the sector.
She said: "I am aware there are still some outstanding concerns from small producers and importers particularly, which I absolutely take seriously, and we are working through solutions to these as well. I met with small producers on Friday and I am taking their concerns really, really seriously.
"So we are looking at what solutions we can put into place to support small producers because we really want all businesses in Scotland to be able to fully participate in this really exciting scheme."
Want to hear more from The Scotsman's politics team? Check out the latest episode of our political podcast, The Steamie.
Comments
 0 comments
Want to join the conversation? Please or to comment on this article.