Lorna Slater claimed that the Tories "lose their ****" at the Scottish Greens being in power at Holyrood.
Speaking about the Conservatives, Ms Slater, the Scottish Green co-leader who is also circular economy minister in the Scottish Government, said: "They see me there, making the decisions instead of them, standing up to them."
Her comments came as she hit out at Alister Jack amid fears that he may seek to use UK Government legislation passed in the wake of Brexit to block the initiative.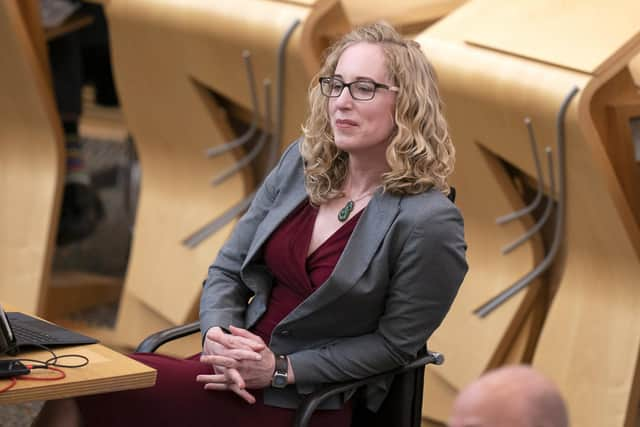 An exemption to the Internal Market Act is needed for the scheme - which will see shoppers charged 20p when they buy drinks in cans and bottles with this cash refunded when the empty containers are returned for recycling.
However, hundreds of businesses have urged Ms Salter to halt the policy, which is due to come into force on August 16, with opposition leaders at Holyrood also critical of DRS.
Ms Slater told the Scottish Green conference in Clydebank: "The Tories' efforts to stop Scotland's deposit return scheme extend all the way to Westminster."
She stated: "Alister Jack, the Secretary of State for Scotland, is doing everything he can to undermine me and the scheme.
"Repeatedly briefing the media of his intention to bring it down and, in the process, break the frameworks that are meant to ensure co-operation between our countries and protect devolution."
She said it was "extraordinary that just a few metres along the road from the Scottish Parliament, the Scotland Office appears to be actively working against us".
Ms Slater said Mr Jack had "held this threat over us for months, knowing that just the threat undermines confidence and risks chaos".
While she said there had been "relentless and noisy attempts to derail the scheme, to undermine it - and me" Ms Slater vowed to press ahead with it - saying polling showed more than 70% of Scots back DRS.
She insisted that "even in the face of relentless personal attacks and mis-information, I am undaunted".
She described DRS as being a "change we so desperately need", and sending a message to critics of the scheme, Ms Salter said simply: "I will persist.
"The Greens will persist. Saving the planet is not something we give up on when the going gets tough."